How to Nurture an Attitude of Gratitude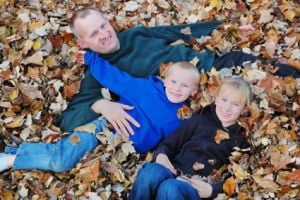 You've just wiped the last smear of Halloween candy from your child's face, and already the Christmas music is playing. Thanksgiving may get short shrift in retail stores or the media, but you can nurture thankfulness this month and year-round in your children's hearts and minds.
The holiday is a nice milestone for emphasis and a good history lesson, but like many other values, thankfulness is one children learn from examples.
As you set the table, you can remind your children of our nation's beginnings and the thankful Pilgrims in Plymouth with a few kernels of corn.
The familiar story tells of how the new Americans celebrated a bountiful feast with Native American friends. But the sometimes forgottten part of the story is how the Pilgrims had overestimated their food supply, and in the year following that feast, food was scarce. The settlers often survived on very small amounts of corn.
Legend holds that in coming years at harvest time, they would set five kernels of corn beside each plate to remind them of their deliverence and blessings.
We don't have to starve our children to help them be thankful for gifts from God or from others.
Brenda Nixon, a nationally recognized child behavior expert, speaker, and author, says training starts at a young age.
"Because children are egocentric – self-absorbed – they don't begin to feel gratitude or understand the idea until the preschool years," she said. "Even then, it's a small understanding. But the feelings grow as do the children. Hopefully, if parents model gratitude, kids will absorb their attitude and begin practicing thankful behaviors, too."
Children need to hear their parents say thank you to others, even as they are taught to say it.
"Quite simply, parents must model how to express gratitude by frequently saying things like, 'Thank you' or 'I appreciate that' so children overhear and copy those statements," she said.
A few hands-on activities for November can help children spend time remembering what they appreciate (or should): Teachers or parents can help children make small books featuring things on each page that they are thankful for – pictures of a house, family, pet, belongings. A variation on that theme is to take a coloring page of a turkey and write the names of these things on each feather.
For older children who are no longer interested in coloring, keep a list on the refrigerator or in another prominent place, where family members can write what things they are thankful for.
In this month's issue of Charlotte Parent, Linda Kastiel Kozlowski, a freelance writer from Glen Ellyn, Ill., writes about the "thankful tree" that her family creates. These ideas and others can help foster an attitude of gratitude in children and in parents for the holiday season and beyond.
Courtney St. Onge is Charlotte Parent's web editor.