How to Donate the Hard Stuff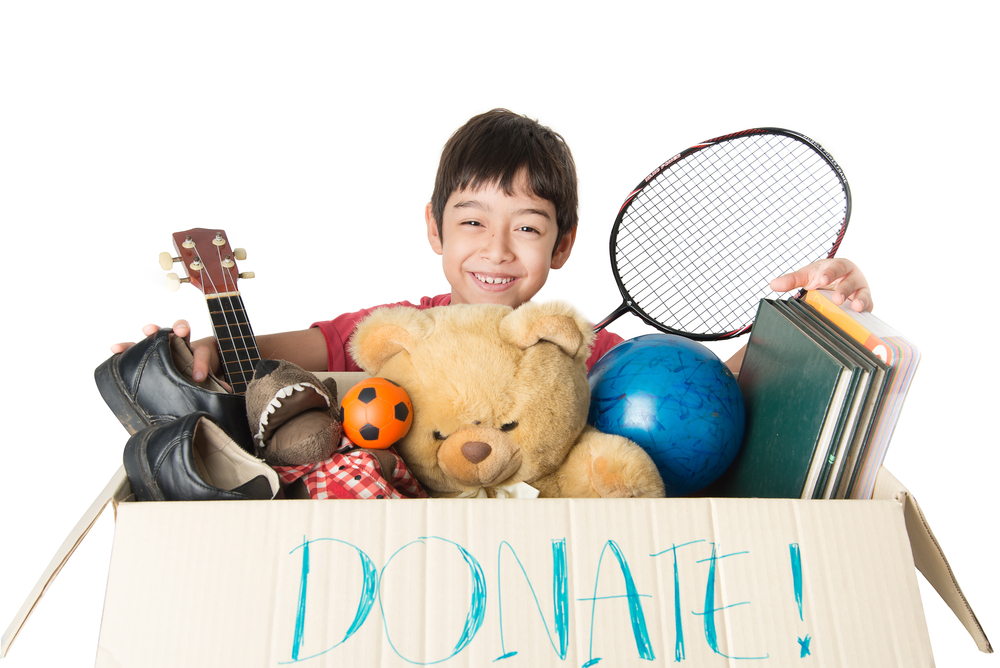 Stuff. We all have it and probably too much of it. Somehow it seems to multiply in our closets, cupboards, attics, garages and especially in children's rooms. But there is something we can do about the ever-growing pile of stuff: purge it.
"The items that we don't use are filling our cabinets, closets and piling up on our counters. These are best put into the hands of those who will use and appreciate them," says Lianne Hofer, founder and owner of The Clutter Consultant, who helps Charlotte-area families organize their homes, while finding new places for those no-longer needed — or wanted — things.
To get unwanted items out of her clients' homes, Hofer recommends donating to organizations that can get items into the hands of someone who can put them to use. There are many great organizations that accept a range of donated items, including crisis centers, shelters, The Salvation Army and Goodwill. But what about those things that aren't quite as easy to drop off just anywhere? What about the car seat that has been sitting in your garage? Or the mattress you decided to replace?
Cribs, Car Seats and Baby items
Mira Via, located in Belmont, provides pregnant women with support, encouragement and housing, and the opportunity to learn life-skills and attend college. The organization accepts most any baby item that is clean and in working order — even car seats. It also accepts clothes, formula, diapers, portable cribs (manufactured after 2010), strollers, baby wipes and general toiletries for moms and babies. For details on dropping off donations, call 704-525-4673.
---
Mattresses, Beds and Furniture
Since 2011 Beds For Kids has delivered 6,835 beds and 63,351 essential furniture pieces to children and their families in need. Beds For Kids accepts mattresses that are not stained or ripped, along with general household furniture, which is delivered to families in need. Items can be dropped off at the South Tryon Street or Lake Norman location. Beds for Kids also picks up from most locations in Charlotte and Lake Norman. Visit the website to schedule a pick-up.
Second Chance Boutique and Home Décor accepts high-quality items, including household pieces and furniture, at their upscale thrift stores. (They do not accept car seats and mattresses). Donations are used to help victims of domestic violence, sexual assault and child abuse move out on their own. Furniture and clothing donations are accepted at the Monroe and Waxhaw store locations.
---
Craft Supplies, Magazines and Books
When you need to clear off the book shelves to make way for the next level of books, upcycle those well-loved children's books to Promising Pages. Promising Pages accepts new and used books that are shared with students in Charlotte-Mecklenburg Schools who have little access to books at home. More than 100,000 books are put in the hands of children each year at preschools, in classroom libraries and after-school programs with the help of community partners. Books can be deposited at two drop-off locations: the book-donation drop box at 204. E. Peterson St. in Southend in front of Carolina Business Interiors warehouse, and at The Last Word Bookstore in northeast Charlotte. For more information, call 704-399-1934.
Safe Alliance provides hope and healing for people in crisis, including victims of sexual assault, domestic violence and child abuse. It collects crafting supplies, kids magazines and DVDs.
---
Prom and Cocktail Dresses
Many thrift and secondhand stores accept bridesmaid dresses, formal gowns and cocktail dresses, but two local organizations help some children and teens in Charlotte feel like princesses by sharing donated dresses and accessories. The Sandbox welcomes gently used prom and cocktail dresses that are shared with children and teens with cancer or life-threatening illnesses to wear to the annual Evening of Believing Prom. Find donation locations in Charlotte, Indian Trail, Mint Hill Pineville, Waxhaw and Wingate.
Prom Project by Girl Talk Foundation collects and distributes formal wear, including cocktail and formal dresses, purses, jewelry and shoes, so high school girls have the opportunity to feel beautiful for their prom or social event. Donations are accepted beginning in January at select locations that can be found on the Girl Talk website. As a prerequisite to shopping at the event, girls attend an etiquette class that includes beauty, fashion and prom safety tips.
---
Meagan Church is a writer, children's book author and the brainpower behind Unexpectant.com, which explores the story of modern motherhood. She lives in Charlotte with her high school sweetheart, three children and a plethora of pets. Connect with her on Instagram (@meaganchurch) and Twitter (@unexpectant), or visit her website MeaganChurch.com.