Healthy Helpings During the Holidays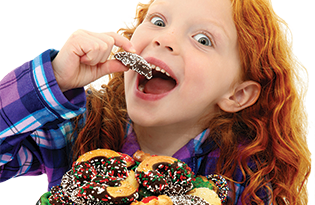 Santa is not the only one who is faced with multiple offerings of sweet treats during the holiday season. Between school parties, family gatherings and neighbors with baking skills, our children face mounds of sweet treats as well. After all, what fun would the holiday season be without the anticipation and enjoyment of festive goodies? Holidays are special, and sweet treats should remain special, but sugar cookies and candy canes can still be enjoyed without replacing healthy meals and snacks.
The key to maintaining healthy habits while enjoying everything the holiday season has to offer is moderation. According to Schelle Watts, registered dietician with USA Medical Center, "The holidays are the perfect time to teach your children balance and moderation. Parents should set a good example themselves and teach that you can indulge, but not over indulge. Children should learn that you can still make healthy food choices along with the occasional treat."
Following are a few easy tips for parents.
School Functions
Typically, teachers and parents are good at limiting the number of treats given to each child at a school party as the number of prepared goodies usually coincides with the number of students. However, start a party day with a high-protein breakfast such as scrambled egg whites, peanut butter on whole-wheat toast or Greek yogurt with fruit.
Pack a lunch with protein, such as a turkey sandwich on whole-wheat bread, low-fat string cheese, or veggies and low-fat ranch dressing. If your child starts the day with carbohydrates, your child will crave carbohydrates (or sugar) throughout the day and devour the party allowance of treats. In the evening, balance the day's sugar load with healthy snack and dinner options.
Holiday Parties
When attending functions outside the controlled environment of school, keeping an eye on your child's choices of food may be a little more challenging. A holiday gathering with family and friends is not a holiday gathering without food, drink and chaos. Lessen concerns about the inevitable table grazing by having your children fed before they arrive at a gathering. Depending on the circumstances of the gathering, either feed them a protein-packed snack 30 minutes before a dinner party, or make sure they eat a healthy meal prior to the party. Making a smoothie for the road is another way to fill tummies and deter a beeline for the food table.
If you are attending a dinner party, limit second servings of breads or other carbohydrates. Encourage second servings of vegetables and meats instead. As far as drinks are concerned, water and flavored water are the best alternatives to soft drinks and sugary punches. Create a festive drink kids love with flavored sparkling water mixed with Crystal Light or diet cranberry juice. Serve the concoction in a festive cup. Add a lime wedge to the rim of the cup or cranberries to the bottom of the drink to make the beverage even more fun.
Cookie Exchanges
In addition to holiday parties, a favorite holiday pastime for many people is exchanging goodies with friends and neighbors. An obvious way to keep your children from eating a container at a time is to make the goodies not so easily accessible. Put the treats away and pull them out when the time is good for you, such as after school or after dinner. In the meantime, keep the healthy snacks your children are accustomed to available to them.
Keep healthy snacks eye level for your children in the pantry and the refrigerator. For example, take portioned fruits and vegetables out of the produce drawers and place them on a shelf in the refrigerator so they are visible and easy to grab. Add yogurt, string cheese or hummus to the shelf as well. Apply the same strategy for the pantry. Place portioned whole-wheat pretzels, 100-calorie popcorn bags or raisins on an eye-level shelf. Place snacks in small, shallow bins so they are not scattered all over the shelf and hidden. Rumor has it that the "Elf on the Shelf" has been caught eating healthy snacks on several occasions, too.
If you want your child nestled snug in her bed with visions of sugarplums dancing in her head, allow two hours between treat intake and bedtime as the sugar may affect your child's sleep.
Ashley Bueschler is a mom to three daughters, family nurse practitioner and author of "Your Kid's Favorite Meals Made Healthy."
Read More:
> 5 Healthy Holiday Snack Ideas