Graduation Etiquette for Grads and Guests
Essential tips for the graduate and family before and after the big day.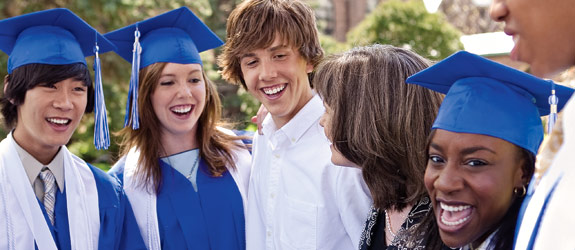 Whether you have a graduate or you have been invited to attend a graduation party, follow these essential tips to show polite manners at this important time in a teen's life.
FOR GRADUATES
Q – When and to whom do you send graduation invitations? Invite closest family members as soon as possible (three to four weeks for in-town guests and six weeks for out-of-town guests).
Q – When and to whom do you send a graduation announcement? These may be sent before the graduation, but it is even better to send them after the graduation.
Q – When do you send a graduation party invitation? Send the party invitation three to four weeks for those in town, and six weeks for guests from out of town. A formal paper invitation is best for this formal occasion, but if money is an issue, you may use an electronic invitation instead where people even RSVP online.
Q – At a graduation party, when should the graduate open gifts and thank people for the gifts. Unless a guest has requested that the graduate open his or her gift in person, it's best for the graduate to spend time mingling with the guests and then open the gifts later when everyone is gone. Within a month, the graduate should send a hand-written thank you note for all gifts received. A "thank you" email or text is not appropriate.
---
Click HERE to watch my quick TV segment on Charlotte Today on Graduation Etiquette.
---
FOR GUESTS
Q – When do you respond to an invitation, and do you send a gift if you can't go to the ceremony?
If you receive a graduation invitation, you should RSVP immediately so the graduate can give the invitation to someone else.
If you receive an invitation, you should send a gift even if you can't make it to the ceremony or party. If you receive a graduation announcement, you not obligated to send a gift, but it is nice to at least send a card congratulating the graduate.
Q – How much should you spend on a graduation gift?
Spend or give what you feel comfortable giving. It also depends on how close you are to the graduate as you may want to give more for a family member or close friend.
For a high school graduation gift you would give a minimum of $25, and for college $50 would be the minimum.
Buy a gift applicable to what the graduate has planned for post graduation.
Q – How should I behave during the graduation ceremony?
Be respectful of those around you. For example, don't stand up and video tape blocking others' view.
Put your cell phone on vibrate during the ceremony and restrain from posting anything negative (or unflattering pictures) about the event on Facebook or Twitter.
Don't yell or be really loud when they are calling your graduate's name, because it means others might not hear the name of the next person called.
Q – How should I behave if I'm attending a graduation party?
RSVP on time.
Behave yourself and don't drink too much.
Know your table manners (buffet tips and basics like elbows off table).
Bring a hostess gift. Bottle of wine, something for the house, etc.
Bring something for the graduate, such as a gift and/or card.
Understand that the graduate cannot just hang out with his/her friends, but should in fact talk to all of the guests especially those coming in from out of town.
For more etiquette tips and videos, visit finesseworldwide.com. I offer classes for children and adults and may be reached at aimee@finesseworldwide.com