Funeral Etiquette
What you should and should not say, wear and do.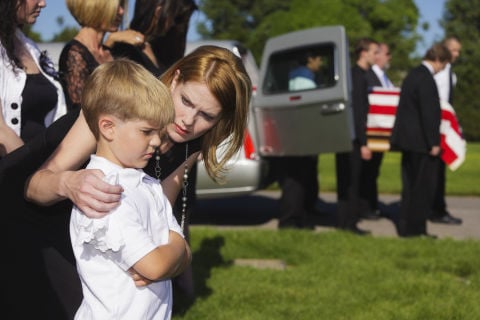 When I was about 8-years-old, my great-grandfather died and I remember going to his funeral. My mother was wise enough to give me the "heads up" about what was going to happen, what I was going to see and how I should behave in this situation.
Funerals and memorial services are such emotional times when there is a death in our own family, but it's also very difficult to know what to do and how to behave when a friend has lost a loved one.
We all want to do the right thing for our family and others during a time of loss, but many people have questions like:
Should I bring my children to a funeral service?
What am I supposed to say to the grieving family at the funeral home?
Do I have to wear black to the funeral?
Below are some tips around funeral etiquette that I hope will help, and if you click HERE, you may watch my segment on Charlotte Today on this topic.
---
FUNERALS AND CHILDREN
Appropriate age:
There are no hard and fast rules in funeral etiquette that dictate whether children should or should not attend a funeral. But keep in mind, all little ones can be quite noisy and disruptive and a funeral is not the appropriate time or place for this to be happening so you decide what's best.
If the child is very young they may not fully understand what is happening and may not benefit from attendance. In fact, a little one may feel confused and upset if they see people distressed and crying. Only you will be able to judge just how much the child can take in and understand without it being confused and afraid
Help children understand:
If the body will be viewed either at a visitation or at the funeral itself, let the child know this in advance. Explain what the casket and the body will look like. If the deceased is to be cremated, explain what cremation means and what will happen to the ashes.
Encourage your children to ask questions and talk openly about their feelings. The actual burial could be an upsetting experience for a child who has no idea what is happening or what to expect.
Help the child to understand why we have funerals. Children need to know that the funeral is a time of sadness because someone has died, a time to honor the person who died, a time to say a final goodbye, a time to help comfort and support each other and a time to affirm that life goes on.
---
ACKNOWLEDGING THE DEATH
Whether you are offering condolences by calling, sending a card or flowers or visiting, the important thing is to make a gesture that lets the family know you're thinking of them and share their sorrow. (Although this appears to be changing slowly in today's culture, such forms of communication as texts, emails and tweets are still too informal for expressing sympathy or offering condolences.)
When hearing the news do:
Be a good listener. Let friends and family talk about their loved one and their death. If they don't want to talk about it, don't pressure them. Focus on the survivor's needs.
Refer to the deceased by name, and acknowledge his or her life.
Offer to help the person/family in any way, and if they want help, follow through.
Send flowers with a note (see suggestions for notes below) or offer a donation to a charity or an appropriate research organization. You can find this information usually in the obituary of the deceased.
Don'ts …
Ask the family of the deceased to help YOU in any way, shape or form. The grieving family should not have to:

Console you
Give you detailed information on what happened
Help you with travel plans

Don't take control of the situation. The grieving family needs control to help them work through grief.
Don't bring up other people's experiences. Let the bereaved focus on their loss.
Don't pressure the family to clean out the deceased's belongings. They need to do this in their own time.
Don't expect things to be "back to normal" in a certain timeframe
---
MAKING CONDOLENCE CALLS
If you can't visit in person, a telephone call expressing sympathy and offering condolences for the family is appropriate.
Don't be surprised if the phone is answered by someone who is taking messages, or your call goes to voicemail. It may be too much of a burden for the family to answer each call individually. Your message of sympathy will still be valued and appreciated.
Keep your call brief. Remember, the family is likely receiving a large number of calls during a time of bereavement. Keep the focus on the bereaved. This is not the time to talk about yourself or to relate your own recent experience with losing a loved one or a dearly loved pet.
Be a good listener. The bereaved may want to vent or cry or grieve. Let them talk about their loved one and the death. If they don't want to talk about it, don't pressure them.
Focus on the survivor's needs. Don't ask questions about the circumstances or probe for details about the death.
---
SENDING SYMPATHY CARDS
A pre-printed sympathy card is the default choice for most people, and it's an acceptable way to go. Consider, however, writing a personal note in the card.
Don't be afraid to use the name of the deceased, to recall a fond memory, or to share a warm anecdote about how the person affected your life. Those remembrances will be treasured by the family and often are kept for years.
If you can't attend the service, be sure to express your regrets in the card.
A special kind of acknowledgment for a Catholic family is a Mass condolence card—a greeting card that lets the family know a Mass will be said in memory of their loved one.
Those who are bereaved may have an especially difficult time during holidays such as Christmas, Valentine's Day, or the deceased's birthday or wedding anniversary. You can help by sending cards to acknowledge those special occasions or the anniversary of the death.
---
FUNERAL SERVICE ATTIRE
Because the nature of funerals and memorial services varies so widely today, attire isn't limited to just black or dark gray. The exception may be when you're a pallbearer or honorary pallbearer, in which case a dark suit is the usual attire unless the family requests something else. Remember, though, that it is a serious occasion and your attire should reflect that, especially if you are participating in the service. At the very least it should be clean, neat, and pressed as for any other important occasion.
---
BEFORE THE SERVICE
When attending a service, be on time and enter the house of worship or location where the funeral will be held as quietly as possible. If there are no ushers, remember that the seats closer to the front should be taken by very close friends, with acquaintances seating themselves in the middle or towards the rear.
If you arrive late, enter a row from a side aisle, not the center aisle. If a processional has begun, wait outside instead of trying to squeeze past those who are a part of the cortege and are waiting to walk down the aisle.
Please turn OFF your phone and DO NOT use it during the service!
---
DURING THE SERVICE
It's simple: Sit quietly, and don't get up during the service. The exception is when you have a cough that won't stop or you have to quiet a crying or unruly child; in both cases, quickly go to the vestibule or lobby. If a eulogy or tribute to the deceased is sprinkled with humor, it's fine to laugh, though not raucously.
---
OFFERING CONDOLENCES IN PERSON
It is appropriate and kind to let the family know how much you will miss the deceased, how dear she was, how they made the world a better place, or what an inspiration he was.
Use your own words to convey messages like these:
"I/We are thinking of you. I/we wish there were words to comfort you"
"I/We are shocked and saddened by your loss. We care and love you deeply."
He/She was such a fine person."
"What you're going through must be very difficult."
"It's too bad he/she died. I will always remember him/her."
"He/she lived a full life and was an inspiration to me and many others."
What NOT to say…
It is inappropriate to make statements that imply that the death was for the best or that show disrespect for the deceased. It is also inappropriate to probe for details of the circumstances of the death or the person's final moments. Be careful about making spiritual or religious references unless you know those sentiments will be well received.
Avoid clichés like …
"It's probably a blessing."
"I know just how you feel."
"He's at peace now."
"God won't give you more than you can handle."
"At least he/she is no longer suffering."
"It was her time."
Don't tell them what to do …
"You have to be strong now for your family (or business)."
"Stay busy to take your mind off things."
"You'll get over it in time and find somebody else."
"You're young and can have more children."
---
AFTER THE FUNERAL
Bringing Food for the Bereaved
In many cultures, it is customary to bring food to the home of the deceased, since there probably will be many relatives arriving who need to be fed, and the family may have neither time nor energy to cook meals. Often the family's church will organize the bringing of meals, or you can call ahead to see what is needed and when, so the family isn't overwhelmed. Be sure to either use a disposable container or label your dish with your name and phone number if you need it back.
Follow Up
Keep in touch with the bereaved. Be there for them when they are ready.
Remember birthdays and anniversaries of the death.
Offer to clean, cook or do other chores.
If appropriate, find out about support groups for bereaved parents and have the leader call the grieving parent to talk.
Send cards frequently — even six months after the death.
Praise the bereaved for even small accomplishments.
If you have any etiquette questions please feel free to email me at aimee@finessewodlwide.com and please check out my website for information, videos, and etiquette tips – finesseworldwide.com.