Fontina-Stuffed Zucchini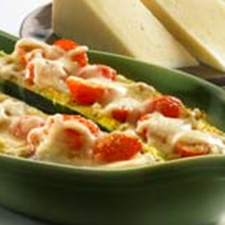 Zucchini "boats" deliver garlicky forkfuls of flavor from juicy grape tomatoes, spices and soothing, yet a bit tangy, Wisconsin Fontina. For a more pronounced Italian influence, choose Provolone or Mozzarella.
Ingredients:
4 medium zucchini, halved lengthwise
1 tablespoon garlic, minced
1 tablespoon extra-virgin olive oil plus additional for drizzling
1 teaspoon Italian seasoning
Salt and pepper to taste
20 grape tomatoes, halved
3 tablespoons dry bread crumbs
1 1/2 cups (12 ounces) Wisconsin Fontina Cheese (or Provolone or Mozzarella), shredded
Cooking Instructions:
Preheat oven to 350°F. Using spoon, scoop seeded centers from zucchini halves. Place zucchini halves cut-side-up in large shallow baking dish (cutting a bit from bottoms to level if necessary). Mix garlic, olive oil, seasoning, salt and pepper in bowl. Spread mixture over cut zucchini surfaces, dividing evenly. Divide tomato halves among zucchini. Sprinkle with olive oil and bread crumbs. Bake 30 minutes.
Remove and sprinkle cheese over zucchini. Bake additional 20 minutes or until Fontina Cheese is melted. Serve immediately.