Fit Family Update: Putting Nutrition Plans Into Action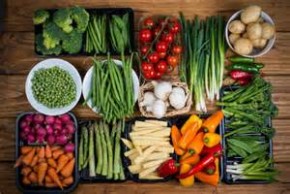 I am happy to report that both the McMaster's and the Bacon's are making strides towards building a healthier diet. Jessica McMaster admits that this week has been particularly challenging, however, she is now packing healthy snacks to take with her on the job, and is no longer going long periods of time without eating. This week Jessica is focused on creating an awesomely healthy shopping list, and finding a new healthy casserole recipe her family will love.
Fit Family mom Tracy Bacon has mastered her grocery shopping list by taking advantage of Harris Teeter's online shopping service that makes grocery shopping easy and pick-up quick. The Bacon's are doing well with cooking more meals at home and preparing healthier dinners. This week, Tracy is going to tackle changing their late night dinner schedule to a earlier time, to better fuel the family's energy needs. Tracy is going to focus on preparing an early, light dinner to serve the family before heading off to evening activities, and afterwards, offering healthy snacks to replenish their energies.This will help fuel the kids during their practices, and it will also prevent excessive eating and/or crashing the drive-thru in the late evening. Tracy is hopeful that this plan will help support the family's overall goals of achieving and maintaining a healthy weight.
Do you have a family favorite casserole dish that is also healthy? Or a healthy and fast weeknight go-to-dinner? If so, please share it for our fellow fit families to enjoy.
With 19 years of experience in the health field as a registered and licensed dietician, Tricia Azra's passion for "helping people live a little healthier" has not waned. She loves her job as the registered dietitian at the Carolinas HealthCare System's LiveWell Health Center at the McCrory YMCA. Tricia looks forward to inspiring change and serving as a resource to the Bacons and McMasters during the 2015 Fit Family Challenge.