Find Holiday Cheer for the Whole Family at Old Salem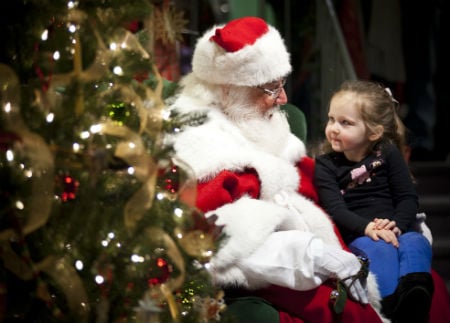 Whether you live in the Triad or elsewhere in North Carolina, Old Salem Museums & Gardens in Winston-Salem is a must-visit destination during the holiday season. This living history town recreates the Moravian community of Salem during the 18th and 19th centuries with its historic buildings. While the destination offers a variety of things to do and events year-round, here are just a few of the holiday events happening there this month.
Saturdays With St. Nicholas
Sarah, my daughter, attended this event last year with her Girl Scouts troop and enjoyed it so much, our family has made it a holiday tradition.
In addition to enjoying beautiful holiday decorations throughout the Old Salem Historic District, visitors can take part in these special activities:
Meet St. Nicholas and have a souvenir photo taken by a professional photographer.
Watch "Olive, the Other Reindeer" on the big screen in Gray Auditorium.
Listen to a reading of "'Twas the Night Before Christmas."
Enjoy holiday shopping and giftwrapping.
Taste a holiday beverage and treat from Winkler Bakery.
Not only is this event fun for the family, but it's reasonably priced at only $8 per person — and children under 2 are free. The event takes place Nov. 28 and Dec. 5, 12 and 19 from 10 a.m. to 3 p.m. Tickets are available at the Old Salem Visitor's Center.
Candle Tea
The Candle Tea, presented by the Women's Fellowship of Home Moravian Church, is probably one of my favorite things to do at Old Salem. Families enjoy Moravian coffee and sugar cake, sing Christmas carols while an organist plays the 1797 Tannenberg organ. Sarah also loves watching how Moravian beeswax candles are made.
The event closes out with a sharing of the Christmas story while visitors view a lighted Nativity putz, which is a miniature replica of early Salem. It's a beautiful way to close this cheerful and inspiring festivity.
Christmas by Candlelight Tours
Old Salem is a beautiful place to visit any time of year, but it's even more stunning at night during Christmas by candlelight. These tours are also interactive. Attendees tour Salem by lighted lanterns beginning at the Miksch House, where they learn about the Moravian's 18th-century Moravian Lovefeast and holiday traditions, and enjoy hot chocolate. Then they move on to the Salem Tavern Museum, where they listen to music and enjoy Tavern games like dominoes and checkers.
The final stop is the John Vogler House, where visitors experience elements of a 19th-century Moravian Christmas. Participants sing carols, hear a reading of "A Visit from St. Nick," and enjoy hot cider and a traditional 19th-century Christmas cake or cookie. The Vogler House is also adorned with a Victorian style Christmas tree and Moravian decorations.
Christmas by Candlelight Tours are hosted the first three weekends in December at 6:30, 7, 7:30 and 8 p.m. They sell out quickly and pre-registration is required,.
In addition to these three holiday offerings, Old Salem hosts many other festive activities. Visit oldsalem.org for a complete list. Old Salem Museums and Gardens is located at 600 S. Main St. in Winston-Salem.
Suzy Fielders is a freelance writer covering Winston-Salem offerings for families, as well as the local arts and films scene.