Excited for Lifestyle Changes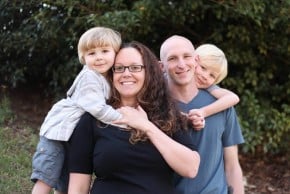 Hi, we are the McMasters family and so excited to be a part of this years Fit Family Challenge with Charlotte Parent Magazine. We have had the privilege of meeting with Tricia Azra, dietitian; Josh from Burn Bootcamp; and Maureen Carlomagno, our wellness coach. Each provided us with a lot of goals and gave us a few wake-up calls. Each expert has a desire for us to grow individually and as a family to become healthier individuals through this year's challenge. It inspires me to want to prove them right.
Both Tim (my husband) and I have personalities that we want a challenge; we want someone to tell us we can't do something just so we can prove them wrong.  We are excited to work for the next several weeks with these experts to make positive lifestyle changes!
A little background about our family. We LOVE food and yummy tastes! We love GOOD FOOD! And we love dining out! Tim worked in food and beverage for 10 years before deciding to completely change careers and is now a fire alarm technician for Champion Fire Alarms. For anyone who knows someone in food and beverage or lives with someone in that field you know the hours are long, work is stressful, and it is rare that they will be home for the holidays. Tim was presented an opportunity last March to leave the food and beverage industry and become a commercial fire alarm installer. This change would have upsides and one major downside; a pay cut. We decided as a family the time had come to make a career change. His new job would be less money, but holidays OFF and it is Monday-Friday 8 to 5!!  He is about to celebrate his one year anniversary at this job!  Sometimes you just need to take a leap of faith.
I had the amazing opportunity, with many sacrifices, to be a stay-at-home wife and mom for seven years. Last summer, I knew it was time for me to get back out in the work field and prove to myself I could do it! I was so scared and had doubts. I have now been teaching classes with Bricks for Kids Fort Mill, Tega Cay and Lake Wylie for a year as well. I started working with Derick Wilder with Reading Giraffe and Playball too! One of the best parts of my job is that I get to bring my boys to my classes with me. My schedule is packed and everyday I am presented with something new and fun! 
Back to our Fit Family Challenge goals and what the experts suggested for our family. When we met with Tricia, we discussed several issues our family had with our diet and bad habits we wanted to break. One of our first goals that we made on March 1st was to cut out all sugary drinks! This was a hard one because Tim and I love McDonald's sweet tea. We would stop at least once a day to get a tea or a gallon tea to take home. As of March 30th we have only slipped up once; and it didn't even taste that good.
One of my goals in this year's challenge is to lose 40 pounds. Remember we love to eat and it's usually not healthy. Our food is usually cooked with bacon fat, butter and heavy cream. Tricia and I discussed healthy and safe ways for me to lose weight. My starting weight on March 1 was 171 pounds.  I would love to get to 140 pounds. With that being said, my daily meal plan allows for 1,600 calories.
One of my problems is that I skip meals A LOT. I could go without breakfast, lunch or any snacks and just eat dinner; my excuse is that I just don't have the time. Tricia suggested meal prepping some snacks, which has been very beneficial these past two weeks. My husband has cut carrots and celery or apple slices in a container that I can grab and eat while driving from class to class.
Another goal of ours is to cook at least one healthy meal as a family involving everyone. Taking the kids to the store to pick out healthy vegetables or fruit for dessert. As mentioned before we love dining out. Tricia challenged us to choose healthier restaurants that offer grilled food instead of fried, and for us to choose healthier sides.  Being an on-the-go working mom with my 3-year-old driving with me, it was convenient to swing by McDonald's or Taco Bell and grab him a dollar menu item to eat on the way to our next class. This has stopped. He is now packed a lunch just like Micah, our 6-year-old, and eats on the way to our next class. I haven't heard any complaints so far … fingers crossed.
Guess what? Bacon fat and butter are gone, and we have been using olive oil to cook with. The taste is the same and no one has complained or missed the unhealthy fats. We loved hearing from Tricia on different ideas and suggestions that we can incorporate into our lifestyle that have not cost anymore money nor have they been time consuming.  It's the simple changes in life that can make a huge difference. 
When meeting with Josh at Burn Bootcamp, we faced the hard part; getting measurements and weight. I hope that by the end of this challenge there are changes and that we have progressed to where the experts hoped we would.
At Josh's meeting we were presented with a 60-Day Xcelerator Guide. Basically this guide was a carb cycle meal plan of high carb/low carb days with lots of food ideas, a shopping list, and more. The guide also contained "The Extra Mile Program." These are daily challenges that you can accomplish and push yourself the extra mile. I can't wait to get started with that part. Lastly, Josh had us "Define Our 'Why.'"  Why do we want to change, why do we want to be apart of the Fit Family Challenge?   Tim and I each came up with our own goals (1 Physical, 1 Mental, and 1 Emotional).  I challenge you to do this because it really speaks volumes … it may be a wake-up call.
Lastly, I spoke with Maureen from Your Wellness Coach on the phone briefly and we spoke of the different time management problems that our family faces that prevent us from getting to where we want to ultimately be. Tim and I both would love to get our workouts in first thing in the morning while the boys are still asleep, and I for one am constantly making excuses and finding anyway to not get out of bed. I am not a morning person and unmotivated to wake up. Maureen over the few weeks will hopefully give us some pointers when it comes to managing our time more appropriately. 
We look forward to meeting other Fit Family Challenge families over the next few weeks at events. Thank you for allowing us to share our story and progress.
Tim and Jessica McMasters live in a South Charlotte suburb with their two boys and want to eat healthier and exercise more. The McMasters are participating in the 2015 Fit Family Challenge and chronicling their healthy family journey along the way. Learn more about the McMasters and their healthy family goals, and follow along with their progress in the Fit Family Challenge blog.
Want your family to get healthy, too?
Join the challenge to get moving with your family toward a healthier lifestyle and to win fun family prizes. Find out more and sign up here.