Empowering Underachievers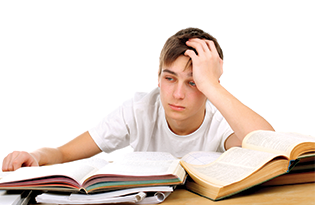 "She's crazy smart when it comes to the most random things, but give her schoolwork and she stinks!"
"My son was the perfect example of a capable yet underachieving student … school was endured and we simply survived."
Do these comments sound like something you'd say about your child? Many parents feel confused, frustrated and helpless when the child they always believed to be so smart struggles with basic academics, doesn't complete homework, fails classes or simply doesn't care.
Parents often expect these problems to be those of students with learning disabilities or below-average IQs, but they are often more characteristic of highly gifted children. These are underachievers, or students who are intelligent, gifted, and competent, yet aren't working to their full potential. Being gifted is a wonderful attribute only if the gifts are used to accomplish something. It's natural to be concerned when your gifted child isn't performing well in school.
Some characteristics of underachievers include:
-Perfectionism and anxiety over failure.
-Perception that what they are learning isn't meaningful or relevant.
-Fear of being rejected by peers for being different.
-Sense that their goals are unattainable.
-No interest in initiating new projects.
-Easily distracted while working.
Underachievers feel superior to others because of their intellect and believe rules don't apply to them, or that the work is meaningless. Being an underachiever gives a child a sense of power and control, allowing him to avoid dealing with the anxiety of failure, challenging responsibilities or others' expectations.
Tips to Motivate Underachievers
Have a conversation. Talk with your child about her long- and short-term goals. Tell her you care about her, but that she won't be able to achieve those goals if she doesn't take the daily steps herself. Share personal stories of your own less-than-ideal situations and how you had to make responsible choices.
Find what interests him. If he loves being active, focus academics around physical activities. Practice math facts while shooting a basketball in the driveway. Give rewards, such as a trip to the batting cages, when his homework is complete and neat. Jami Moore, mom of a capable, underachieving middle school student, says, "One thing I've found that helps us is music. If it's math, put it to music. If it's reading, give it a rhythm."
Communicate and collaborate with teachers. Keep up communication with your child's teacher and work together for his best interests.
Allow consequences. Your gifted child should be allowed to experience consequences. This might mean missing a class trip because he didn't complete homework or for failing a class so he learns he is responsible for his choices. Focus on what he will do in the future to avoid the same failure. If enduring a consequence like that doesn't motivate him, you may need to seek professional advice.
Nurture your child at his emotional age. Don't forget your child's age. His intellectual stage may not be the same as his social and emotional stage. An 8-year-old may grasp advanced academic facts but still impulsively hit his brother or have a tantrum over a broken toy.
Talk about her progress, not accomplishments. Don't tell her how great she is when she hasn't put forth much effort.
Don't do it for her. Resist the temptation to do work for your child. She needs to learn to take responsibility and do mundane tasks, sometimes simply because they are expected. Monitor assignments and tests but insist that she does the work herself.
The Talent Development program in Charlotte-Mecklenburg Schools offers options for keeping your gifted child motivated, challenged and successful. "It's personal ownership. Children have to own their learning," says Sheena Miracle of the CMS Talent Development program. "Have kids set goals while parents support and give the child access to the things that interest them." Kathleen Koch, director of Talent Development and Advanced Studies, recommends the book, "Why Bright Kids Get Poor Grades and What You Can Do About It," by Dr. Sylvia Rimm.
CMS Parent University offers a class on the social and emotional needs of gifted children. For locations and dates, check out cmsparentuniversity.org.
Lisa Hassell is a freelance writer, former elementary school teacher, and mom of a preschooler in Indian Trail.