Empowered to Succeed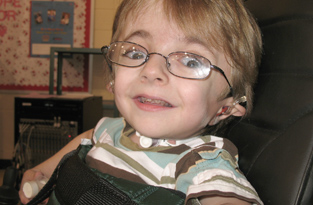 Six-year-old Lucas Duringer of Charlotte has a smile and spirit that melts hearts, even though he was born with Osteogenesis Imperfect, a disease that causes his collagen to grow abnormally making him very susceptible to broken bones. When he was four months old, his parents, Tom and Paula Duringer, were by his side through a 10-week stay in the neonatal intensive care unit at Carolinas Medical Center, where he was treated for several fractured bones and pneumonia, which left him with a tracheotomy.
When Lucas' doctor suggested treating him with a form of chemotherapy to help strength his bones, the Duringers were enthusiastic. "He had always been in so much pain, but he just blossomed after we started the treatment," says Paula.
Lucas flourished in preschool with friends and activities at Good Shepherd Presbyterian Church. When it came time for kindergarten, the Duringers met with the staff at Sharon Elementary to create a plan for Lucas, who, at 6, weighs just 23 pounds.
Lucas has a power chair that affords him independence and also serves to protect his fragile bones from the well-meaning curiosity of children around him. A nurse accompanies Lucas to school, where he also receives occupational and speech therapy.
His mom says Lucas' education and safety were the crucial issues surrounding his being mainstreamed into a public school. "CMS, Sharon Elementary and the students have been wonderful," says Paula, noting Lucas' art and physical education classes are modified so he can participate. Lucas also has the use of a special bathroom. "Because he cannot write as quickly as other children in his class, he is allowed to take his spelling tests on the computer and has been acing them," says Paula. "Sharon (Elementary) has educated every child and teacher about Lucas' condition. CMS and Sharon have set the bar for working with children with special needs."