Disney Dream Cruise: My Kid's Not-to-Miss Top 5 List
A four-year-old's Disney Cruise Ship favorites.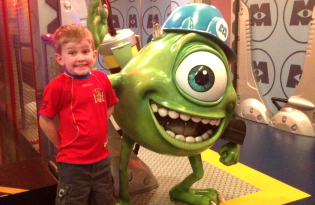 Read the full recap of Michele's magical family vacation aboard the Disney Dream
1. Midship Detective
The coolest thing possibly onboard for my child was the Midship Detective Agency. Enchanted paintings, strategically placed for a ship-wide scavenger hunt, are LCD screens that give clues to help you solve either the mystery of the missing puppies or the missing artwork. By holding a personalized QR-code badge up to the interactive art, the art comes to life and provides a clue to solve the mystery of the missing artwork or missing puppies. Pick up a QR-code badge and map on Deck 5 to begin the throughout the ship.
2. Goofy's Sports Deck
Playing Goofy's Golf — a miniature golf course — while gazing out at the blue sea from Deck 13 is pretty nice, and my son loved it so much, we played every day a couple times. Bigger kids can play basketball, foosball, ping-pong, or join in group dodge-ball matches.
3. Room service
A first for my son, room service for breakfast while watching Disney cartoons, not a bad way to start the day. We were all happy to find warm cookies and milk in our room mid-afternoon, just in time for a little siesta break from all the activities.
4. Free ice cream
We treated ourselves to free self-serve ice cream multiple times each day at the Eye-Scream ice cream shop. You know you've found the right place when you see Mike Kowalski from "Monster's Inc."
5. The Pirate Party
Though the show doesn't get started until 10:30 p.m., the excitement that builds up while getting decked out in pirate gear (pick up a sword at the Mickey's Mainstay gift shop that's good for the party as a souvenir) is almost as great as the live show on Deck 11 before the finale fireworks.