Cool Kids' Rooms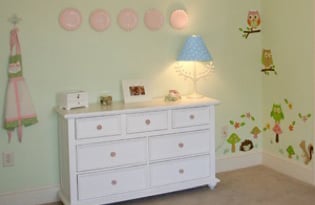 A child's bedroom is her little piece of heaven on Earth — a favorite lounging spot for daydreaming and a safe haven for when friends are mean. But decorating a kid's room to her liking can present challenges.
Whether you are working with existing furniture, transitioning from a nursery to a big-girl room or transforming the space for the teen years, you hope to create a spectacular room that will make her dreams come true and work within your budget. One Nursery to the Next Tennille Luginbill wanted to design the perfect nursery for her daughter, Keaton, in their new Waxhaw home. There was just one problem: She wanted to use the same crib they'd used had for their son, Quaid, but it was light blue.
"That is not your first color choice for a little girl," says Luginbill. She began to look around for accessories and bedding that would coordinate and struck gold at the Pottery Barn Outlet in Gaffney, S.C.
"I found bedding I loved in a pale mint green," she says. "I had the nursery painted the same color." Using peel-off wall decals from Target, she added owls and a tree for touches of whimsy. Pink knobs for the white dresser and other pink, green and blue accessories, including a rug, tied the room together. Luginbill also found and framed a cross-stitch print of a small, pink beach house her father had crafted many years ago. In an antiques store in Tennessee, she purchased a vintage green-and-pink apron to display.
Finally, a chandelier was another way to add a feminine touch to the room. Luginbill opted to paint her own polka-dot lamps shades and canvases with Keaton's initials.
"It is my favorite room in the house and my daughter adores it," she said. Blasting Off Into a Big-Boy Room When Kim Gajan's son, R.J., started requesting a more grown up bedroom last summer, they talked about his ideas and decided on an outer space theme.
"It was perfect timing, as his fifth birthday was in June, so we went to work getting it ready as part of his present," says Gajan, who lives in Charlotte. The walls already were painted a light blue, so Gajan painted the ceiling and a portion of the top of the wall in navy blue. She added a green stripe for contrast, as well. To make the room truly look like the solar system, she added phases of the moon and glow-in-the-dark stars to the ceiling.
"I found the bedding and space wallies on Amazon," says Gajan. "The wallies were the easiest part, because they went up just like wallpaper." She also was able to find a large painted canvas of the universe at Target that was a great fit. A globe and space books finished the room. R.J. participated in the decorating, as well. Using a kit, the family made a galaxy model to suspend from the ceiling. The effect was perfect, and R.J. was delighted.
"He is always so excited to go to bed to see his stars glow. As a parent, there are few things better than a child who is happy when he goes to sleep," Gajan says. From Cottage Chic to Teen Sleek Maddie Barnaba was about to begin her freshman year at Charlotte Catholic High School and started feeling ready for a bedroom makeover. Her room felt too young for a girl of 14, with floral quilts, lace, and yellow-and-pink flowers.
"I wanted something a little older, because I had my old room since the fourth grade," she says.
Maddie and her mother, Jennifer, began designing a more mature room that would take Maddie through high school, while keeping costs at a minimum. They were able to find light, lime green paint left over in the garage to paint her walls.
Maddie was interested in going for a clean, simple look, so the mom and daughter took a trip to Ikea. "Maddie was willing to use what she had, instead of spending a lot of money redoing everything," says her mom. A modern black-and-white coverlet was perfect over the white duvet Maddie already had, so they purchased just a few accent pillows for the bed. They found a large, white paper lantern for over Maddie's desk, as well as black-and-white photos of flowers. The look was finished black pillar candles from Ikea put in a pair of chunky, white candlesticks Jennifer found stored in a closet. The sleek-and-sophisticated makeover was a success … and the time spent together was priceless. "It was a lot of fun to design it with my mom, and I love my new bedroom," says Maddie.
It's All About the Color One of the biggest mistakes parents make when they design a bedroom is picking a popular cartoon theme and running with it.
"Parents tend to think about the stage the child is currently in, instead of looking at what he or she will like down the line," says interior designer Jeanne Laney, who has decorated children's bedrooms and playrooms all over the Charlotte area.
Laney suggests choosing a basic wall color and adding accessories based on the characters the child enjoys. When her son, Patrick, requested a Mickey Mouse room years ago, Laney painted the room in red, black and white, and accessorized with Mickey Mouse items.
"When he was older, he really began to get into karate. I took the mouse items down, and we picked sayings we liked in Chinese. I painted those symbols on the wall; it was easy and transformed the room." Laney advises parents to find the paint color first, as bedding always can be easily replaced as the child matures.
For quick-and-easy decorating ideas that are kind on the wallet, Laney says to look no further than the closest discount store. Here are some of her favorites:
• Buy a basic window drape in a solid color. Pick a coordinating ribbon and sew it (or use a hot-glue gun) to the top or bottom to create a custom look for less than $10 a panel.
• Update a lamp with a decorative shade. • Add appliqué letters — a child's initials, for example — to throw pillows for a fun accent.
• Paint the ceiling for an inexpensive way to make a big impression.
• Use a clothes wire with hooks to display a child's art and decorate a large space or wall. This also allows you to change the art as often as you like.
• Pick up large, white letters that spell out a child's name at a craft store for under $3 a letter.
Where to Shop
Locally:
HomeGoods
Ikea