Connecting With Techno-Savvy Kids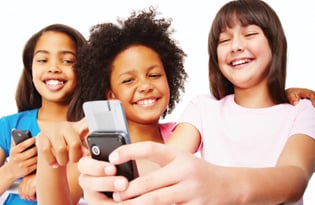 Mobile media use among teens has skyrocketed, paralleling the global trend for instant communication and connection. According to a 2010 report from the Kaiser Family Foundation, "Generation M2: Media in the Lives of 8- to 18-Year-Olds," teens and tweens in grades 7-12 spend 95 minutes a day on sending or receiving text messages, and that doesn't include time spent on social media websites.
It's no wonder then, that many parents have jumped on the bandwagon, using texting and Facebook to communicate with their kids.
Before pulling out the cell phone or posting on a child's Facebook wall, parents should ask themselves, "What is the task I am asking this tool to do?" says Robert Schrag, professor of communications at N.C. State University. Only with a clear sense of purpose and understanding will these tools contribute to parents' ultimate goal of maintaining family bonds through better communication.
Staying in Touch
While it isn't unusual to find 8- to 10-year-olds toting cell phones, some parents say that's by design. A cell phone "functions as an electronic leash, allowing parents to give their children a little more freedom, and it teaches a child to take care of something of moderate value and to be responsible enough to carry it with them wherever they go," says Scott Keoseyan of Matthews, the father of tech-savvy Sam, 17, Ben, 15, and Jack, 10.
Susie Murphy says her family uses texting to coordinate schedules and check in. "Having real-time contact eases my mind, rather than waiting hours to see my children or worrying about where they are," says the Wilmington mom of two.
The trend has caught the attention of family and communication experts across the state. Anne Fletcher, associate professor in the Department of Human Development and Family Studies at UNC-Greensboro, says young teens and their mothers view cell phones as a source of connection to family and friends, facilitators of autonomy and development, and sources of social status. In addition, parents feel comfortable with their children's use of cell phones, because they provided immediate and direct access to their kids while they are out.
Tina Ketchie Stearns of Winston-Salem regularly exchanges text messages with her 16-year-old son. "I use texts to stay in touch and also to convey support," she says, noting she recently sent him encouraging texts on his first day at a new job. "It's quick and it works."
Skimping on Face-Time
In fact, texting seems to have become teens' preferred method of communication, replacing phone calls and e-mail, particularly in managing day-to-day issues, such as what time they need to be picked up from an activity.
Karen Hogan says her 13-year-old daughter would rather text her questions about staying later at a friend's house or if a friend can come over to the house. But the Apex mother says she often feels there isn't enough detail in a text, and she and her daughter spend too much time going back and forth answering questions. "I request a phone call in these situations."
Hogan isn't alone in believing text messaging may not be a panacea for managing a family's day-to-day communication. Melinda Harper, an assistant professor of psychology at Queens University of Charlotte and a licensed family psychologist, says teens are not yet as skilled in communication as adults. "On the one hand, (electronic communication) can enhance relationships in that there is so much personal information available to share," she says, "but at times it creates opportunities for confusion and miscommunication."
N.C. State's Schrag, who specializes in media studies, warns that electronic communication can just as easily facilitate the breakdown of meaningful exchanges between family members who are constantly on the go. "What concerns me," he says, "is that families (use technology to communicate) remotely, replacing the kitchen table as the primary place for conversations to take place. This pushes family together-time into a narrower and narrower space."
Befriending on Facebook
To combat the disconnect created by busy lives and the shorthand of text messages, many families have embraced social media. While some parents require access to their children's Facebook pages or other social media accounts, merely to ensure their kids are following rules for safety and propriety, many parents view an online connection as a way to nurture their real-world relationship, as well.
"We use Facebook for fun, uploading family pictures or keeping in touch when we're away from each other," Murphy says.
The Matthews mom of three boys, Kimberly Keoseyan, says she posts supportive comments on her sons' walls. "I also use it … to parent them in a very subtle and careful approach," she says.
Parents who visit their children's online profiles may use their social media activity to educate children about online safety — something all parents need to do, whether they join their kids online or not. Scott Keoseyan, whose work in information technology gives him considerable insight into online threats, teaches his sons how to surf safely, handle e-mails from unknown sources, be discriminating about whom they befriend on social media websites, and consider "what is appropriate to post and what is not," he explains.
Avoiding "E-voidance"
Conversations such as these can help build trust and clarify values. However, not all teens appreciate parents' efforts to be involved in their online activities. Ketchie Stearns remembers her son "was mortified" when she came across him having an online conversation with his friends with a lot of profanity. "I broke in and said, 'You guys need to clean up this conversation,'" says Stearns.
Queens' Harper advises, "It is essential to consider boundaries, respect and balance in these communications. If a child feels a parent is too intrusive, he or she may resent it and withdraw."
UNCG's Fletcher says that in relationships characterized by open and warm communication, technology "may function to support and extend such relationships and serve as symbols of security and connection." In contrast, teens may view calls, texts and Facebook posts as intrusive if communication is generally marked by tension or hostility.
"Given the potential benefits to parents that these technologies bring about, they need to do everything they can to encourage adolescents to use them to maintain open lines of communication," Fletcher advises. "The best way to do this is to make communicating a positive experience."
Stearns says she started texting her son, rather than calling him, because he asked her to. "The good thing about texting is that he can be with his friends, and they don't know he's talking to me," she says. "So I get what I want, and he's not embarrassed."
Keeping it Real
As tech-friendly as they are, the Keoseyans say their philosophy boils down to one word: dialog. "I use e-mail for reminders. We also use Instant Messaging and Facebook chat. … If we are going to have a conversation, it will be face-to-face," Kimberly stresses. "We use technology to encourage dialog, not replace it."
Scott adds, "Anything worth saying to my children is worth saying to their faces, not posted somewhere for them — or anyone else — to see."
What matters in the end, parents and experts agree, is that families find ways of communicating that are mutually satisfying and effective. Parents and teens should have conversations about texting and social media websites and decide what the purpose is for each person involved.
"The technology itself has no ethical inclination," Schrag concludes. It can help or hurt family closeness, create genuine intimacy or merely the illusion of it.
Karen Lewis Taylor is an Apex-based writer and editor and mother to two daughters, 10 and 7.