CHARLOTTE MOM WE LOVE: Natalie Stewart
The Charlotte Lately co-owner, mom of two, and wife of Carolina Panthers running back Jonathan Stewart talks gratitude, mom guilt, and trying to make it to carpool on time.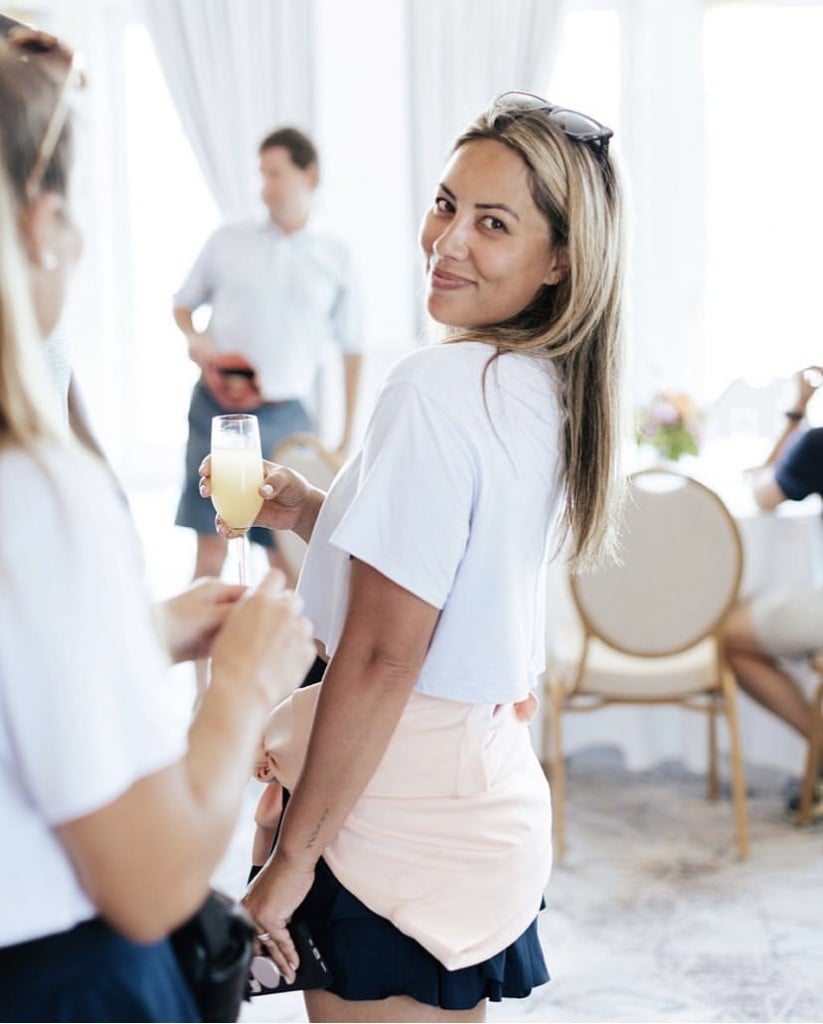 Tell us about your family. How many children do you have and what are their ages? I have two girls, Kaia Grey (5) and Nora Cole (16 months).
What are you most grateful for this Mother's Day? Our health and the health of my mom and being able to celebrate her. I think back to celebrating Mother's Day during the height of COVID when so many of my friends and family couldn't be with their loved ones. I'm grateful for simple things like my daughters being able to hug their grandma in person and tell her that they love her.
Hardest part about being a mom? Mom guilt. It's hard to be in all places at once. Finding a balance between taking care of myself so I can give from a full cup but also making sure I'm giving all I can to them is a constant struggle.
Favorite part about being a mom? When I see Kaia treating others well and her actions reflect the things we try hard every day to teach her. There's nothing that makes me more proud than seeing my own child go out into the world being herself, being kind, and loving others well.
Biggest parenting fail to date? There isn't a big one that sticks out but I feel like I'm constantly the mom coming in hot to carpool and never on time. I also got in line for carpool during spring break and thought I was the first one there…15 minutes later, I realized that there was no school.
Best parenting advice you ever received? Don't compare. Trust your own instincts for what's best for your child. It's not "one size fits all" when it comes to parenting and just because something works for one child does not mean it works for yours.
Marriage advice for new parents? It's really hard, plain and simple. Your whole world gets flipped upside down and it's a big adjustment and nothing prepares you other than real life experience. Have lots of grace with each other and never forget you're on the same team…even when you're sleep deprived and haven't showered for days.
Parenting support you could not live without? It takes a village, truly. My parents have been such a big support and have helped us navigate countless transitions as new parents. I am blessed to have some really amazing moms around me that have always given me such honest and helpful advice and have been there for me when I needed it most. I will never forget the friends that sent me dinner the first few weeks after I had our youngest. Meal trains are a love language!
Phase you feared your child would never grow out of? I can't remember the exact ages, but both girls went through sleep regressions and I remember nights where I was so exhausted and didn't know how I was going to make it another night without sleep.
Favorite way to spend an unscheduled day with your kids in Charlotte? We rarely have days with nothing, so when we do we love staying home and taking it easy. Hanging in the backyard or family snuggles on the couch and a good movie (aka Encanto on repeat).
Guilty pleasure? Binge watching reality TV. Sending myself flowers.
You have a whole day to yourself. What do you do? Nothing. Absolutely NOTHING. Stay in bed as long as I possibly can until my DoorDash delivery arrives and I have to walk downstairs to retrieve it.
Favorite Charlotte restaurant? That's tough. So many good ones. Yunta is my favorite new restaurant. Others that we love are Stagioni, Aqua e Vino, El Toro Bruto, Yama, and Chef Sam and the Counter. Anything by Katy and Joe Kindred.
Favorite place to shop in Charlotte? Boem, Vestique, The Golden Carrot, Well Kept.
What local amenity/retailer/service could you not live without? Blume Well Massage, Vyve Wellness, Sun Counseling and Wellness, Performance Rehab Associates, facials from Toccare, Your Farms Your Table, Denise Antonacci, Lindsey Regan Thorne for makeup, Brittany Newcomb (B.Noble Style).