Camp Without a Tent at High Rock Lake Campground
Get away from the hustle and bustle of the city without pitching a tent or losing all the comforts of home.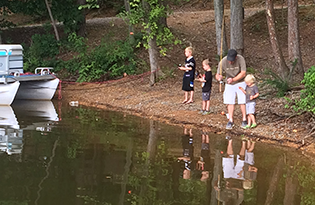 While I understand that some people shutter at the idea of pitching a tent and sleeping under the stars, it's a shame to miss out on the beauty of North Carolina's lakes and great outdoors. Plus an evening spent making s'mores and watching a crackling fire while listening to crickets under the stars is something to share as a family, and a trip that is often not forgotten.
Get away from the hustle and bustle of the city without pitching a tent or losing all the comforts of home at High Rock Lake Campground and Marina. This private campground has 10 lakeside, air-conditioned cabins to rent that sleep each sleep 4 to 6 people. Each cabin has a covered porch, refrigerator and electricity, as well as a clean shower and bathroom. The six-person cabin we stayed in had a loft, which as lots of fun for the kids when they wanted a break from the outdoor activities.
Fishing and boating are two ways to wile away the day on this tranquil part of High Rock Lake. Live minnows or worms can be purchased at the office/convenience store/snack bar on site. You can fish by your cabin or off the larger deck near the office. If you have a boat, you can tie up at a dock by your cabin ($5 fee per day), but if you don't have your own boat, you can also do a half- or full-day pontoon boat rental.
Swimming in the lake by the campground isn't an option (though there are nearby beach access points by car or boat), but kids who love water can kick around in the pool. After they dry off from a swim, the playground and basketball court await.
No need to bring along a coffee maker. Get your morning cup-of-joe at the store. First cup is free, and any after cost a few dimes. Charcoal grills and a picnic table make it easy to cook beside your home-away-from-home, or you could opt for a breakfast sandwich, grilled cheese, burger or hot dog from the snack bar inside the store. Lexington, known for its wood-smoked barbecue and vinegar-and-ketchup-based sauce, is only a half-hour drive down the road, making barbecue another good meal choice. After dinner or for a mid-afternoon treat, pop into the store snack bar for a scoop of ice cream on a sugar cone.
Cabin rentals range from $69-$85 per night. Find out more at highrocklakecampground.com.