Camp Safety: What to Know Before Kids Go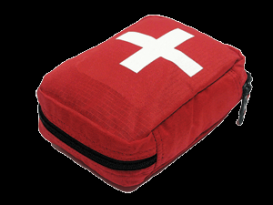 Sally McKinley of Charlotte wanted to make sure her twins had a fun and safe summer camp experience. So she did a bit of serious homework herself before packing the children off to their first overnight camp. Talking to camp directors, getting referrals from other parents and visiting an area summer camp expo all helped her make a decision on the camps for twins, Caroline and Patrick.
"Safety obviously is number one when considering a summer camp for your children," McKinley says. "I especially was concerned about counselor-to-staff ratios, waterfront safety and counselor training."
When the twins were 9 years old, they attended their first overnight summer camp. Today, at age 14, they are excited to be heading back to camp yet again this summer.
Like McKinley, many parents throughout the state will be looking at different camps for their children this summer. And safety is always tops when it comes to finding the best place for camping fun. In many cases, it's up to parents to determine a camp's safety before handing over a deposit.
North Carolina is one of seven states that does not require some kind of license for residential summer camps. While the state does require yearly sanitation inspections, other standards can vary widely, such as counselor-to-child ratios, programming and first aid policies.
So, what can parents do to make sure summer camps are safe for their children? Area camp experts offer a variety of tips for finding the perfect camp for good, safe fun for your child.
Accreditation
Many of the state's camps are voluntarily accredited by the American Camp Association (ACA), long considered the gold standard for camps. The detailed, lengthy process focuses on all aspects of the camp experience, from waterfront safety to staff qualifications to emergency communications.
"The ACA basically sets the standards for the camping industry," says Larry Hancock, who supervises the six North Carolina 4-H camps and is an ACA board member. "The ACA stamp of approval is parents' best bet for choosing a quality camp."
More than 220 day and residential camps in North Carolina, South Carolina, Georgia, Florida and Puerto Rico are accredited by the American Camp Association Southeastern. The ACA Web site, www.acacamps.org, offers information about camps nationwide and a link to the camp regulations for each state with information on topics such as criminal background checks and driving records.
Day camps also can receive ACA accreditation. In addition, if day camps are held as part of a year-round child care program, the camps operate under the state's child care guidelines.
Tony Oyenarte, president of the ACA Southeastern, says parents can check and see if a camp has the ACA accreditation. A 19-page overview of the ACA standards is listed on its Web site. The ACA accreditation is valid for three years with yearly updates.
"The majority of the ACA standards exceed the standards required in states across the country," Oyenarte says. "The ACA collaborates with experts to ensure that a camp's operations meet the most up-to-date, research-based standards."
Camp Visits
When it comes to safety, industry experts also advise parents to visit camps before deciding to send their children. It is ideal to visit during an actual camp session, but parents can learn a lot from a site visit any time of the year.
While many parents like new, modern facilities, others prefer rustic cabins similar to their own summer camp days, Hancock says. A visit helps parents get a true feel for the camp and if it will be a good fit for their child.
If an actual camp visit is not possible, parents can learn a lot about a camp on its Web site.
Talking about safety with the summer camp director is a top requirement when selecting a camp, Oyenarte says. In addition to basic questions about staff training and ratios, parents need to ask about the inspection, maintenance and storage of key equipment.
"It is important to ask if the camp has an outside company inspect the ropes course," he says. "It also is good to know how equipment is maintained and stored with safety in mind. Archery courses and horseback riding also are areas that need questioning about safety standards."
Lifeguard training, life jacket use, CPR/first aid certification and swimming requirements for campers are just some of the issues to consider regarding a camp's waterfront. Communication with parents, discipline of campers and medical staff are other important concerns issues that need to be addressed by the camp director, Ovenarte says.
Emotional safety ranks, too
Jen de Ridder is the summer camp director at YMCA Camp Hanes located north of Winston-Salem. In addition to focusing on the safety of the facility and its staff, she also focuses on the emotional safety of each camper.
In addition to the camp counselors and other staff, Camp Hanes added a new position last summer. Known as the "Navigator," this camp staffer focuses on campers who might be more likely to be homesick or have other challenges in a group setting.
"Last summer's Navigator worked hard to make a special connection with many of our campers," de Ridder says. "It is just another way we try to make the camping experience positive and safe for everyone."
All area camp experts agree: Safety is the top priority when it comes to having a successful and fun camp experience for everyone. And parents need to gather all the information they can from camp directors, other parents and Web sites like the ACA.
As McKinley's twins prepare for another summer of camp fun, she knows her research paid off. "I learned a lot about my children's summer camps and know they will continue to have a great time," she says.