At Home: Vintage Chic in the Nursery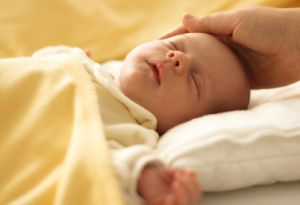 When Kerry Leasure, a Dilworth homeowner, found out three years ago that she was pregnant with her first daughter, she knew instantly that she wanted to design her dream vintage nursery. She envisioned a nursery right out of the pages of "The Velveteen Rabbit" and "Peter Pan" – a place where her daughter, Annie, would feel like her toys might actually come to life.
"I found some old nursery rhyme prints and Swan Soap ads from the '30s and just fell in love with the style," she said.
Vintage nurseries are becoming a very popular and original choice for parents who want to stray from typical nursery themes. Sites like www.thebabygardner.com have made it much easier for parents to locate decor and clothing options for their children. The site owner, Deanna Gardner, has seen the market grow for vintage items in the last few years.
A graphic designer, Gardner began to design her own vintage items seven years ago, when she found out she was pregnant with her first child. Her business grew to the point where she launched her own Web site, which features handmade clothes, accessories and stationery from Gardner and other vintage artists around the country.
She said, "I think more and more moms are being drawn to the nostalgia and charm of days gone by."
Gardner suggests, "When choosing colors, my best advice is to find a little inspiration. Open a vintage children's book and pick out an adorable illustration or find a vintage-inspired fabric you can't live without. Chocolate brown with pale pinks or light blue are a very popular color combination right now."
Finding the perfect items for your nursery might take some serious hunting. With two vintage nurseries under her belt (she gave birth to another daughter, Dot, last spring), Leasure suggests the Metrolina Expo for amazing antique finds. "I found Annie's rocking chair covered in horrid green fabric and sitting in a mud puddle. I bought it for $70 dollars and reupholstered it myself. Dot's dresser was also an Expo find for $75. It needed a good cleaning, but Pottery Barn sells things that look distressed for four times the price!"
As for the décor, she discovered incredible quilts, wall hangings and vintage toys on eBay. When she could not find bedding that suited the style of the nurseries, she went to Mary Jo's in Gastonia and made the curtains and bedding herself. "The bedding wasn't perfect," she laughs, "but my No. 1 rule is just not to look at the back of anything I have sewn!"
Leasure also suggests drawing inspiration from local stores such as the Sleepy Poet off South Boulevard and Web sites like www.landofnod.com or www.poshtots.com. "You can find wonderful ideas on the Web and even stores like Marshall's and make them your own for much less. Target will even surprise you with great pieces at good prices."
The girls' charming nurseries (pictured below) work perfectly in the Leasures' restored 1930s Dilworth home. "I have loved that era," she said. "I enjoy older items that feel loved and touched by other people. It feels like a kind of kinship. The girls' nurseries are also full of toys and books from my husband's and my childhood. "
"It takes a lot of work to put a nursery like this together," Leasure explains, "but I didn't mind. Each treasure is just an expression of how much I love my girls. And when it is time for a tea party, or just jumping on the bed, I feel a little thrill that they have a cozy special space to grow up in."
If you are interested in finding pieces for a vintage nursery, the Metrolina Expo has their annual Antiques and Collectibles Show April 4-9. More information can be found at www.metrolinaexpotradeshow.com.
Kelly Yale is a Charlotte Parent blogger, freelance writer and mother of two boys.