Animals Bring Smiles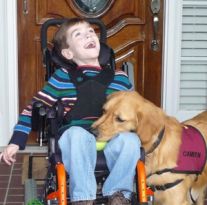 Alex Crisp of Charlotte was 3 when he was diagnosed with mitochondrial disease, a condition in which increased lactic acid in the blood causes abdominal pain, fatigue and seizures. It can affect one or several of the organs in the body. Alex also has a movement disorder. At 7, he weighs just 31 pounds.
His parents, Matt and Kathy Crisp, heard about paws4people — a program where dogs are trained by prison inmates to aid children like Alex. Following 16 months of training, Alex's new dog, Camden, came to live with the family in November 2009. Camden is a big help to Alex, as well as his mom Kathy who also cares for Alex's dad, who became a paraplegic years ago due to an accident.
Camden helps Alex by picking up items he drops or taking his shoes and socks off. The dog also makes Alex very happy.
"Alex loves Camden. Camden makes him laugh," says Kathy. "We feel fortunate, because so many children with this disease cannot respond."
Alex also participates in therapeutic horseback riding through Mitey Riders at Misty Meadows in Waxhaw. "Alex just lights up when he is there," says Kathy. "He lies on the horse, and it calms him."
When he isn't riding, Alex loves books, television and hanging out in the jungle-themed playroom the Make-A-Wish Foundation designed for him. And these days, you can't find Alex without his trusty best friend, Camden, by his side.
"Alex loves being around children so much, and kids love to see Camden at the park," says Kathy. "(The dog) bridges a social gap for Alex — when a child comes up to pet Camden, we explain how he helps us, and we introduce Alex to a new friend."