A Step-By-Step Guide to Hitting the Slopes with Kids
Ski Sapphire Valley is ready for beginner skiers this winter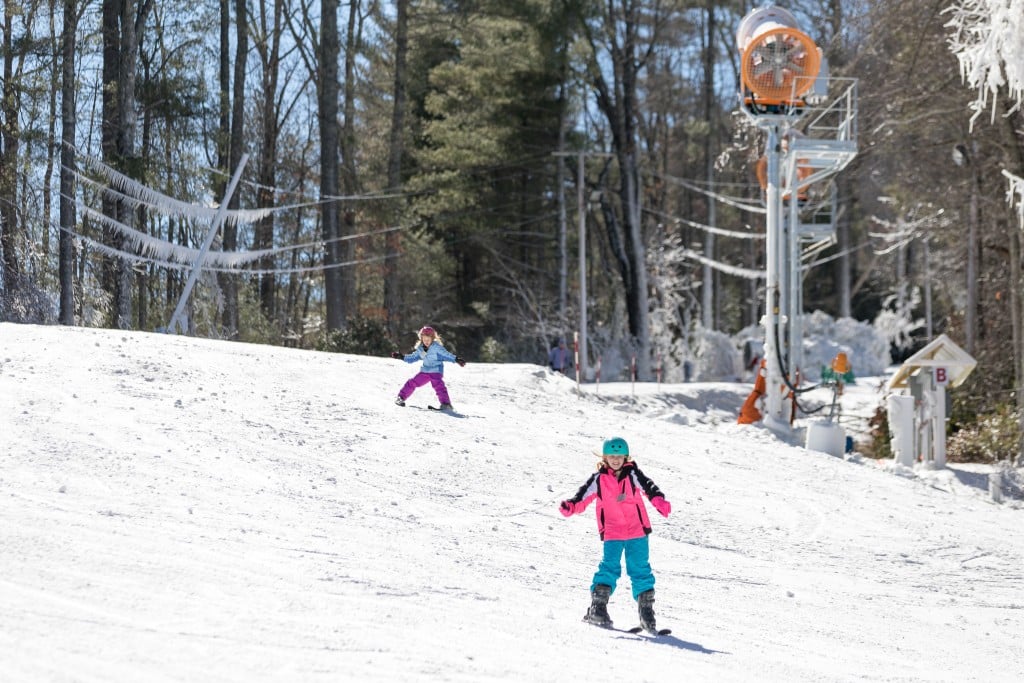 Planning a ski trip puts fear into the hearts of many parents. Between safety concerns and deciding where to go, what equipment to rent, and when to book ski school, it can feel like a logistical nightmare.
Ski Sapphire Valley at the Sapphire Valley Resort in Jackson County is three hours west of Charlotte. It's family-friendly with one 1600-foot run, a chair lift, and an introductory slope with a moving carpet. It's ideal for first-time and beginner skiers.
Steps to navigate a positive ski experience:
Consider peak travel dates. Weekdays are less busy and holiday weekends can mean longer lines. Ski Sapphire Valley's Outhouse Races are Feb. 11 and could be a fun introduction to the sport.
Book your rooms early. The Hampton Inn & Suites is directly across from the ski resort and offers a variety of rooms including one king suite with a sofa bed and jacuzzi. Hot breakfast is included as well.
Pack the proper gear. Skiers need a bib (recommended for children) or ski pants, gloves, goggles, jacket, hat, and thick socks. On some days, the weather is warm and layers are best. Rent what you need from Charlotte's Alpine Ski Center or purchase them in Sapphire's gift shop. Helmets are recommended and may be rented at Sapphire, too.
Bring sunglasses (if you're not wearing goggles) and sunscreen. The sun reflects off the snow and hits your face. Even folks in the rocking chairs overlooking the slopes will want to prepare for the sun.
Set realistic expectations. Skiing takes time to learn – it's unusual for someone to head to the slopes and know what to do without any lessons. It takes patience to wait on equipment and chair lift lines.
Arrive early to ski. Skiers can purchase a lift ticket and rent skis, boots, and poles or snowboards for a flat fee. The ticket is good from 9 a.m. until 8 p.m. There are separate pay rates for skiers with their own equipment or guests who want to ski only during the day or only at night.
Complete a waiver at home and print it out. Waivers are also available onsite. Each participant must have one.
Pay for lift tickets and all equipment at the cashier. A line forms at the side door at Sapphire's Community Center.
Get fitted for boots and skis. Go to the Sapphire Room, just a few steps away, and keep in mind it may take a time or two to get the right size boots.
Hit the slopes if you've got experience. Otherwise, head to the Ski School for group and private lessons. One-hour lessons are available for skiers and snowboarders. Pay for instruction directly at the Ski School.
Relax at Slopeside Tavern. The onsite restaurant offers views of the slopes and a menu of appetizers, burgers, flatbreads, salads, sandwiches, and wraps. A full bar serves regional craft beer from Asheville, Mills River, and Sylva.
Consider night skiing. Sapphire's Twilight session is 4 to 8 p.m. and included in the All-Day & Night lift pass.
Leave time for snow tubing. The Frozen Falls Tube Park has a 60-foot run with a moving carpet to return tubers to the top. One hundred guests make as many runs as possible in their one hour and 45-minute allotted time. Sessions begin at 10 a.m., noon, 2 p.m., 4 p.m., and 6 p.m.
Refuel. Nearby Cashiers offers several family-friendly restaurants. Build your own pizza at Slab Town Pizza or order off the menu: calzones, fried chicken sandwich, meatball subs, and more. Chili Loco serves fajitas, nachos, quesadillas, and tacos, but it's closed on Sundays, so plan accordingly. Stop by Crossroads Custard & Cold Brew and treat yourself to one or more of the 24 flavors of soft-serve custard in a fresh waffle cones. Come early for breakfast and get an egg stratum, oatmeal, parfait, sausage waffle, or smoothie.