'90s Music Favorite Lisa Loeb Finds Joy in Creating Music for Kids
Lisa Loeb releases her first record of nursery rhymes through Amazon in October.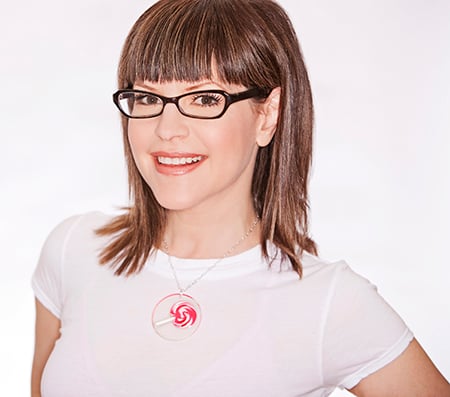 As a new parent that's suddenly introduced to a world of children's music, you may find that the bands you were listening to in college and high school are now making music for a much younger audience. While many come to kids' music the same way parents do — as new parents — Lisa Loeb, who plays Stage Door Theater at Blumenthal Performing Arts Oct. 2, began making music for kids long before she had children.
Wearing her signature cat eye glasses, Loeb shot to fame in 1994 with the hit "Stay (I Miss You)" (from the film "Reality Bites"). She followed it with `90s hits "Do You Sleep?" and "I Do" and later starred in reality TV series "Lisa & Dweezil" (Food Network, 2004, with ex-boyfriend Dweezil Zappa) and "Number One Single" (E!, 2006). She also voiced Mary Jane Watson in "Spider-Man: The New Animated Series" in 2003, the year she released her first children's music collaboration.
"I'm a very sentimental person," says L.A.-based Loeb while traveling to Brooklyn for the recent `90s Fest. "I grew up listening to standards, musicals and pop music, soft pop and bubblegum pop and classic rock in the `70s. One or two records that stood out for me – 'Really Rosie' by Carole King (with author Maurice Sendak) and 'Free to Be…You and Me,' put together by Marlo Thomas."
When Barnes & Noble asked Loeb to collaborate on a new project, she jumped at the chance to try to recreate the spirit of those albums. She's since released two albums and two sing-along books with CDs while continuing to release adult pop music.
"Those captured the essence of those records that I listened to when I was a kid. They sounded like grown up records with a sense of humor, but a good heart," says Loeb.
"Lisa Loeb's Songs for Movin' & Shakin" is her second collection of songs, stories and activities, and is available on Amazon.
In October she'll release her first record of nursery rhymes through Amazon — her first project inspired by her 3-year-old son, and daughter, who is almost 6.
"We got a lot of nursery rhyme books as gifts. We'd get to certain ones and I just couldn't remember the melodies," she says. Finding a lack of traditional recorded nursery rhymes, she recorded 30 classics of her own. "What's great about the old nursery rhymes is they have very simple, but very beautiful melodies that kids can latch on to and get to know easily."
As a mom that schedules her concerts in short spurts — the Charlotte date is part of an East Coast loop that coincides with a meeting in Atlanta with Costco, who carries her eyewear line — Loeb's current concerns include balancing meals, curbing toy shopping, and obsessing over organization.
"We're trying to figure out how to have fun and not buy new things. I'm still a kid of the `70s. It's hard. We just stopped to get coffee at Target and it took everything not to look around the store," she says with a laugh. "We're also trying to figure out how to organize the kids' toys so that the house is neat and open and the toys are visible and appealing. I always like to put the Barbie shoes with the Barbies, the Shopkins with the Shopkins, and the Legos all together, while showing them it's ok to leave a project out if you're working on it. We have to get more shelves."
Courtney Devores is a freelance entertainment writer who has covered music in Charlotte for 20 years. Her work has been published regularly in The Charlotte Observer as well as in Charlotte Magazine, South Park Magazine, No Depression, and Bratz Magazine.