8 Ways to Spark Summer Reading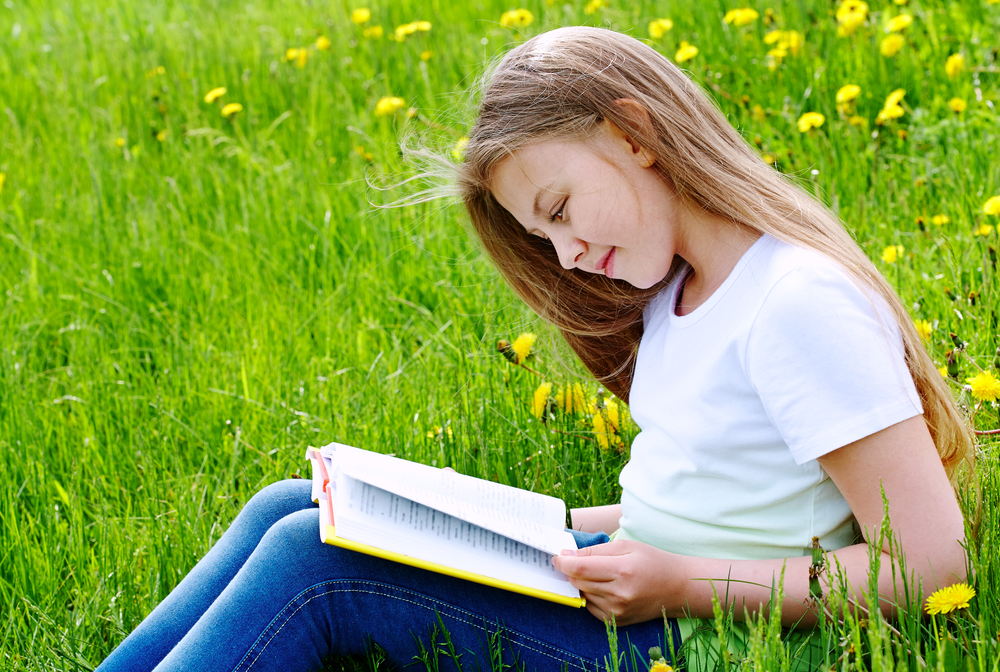 Most parents want to encourage reading, especially during the summer when kids often have more unstructured time. Now that so much reading occurs online, parents may wonder about the best way to nurture a reading habit. Is reading on a device as good as getting lost in an old-fashioned book?
The emerging answer is that both print and digital reading have value, but they promote different ways of thinking. A Ryerson University study published in the Fall 2012 Journal for Advancement of Marketing Education found that college students prefer reading online when they are looking for quick information. However, when they really want to dig in and master new material, they turn to paper books. Without the distraction of clicks, students find they engage more deeply and comprehend more of what they read.
Students also reported that they liked being able to manipulate physical books by underlining important phrases, writing notes in the margins, turning down corners and being able to thumb back to a favorite passage.
This study suggests that online reading often resembles snacking — quick, easy to digest, maybe even a little addictive. Physical books offer more of a meal — stimulating and nourishing on many levels. Because kids gravitate naturally to devices (and snacks), parents may want to put a little effort into helping kids discover the pleasures of print. Fortunately, most kids are receptive. A biannual study of reading habits by Scholastic magazine found that 86 percent of kids think it's important to be a good reader, and 6 in 10 "really enjoy reading books over the summer." Here are some ways to turn that spark into a flame.
Read aloud. In the Scholastic survey, kids ages 6–11 said they enjoyed reading aloud, mostly because it was special time with their parents. Even after they can read independently, many kids and even teens enjoy settling in to listen to a good story.
Hunt for books together. In the Scholastic study, 41 percent of kids said it was hard to find books they wanted to read. Turn the quest for good books into something you do as a family. Visit your local library regularly. Find out if there's a story hour at the local bookshop. Hunt for bargain books at garage sales and thrift stores.
Find books at the right level. Kids sometimes disconnect from reading when books seem boring because they are too easy or frustrating because they are too hard. Ask your child's teacher to recommend books or use the Scholastic book wizard at scholastic.com/teachers/bookwizard.
Follow their lead. If a child gets hooked on a particular genre, author or series, run with it. And don't get hung up on format. Magazines, graphic novels and comics can all be a gateway into reading.
Make it social. Enthusiasm for reading is contagious, so encourage kids to share books they like whenever possible. Some kids may enjoy writing reviews on kid-friendly sites like dogobooks.com or spaghettibookclub.org. Kids can also follow favorite authors online. Consider organizing a summer book club.
Find the right incentives. Just keeping a list of books your kids have finished can be motivating. Other kids will benefit from a small treat — maybe a gummy "bookworm" or a pack of Smarties. Search Pinterest for clever reading incentives boards.
Set aside time. Designate a specific time for family reading. Turn off the TV, computers and smartphones to make it clear that reading should be a priority.
Get creative. Think about fun ways to integrate books into whatever you're doing this summer. Carry a chapter book at all times. Create a treasure hunt with a new book as the treasure. Have a reading picnic. Take an audio book on your family road trip. Create a secret reading space by setting up a tent in the backyard or putting a sheet over a card table.
Whatever you do, keep it light. If your goal is to have kids who read because they love it, making rules too rigorous or setting expectations too high can be counterproductive. So start with a spark and ignite a lifelong enthusiasm!
---
Carolyn Jabs is author of the award-winning book, "Cooperative Wisdom: Bringing People Together When Things Fall Apart," available at Amazon and cooperativewisdom.org.