5 Ways to Help Your Child's Speech Development Without Electronics
New study shows link between handheld devices and speech and language delays in young children.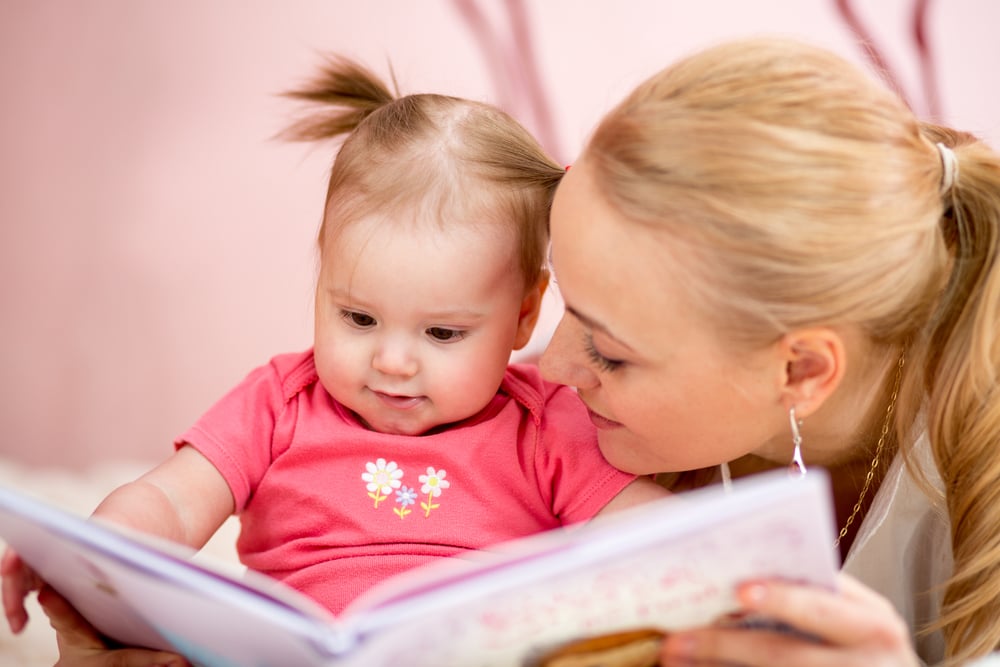 It's time to put down your phone, table your tablet and talk to your child. A new study by investigators at the Hospital for Sick Children in Toronto suggests that very young children — those under the age of 2 — who are exposed to screen time from handheld devices may experience speech and language delays. These can include delays in when they achieve their speech and language milestones, difficulties expanding their vocabularies and difficulty mastering basic grammar and syntax.
We all know that screens are everywhere, and we can't ignore them. But parents can find new — yes, and old — ways to entertain their children, and these low-tech forms of entertainment can help give their young child the tools she needs to master her speech and language. And guess what? These activities are free. No tablets or phones are required.
Use these five tips to stay away from screens and, instead, nurture your child's speech and language acquisition.
1. Talk to your child all the time. Believe it or not, talking counts as an activity in and of itself. Kids learn language best through interaction with a human being, not through screens. Talk to and engage with your child as much as you can. Talk about the world around you. Label what you see and describe it. Ask your child open-ended questions to encourage his own use of language, like "What do you see up in the sky?" Use descriptive words, vary your vocabulary and include your child as a conversation partner — even if he doesn't have any words yet. He'll love listening to your voice, and that alone will expose him to the language he needs to hear.
2. Bring books everywhere. If your bag can fit a tablet, it can fit a small picture book. Bring two to three of your toddler's favorite books with you everywhere — to the doctor's office, to the park, on your commute to school or daycare. Even if your child isn't reading yet, she can flip through the pages and look at the pictures to tell the story. And if you're busy and can't read to your child, ask her to tell you the story or to describe the pictures to you. Traditional books are much better for young children than e-books. They allow children to practice establishing book orientation, turning the pages and telling the story. Research shows that emerging readers don't learn these conventions from e-books.
3. Kids love kitchen items. If you need help entertaining your child while you're preparing a meal, get out your plastic containers, lids and spoons. Your child can build, stack, pretend to stir or make music by drumming while you cook. Tell your child about the kitchen items you're using and talk to him about how you're making the meal. Children often pick up vocabulary about food early on because it's familiar to them.
4. Sing and rhyme to your child. You may not like your singing voice, but your youngster doesn't mind. In fact, listening to the same song again and again helps young children acquire language: Research shows that babies respond positively to words and sentences they hear many times. Children also love rhymes — whoever came up with all those old-fashioned nursery rhymes was on to something — and research shows it helps equip them with skills that are great for literacy development.
5. Focus on listening. Listening is just as important as talking when it comes to language development. Help your child become a good listener by asking her to follow simple directions like "go get your shoes" or "wave goodbye!" Also ask your child to point to body parts, clothes and favorite toys. You can do this during bath time, while getting dressed, while folding the laundry or putting toys away. Focus on being a good listener to what your child has to say. Make some time for silence, and see if your child fills it up with her own babbles, words or sentences.
---
Michelle MacRoy-Higgins, Ph.D., and Carlyn Kolker are the authors of "Time to Talk: What You Need to Know About Your Child's Speech and Language Development." Higgins is an associate professor in the Department of Speech-Language Pathology and Audiology at Hunter College in New York City. A practicing speech-language therapist for more than 15 years, she has worked with hundreds of infants, toddlers and young children. Carlyn Kolker is a freelance writer and former reporter for Bloomberg News and Reuters. Learn more at the Time to Talk Facebook page or on Twitter.