5 Great Road Trips for Charlotte Moms This Fall
Where to head for a weekend away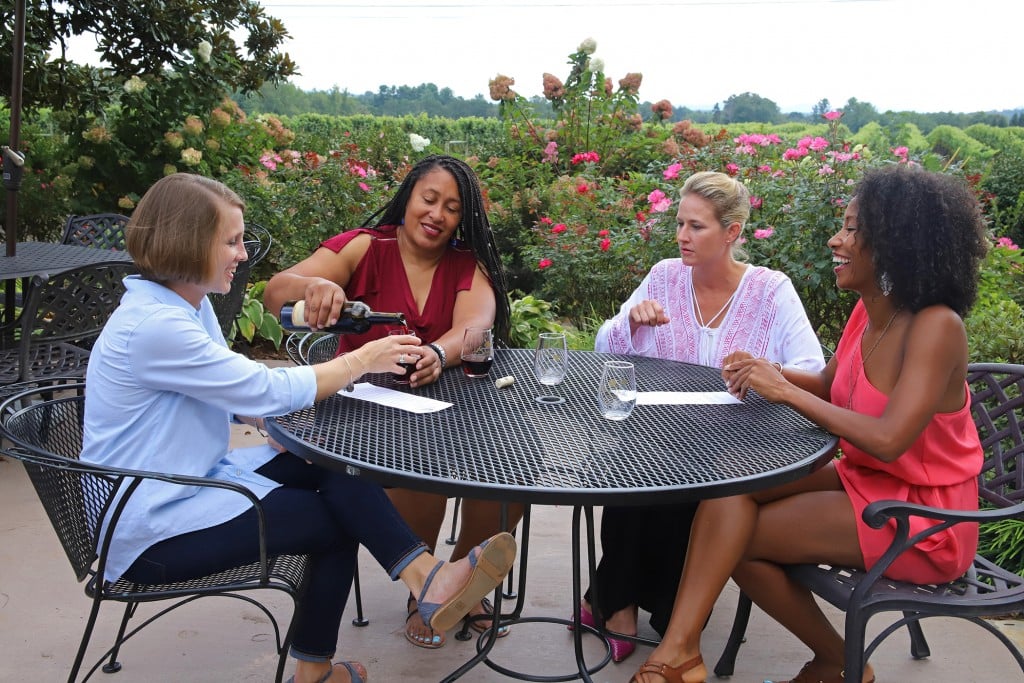 Remember hopping in the car with your girlfriends for a long weekend? Maybe your memory goes as far back to pre-kids or pre-marriage or as recent as pre-COVID. Those were the good old days when life was simple and everyone was carefree.
Now we pack masks and disinfectant wipes and ask questions about safety protocols before booking accommodations. Many of us set ground rules with our fellow travelers or quarantine two weeks before we go. Maybe you agree to wear masks at certain times and opt for takeout instead of dine-in. It's a different world, but moms still deserve a good getaway in the year of COVID. Here are five destinations worthy of a road trip:
FOR THE THRIFTY MOM: Abbeville, SC
Abbeville's colorful thrift and vintage stores make it a shopper's paradise. Browse antiques, collectibles, home décor, and handmade products at Breezy Quarters, Crate and Quill and Urban 2 Country. Restock your closet or refresh your home at consignment stores like Shanklin Creek, Southern Succotashv or Trends on Trinity. Book tickets for an evening comedy, music, or stage show at the Abbeville Opera House.
Where to eat: Recharge at Main Street Coffee Company or the Village Grill. For something stronger, try JP's Food & Spirits, or splurge on steak at The Veranda while dining on Belmont Inn's porch.
Where to stay: The historic Belmont Inn and The Veranda On Main in downtown Abbeville are both withing walking distance of shops and restaurants. Sharon Manor is a bed and breakfast with a firepit, swings, and rocking chairs. Before you book, ask about Abbeville's #JustRight travel packages that include discounts on accommodations, dining, and shopping.
Which way: Three hours southwest of Charlotte
FOR THE WINE-LOVING MOM: Hendersonville, NC
Follow the Cheers! Trail to six wineries – Burntshirt Vineyards, Marked Tree Vineyard, Point Lookout Vineyards, Saint Paul Mountain Vineyards, Sawyer Springs Vineyard and Stone Ashe Vineyard – and take in stunning views of the countryside. Learn how North Carolina grows European varietals like Cabernet Sauvignon, Cabernet Franc, Chardonnay, Merlot, and Riesling. Need a designated driver? Make reservations with The Trolley Company or The Regal Ride.
Where to eat: Find locally owned restaurants on Hendersonville's Main Street. Start with dessert at McFarlan Bakery. Head to Shine for rooftop drinks and dinner, or check out Postero for new American cuisine in a renovated historic bank on Main Street. For something quick, look for the Never Blue Food Truck Thursday through Saturday.
Where to stay: Stay at Bed & Breakfast on Tiffany Hill in nearby Mills River for its luxurious three-course "Breakfast at Tiffany's." Never leave the property when you stay at Vintner's Cottage, a two-bedroom house within steps of Burntshirt's tasting room.
Which way: Two hours west of Charlotte
FOR THE CRAFTY MOM: Seagrove, NC
Peruse a few of Seagrove's 30 pottery shops, catch a demonstration, or sign-up for a class or set up a party with Thomas Pottery. Plan a visit around the Celebration of Seagrove Potters in November or Tea with Seagrove Potters in March and August.
Where to eat: Grab breakfast or sandwiches at Fresh Cuts Butcher and Seafood Market. Head to Asheboro for Magnolia 23 or The Table Farm Bakery.
Where to stay: Have sweet dreams at Seagrove Stoneware Inn or The Duck Smith House Bed and Breakfast. Nearby Asheboro offers national hotel chains like Fairfield Inn & Suites by Marriott and Holiday Inn Express & Suites.
Which way: 90 minutes northeast of Charlotte
FOR THE BEACHY MOM: Sunset Beach, NC
Sunset Beach is a sleepy town in the southern-most barrier island beach of North Carolina's Brunswick Islands. Find the Kindred Spirit Mailbox on Bird Island, hidden in the dunes and the inspiration behind Nicholas Sparks' novel Every Breath. For views of the marsh and its wildlife, reserve a kayak tour with Summertide Adventure Tours in Ocean Isle Beach.
Where to eat: The Boat Landing in Sunset serves blackened fish tacos, burrito bowls, and shrimp and grits. A short drive takes you to the fishing village, Calabash. Try The Oyster Rock for its raw bar and varied menu with beef, chicken, and pork in addition to its seafood options.
Where to stay: The Sunset Inn has stunning views of the marsh and is a five-minute walk to the beach. If you need something larger, rent a house through one of these companies: Sloan Realty Vacations, Sunset Properties or Sunset Vacations.
Which way: Three and a half hours southeast of Charlotte
Lake Jocassee for Outdoorsy Moms
Lake Jocassee and the surrounding area is a wonderland for outdoor enthusiasts. Hike the short nature trail in Devils Fork State Park or the longer one to Yellow Branch Falls. Visit the Stumphouse Tunnel and Issaqueena Falls in Stumphouse Park. Hop on the lake with Jocassee Lake Tours which offers year-round ecology tours. View waterfalls from the top of a horse through Horseback Waterfall Tours—no experience necessary.
Where to eat: Refuel with fried green tomatoes and Buffalo chicken grilled cheese at The Hungry Hiker Restaurant in Walhalla. Beyond The Bull in Seneca offers dishes with bison, lamb, lobster, rabbit, and quail. Chill with friends in Jocassee Valley Brewing Company's cozy interior or on the patio.
Where to stay: For the cabin in the woods vibe, stay at Wildwater Lodging or Devils Fork State Park. Sunrise Farm Bed & Breakfast and Three Pines View in Salem offer a more intimate bed and breakfast experience.
Which way: Three hours west of Charlotte
VANESSA INFANZON is a Charlotte-based writer and mom. Follow her on Instagram and Facebook @morethanVMI.