5 Cool and Contact-Free Ways to Celebrate Halloween in Charlotte
Enjoy the festivities while staying safe.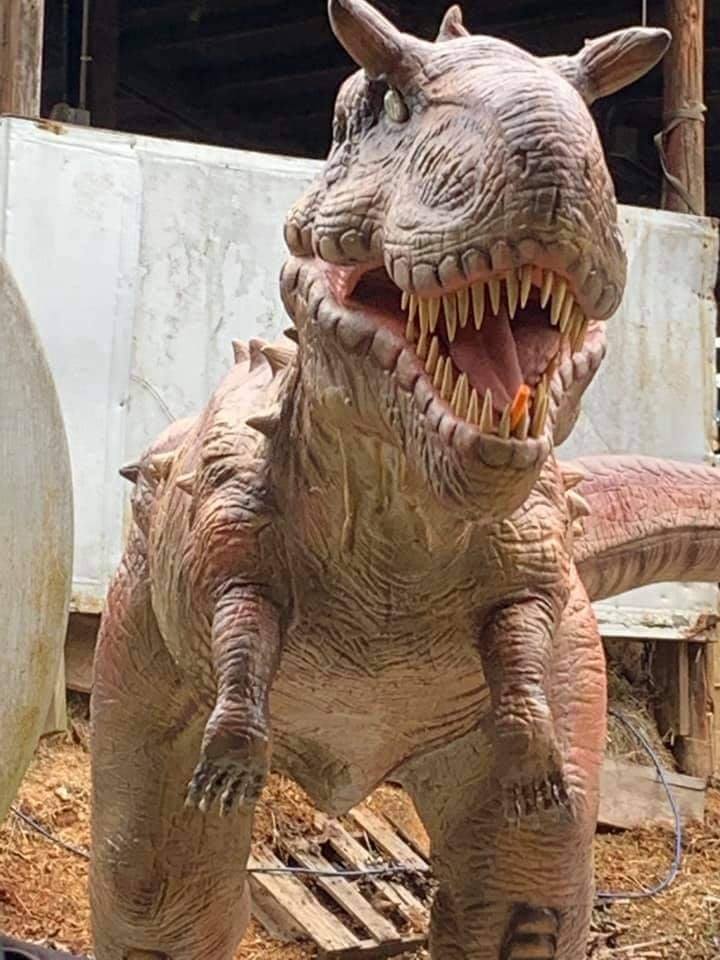 While everything looks and feels different this year, the tricks, treats and fun of the Halloween season are still in full effect. Don your costume and enjoy these minimal contact events. From a magnificent light show, to drive-thru candy stations and the chance to take aim at dinosaurs, there is something for everyone. However you choose to celebrate, stay safe and have a bootiful Halloween!
Drive-Thru Boo Halloween, Northlake Mall
October 31, 2020

Dress in your favorite costume and makeup then put the ghouls and goblins in the car and head to Northlake Mall for a trick or treat, no-contact event. The family fun starts at 2 p.m. at Entry 4 next to AMC Theatres. Vehicles will cruise to trick-or-treat stations in the parking lot where children will receive a goodie bag and treats while supplies last. 6801 Northlake Mall Dr, Charlotte, NC 28216
Hammond Family Light Show, McAdenville, NC
October 16-31, 2020
Prepare to be wowed by a spooktacular Halloween light show from the comfort of your car. Last year the Hammond Family treated the McAdenville neighborhood to a musical holiday light display with over 6,000 bulbs. This year, the family has gone all out with over 14,000 lights! You can enjoy the nightly show starting October 16 from 6:30-9 p.m. On October 30 and 31, the show runs from 6-10 p.m. 508 Chamberlain Court, McAdenville, NC, 28101
Boo Ha-Ha, Rock Hill, SC
October 31, 2020
Who says you have to wait until it gets dark to get in the Halloween spirit? Get a jump on your haunting adventure at Rock Hill's 37th annual Bo Ha-Ha event. Kids will be treated to a drive-thru trick-or-treat experience at Fountain Park in downtown Rock Hill from 10:30 a.m.-12:30 p.m. Vehicles should enter from the Oakland Avenue intersection going one way and merge into two lanes filled with Halloween decorations. Masked volunteers will distribute a free bag of pre-filled candy to each child. Kids are encouraged to dress in costume and all participants are required to stay in their cars.
"Its Movie Time" Halloween Night Drive-In, Salisbury, NC
October 31, 2020
Head to the big screen Halloween night in Salisbury and enjoy a kids movie from 6-8 p.m., followed by a trunk or treat event and a movie for the grown-ups starting at 9 p.m. Get rewarded for your creativity with a $500 costume giveaway. Tickets are sold in advance through Eventbright and range from $10-$20 per person. 1560 Julian Road, Salisbury, NC 28146
Dino Hunt – Zombified, Salisbury
October 30-31 (November 1 is a rain date), 2020
Spend your Halloween hunting for dinosaurs at the Rowan County Fairgrounds. Drive through the dinosaur exhibit and use your nerf gun to take aim at dinosaurs and zombies! Cost is $30 per carload at the gate or pay in advance for $20. Skip the line when you choose the Fast Lane Entry for $40. VIP packages are also available. 1560 Julian Rd, Salisbury, NC 28146
No matter witch way you enjoy the season, happy hauntings!