3 Cool Sleds for Kids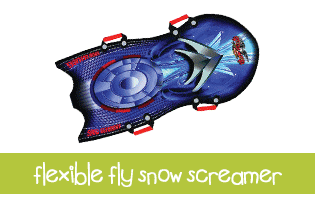 Flexible Flyer Snow Screamer
Made of lightweight foam, includes a slick bottom surface that encourages high speeds and two sets of sturdy handles to accommodate two riders. Ages 5-plus. $40.99, afterschool.com.
BenBat Walrooz Small Sled
Set of two walrus-themed sleds that can be connected for a fun two-person ride. Small and lightweight for easy carrying back up the hill. Ages 3-12. $28.97, sleds.com.
Bigfoot Sno Train
Double the fun in this 32-inch dual saucer sled. Molded-in, ribbed comfort handles, and it's bright red for easy visibility in snow. $16.97, homedepot.com.