2014 Spotlight Families: Meet the Zappleys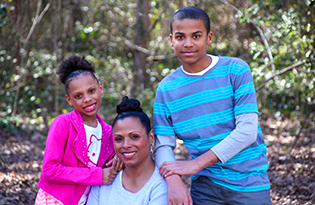 Fit Family Challenge Spotlight Families
Photos by MacPhotography
Our 2014 Fit Family Challenge is here. This month we introduce you to our first spotlight family, and will introduce the second spotlight family in the May issue. For three months, two families will share their challenges, triumphs, and the advice they get from a panel of experts to create a healthier lifestyle for themselves. Best of all, you have the opportunity to participate alongside them in getting fit and healthier this year.
Meet the Zappleys
Who: Marlo Zappley, 38; Christion, 12; Ariana, 8
Lives in: Charlotte
Occupation: full-time stay-at-home mom
Goals/Challenges: find and choose healthy food options when dining out; eat more organic food; learn to make healthy meals everyone in the family likes, find activities that engage both kids while having fun!
Marlo Zappley is a busy single mom to two children, 12-year-old Christion Zappley and 8-year-old Ariana Zappley. She is currently a stay-at-home mom who keeps up with daily, routine chores while attempting to fit in visits to the gym before the kids get home from school each day. By mid-afternoon she's handing out snacks, helping with homework and making dinner.
Marlo has a family history of asthma and allergies. She has suffered from asthma since childhood, although preventive measures, including some medication, have helped her avoid attacks. Her children are both healthy, but contend with seasonal allergies and very sensitive skin.
An active member of the YMCA, Marlo's main goal is to find physical activities she and her children can do together. "I find that it is sometimes difficult to incorporate activities centered on everyone's interests," she says. "Ariana and I enjoy hiking at the whitewater rafting center, but my son would rather pass. On the other hand, Christion enjoys soccer and swimming. But he mainly prefers to stay indoors on the weekends while keeping entertained with his iPhone. At night he likes to chill out from his day. In other words, my son enjoys being a vegetable until the next school day!"
The choice to apply to be a Fit Family Challenge spotlight family came about when Marlo realized that she and her children needed to make a healthier lifestyle change, which she knows will lead to happier family life. "It's important that my son, who is a preteen, remain active and stimulated by outdoor activities rather than just technology, she says. "In addition, I would like to create an environment surrounding routine and family fitness activities that we can enjoy and share together."
Meet last year's Spotlight Families

Like many others, the main goal for this family is to simply live a healthier lifestyle. Marlo hopes to do this by changing a few of their eating habits, including exploring different foods from local producers and farms, while also participating in physical activities that engage the whole family.
"As a single mother, one of the most difficult challenges for me is creating meals plans suitable for my whole family's liking," says Marlo. Her son, Christion, made a decision a year ago to stop eating pork after he watched a disturbing video about the pork industry. Marlo isn't necessarily a pork lover, but it can certainly be inconvenient to make unique or well-rounded dinners when someone doesn't like a particular food or a method of preparation. "The divided opinions over our food choices [lead] me to cook less or cook the same routine meals like chicken or pasta," she says.
Marlo's favorite quote comes from the beloved children's author, Dr. Seuss. "Unless someone like you cares a whole awful lot, nothing is going to get better. It's not." With Marlo's determination and the caring help from the Fit Family Challenge team of experts, a whole awful lot should get better for the Zappleys this spring.
Lisa Hassell is a freelance writer and former elementary school teacher who currently lives just outside Charlotte with her 4-year-old son.
Follow along with the Zappley family in the Fit Family Challenge blog »
Read More: 


Learn more about the Fit Family Challenge