2013 Holiday Gift Guide: Books, DVDs and Music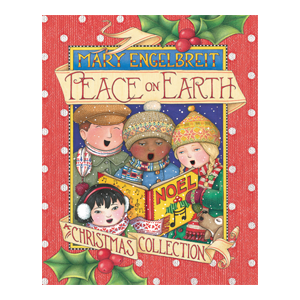 2013 Holiday Gift Guide: Part II
It's round two of our holiday gift guide. Find digital toys and devices, plus books, DVDs and music for all ages. The editors at Charlotte Parent — and sister publications Piedmont Parent and Carolina Parent — collaborated to pick these items from top toy product lists, parent recommendations and product samples.
AGES 0-4

Peace on Earth: A Christmas Collection
Mary Engelbreit
Featuring lively illustrations, this book is filled with traditional Christmas songs, poetry and the author's favorite childhood traditions. Ages 4+. $17.99.
zondervan.com
Rockabye Baby Lullaby Renditions of Michael Jackson
Lull the wee one to sleep with lullaby renditions of "Thriller," "Beat It" and "Smooth Criminal." Find many more lullaby renditions of favorite rock bands, from the White Stripes to Bob Marley. $16.98.
rockabyebabymusic.com
Merry Christmas, Splat… and More Winter Stories 
This DVD features four favorite characters and stories from Scholastic, including Splat the Cat, and features a read-along function and behind-the-scenes look at creting the animation for "Fletcher and the Snowflake Christmas." $14.95. Ages 3+.
newkideo.com
AGES 5-9

SpongeBob SquarePants: It's A SpongeBob Christmas! Blu-ray Combo Pack 
This special double-length episode finds Bikini Bottom in a festive mood as SpongeBob and friends prepare for Santa's arrival, except Plankton, who is once again expecting a lump of coal. Includes bonus Blu-ray episodes. All ages. $21.99.
nick.com
Angelina Ballerina's Nutcracker Sweet
Katharine Holabird
Angelina and her new friend Marco are performing the "Dance of the Sugar Plum Fairy" for the school's holiday showcase. Perf-out paper dolls and a an illustrated stage on the inside of the book's case bring Angelina's dance to life. Ages 5-8. $9.99.
amazon.com
The World Almanac For Kids 2014
Filled with thousands of fun, fascinating facts and essential homework help on a wide range of subjects, this full-color almanac has been completely updated with new content and jam-packed with quizzes, experiments, puzzles, games, activities, jokes, maps, website, and much more to get young readers excited about learning. Ages 9-12. $13.99.
worldalmanac.com
Despicable Me 2 Blu-ray + DVD 
In this follow-up to the 2010 blockbuster, Steve Carell returns to play Gru, the newly reformed master criminal now trying to live life as a normal dad to his three adopted daughters. Release date: Dec. 10. $24.99. Rated PG. 
AGES 10+

Time for Kids Top 5 of Everything: Tallest, Tastiest, Fastest
Ever wonder what the top five longest running Broadway shows are, or the top five greatest books for kids? You name it, there's a top five for it in this book. Ages 8+. $11.99.
timeforkids.com/store/books
Carla Kelly's Christmas Collection
Carla Kelly
Enjoy four heart-warming Christmas stories that take place in Regency London: "The Christmas Ornament," "Make a Joyful Noise," "An Object of Charity and The Three Kings." Ages 15+. $8.99.
cedarfort.com
More Great Gift Ideas for Kids:


Top Tech Toys