2009 Terrific Teen: Megan Thomas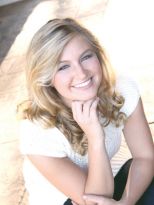 Megan Thomas is dedicated to serving others and making a difference in the world around her. Most recently, the high school senior has taken up the cause of autism awareness, her most significant community service project to date, and the one that she is nearest and dearest to her heart. "I know a family with an autistic son and I'm doing it for him," she says. To champion her cause, Megan is putting forth a series of efforts that will help teenagers more fully understand and appreciate autism. She wants that awareness to reach younger children as well, so she's visiting elementary schools to educate children on how to treat those who are different than them.
"Megan's compassion is very evident in her interactions with her fellow classmates," notes Rhonda Hill, an English teacher at Piedmont High. Helping others takes the form of everything from volunteering at Presbyterian Matthews Hospital to tutoring elementary school children to chairing a cancer fundraiser. "Megan has been highly involved in service, both in and outside of school," adds Stacey Butera, her guidance counselor. "She truly enjoys helping others."
The daughter of Stephanie and Michael Thomas, Megan is a natural leader, currently serving as vice president of the Student Government Association. Her goal is to plan things that will get the entire student body involved, and not surprisingly, to plan more community service projects. Her school recently participated in Habitat for Humanity, and a rally and letter-writing campaign to benefit St. Jude Children's Research Hospital.
Megan juggles all of these activities alongside her studies, maintaining a 4.86 GPA and earning a Morehead-Cain Scholarship nomination, though she shrugs off praise. "It's all about time management and determination," she says, "and I'm really devoted to the things that I do."