2009 Terrific Teen: Hunter Cameron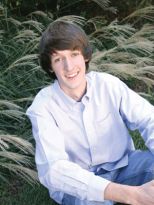 In some ways, Hunter Cameron is not your typical teenager. Instead of choosing classes based on what he's heard about the teacher or a class he knows his friends are taking, the Piedmont High School senior bases his choices on the subjects themselves. "The classes I like are the ones I will strive to do better in," he says. "My favorite class is any kind of science, and so far it's been chemistry." He earned second place in the American Chemistry Society academic competition, and he wants to focus on science in college — preferably in the study of chemistry or chemical engineering — continuing on to graduate school.
The son of Karen and James Cameron, Hunter has been top in his class all four years of high school, with a 4.75 grade point average while taking honors and Advancement Placement level classes. He has earned Academic Excellence awards and is a member of the National Honor Society and Junior Engineering Society. "Hunter is a dedicated and motivated student, who consistently puts forth 110 percent," says Stacey Butera, a guidance counselor at Piedmont High. "He is an excellent role model for his peers."
Those peers see him do more than study, and in that respect, he is a typical teen, immersing himself in sports, such as track and basketball (playing since age 6 and on the varsity team this year) and working as a parking attendant at Lowe's Motor Speedway. The latter was one of his many service projects, which include after-school tutoring for his peers, building a fence for a local church and working in the library of a local elementary school.
Beyond excelling in academics, Hunter has many pursuits. He is working on his Eagle Scout project and he also enjoys playing the guitar. "And I like hanging out with friends."