2009 Terrific Teen: Anna Bobrow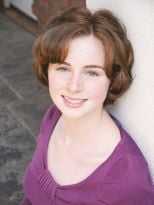 Girl Scout troop leader Kelly Markiewitz has high praise for high school senior Anna Bobrow. "She's not afraid to blaze her own trail," says Markiewitz. That trail has led Anna into the world of journalism. As chief editor of her school newspaper, she thrives on writing investigative pieces and has tackled such serious topics as freshman hazing. "Halfway through freshman year I started realizing that I really enjoy journalism," Anna says. "I like finding the story and doing my own fact-collecting." Anna admits to the occasional struggle with math and memorization, yet she boasts a 4.685 GPA. She'll spend extra time on the areas that are challenging, such as memorizing vocabulary words, and uses this approach in all of her studying. "If I don't have homework one weekend, I'll get ahead on my assignments so I can go to the next football game and not worry about my work," she says.
The daughter of Karen Knoble and Barry Bobrow, Anna applies her focus outside of school as well, completing the Girl Scout Gold Award project, the highest in Scouting, by volunteering more than 120 hours of her time at Sunrise Assisted Living. She built relationships with the senior adults at the facility, hoping to understand their views on aging and on life in general. She presented her findings to the entire upper school at Providence Day, encouraging her peers to reach out to senior adults. "Through writing and creating avenues for improved communication, Anna hopes to create inter-generational bridges," explains Jon Downs, dean of students.
Finally, Anna is working to complete the Presidential Service Award for the fourth consecutive time by completing 150 hours of service in a 12-month period. "I do a good job of picking my classes so I can manage the work," she says.
Through it all, she is devoted to the newspaper, though she admits to a particular affinity for poetry and other forms of writing. "Managing the paper has really consumed my life," she says. "But I still love to just write. My true passion is writing."