14 Ways to Enjoy the North Carolina Zoo
Plus, extra advice on making the most of your trip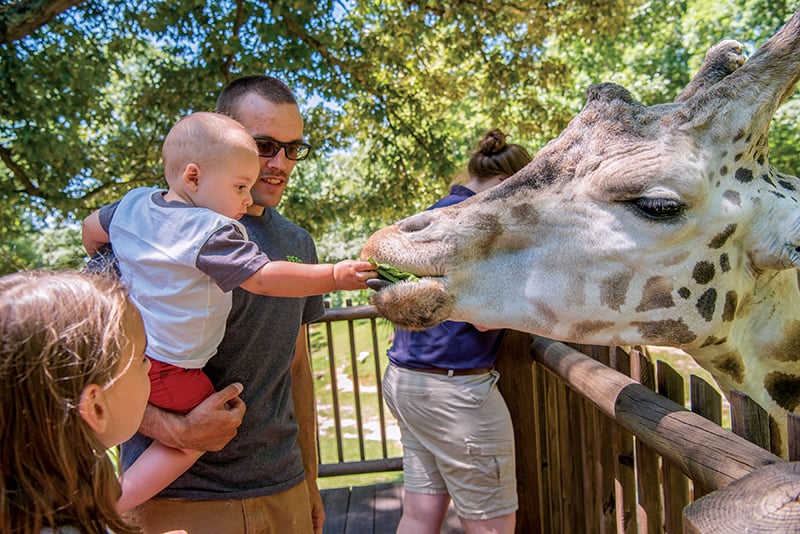 The world's largest natural habitat zoo is right in the middle of Charlotte and Raleigh in Asheboro, North Carolina — around 90 minutes from both cities. Designed to give animals room to roam in spaces that look and feel like the typical environment where they would live in the wild, the North Carolina Zoo is 2,600 acres consisting of two regions — Africa and North America. A third region, Asia, is expected to open in 2023. Animals on site include polar bears, gorillas, lemurs, giraffes, zebra, rhinoceros, buffalo, elephants, lions, cougars and many other animals, including numerous bird species.
Plan on spending a few hours in each region or split up your visit over two days. You'll find more than 5 miles of walking trails, plus a transportation system that makes various tram stops throughout the zoo. Strollers are allowed in the park and are also available for rent.
Zoo admission is $15 for ages 13-61, $13 for ages 62 and older, $11 for ages 2-11 and free for children under age 2. North Carolina public and private schools can currently make a reservation to visit the North Carolina Zoo for free through June 7. School reservations must be made at least 15 days in advance of the visit date.
Here are 14 ways to spend your day at the zoo. Some of these experiences require an additional fee, which is noted. Ticket prices for experiences are in addition to zoo admission.
1. Discover the North American Lake on a dragonfly paddle boat. Explore the lake for 30 minutes for an additional $3.
2. Hang on at the Air Hike Ropes Course. Challenge the family to complete 23 obstacles on this ropes course located in the zoo's Africa region. Can you make it through the swinging logs and spider web? Check for minimum age and height requirements. Tickets cost $12.
3. Watch exotic butterflies fly around the Kaleidoscope Butterfly Garden, a new installation will be open mid-May through Oct. 31. View gardens with flowers and butterfly exhibits for an extra $3.
4. Play at Kidzone in the North America region. Build a fort, make mud pies, climb treetops and experience animal encounters with one of the play leaders staffing the Kidzone. This section is free with zoo admission.
5. Explore hiking trails. Trailheads to two popular trails begin at the north end of the zoo's North American region. For a scenic view, hike to the top of Purgatory Mountain (.7 miles) or Middle Mountain (.6 miles). Paid admission to the zoo is not required to use the hiking trails.
6. Take the VIP Tour. The North Carolina Zoo Society can coordinate a behind-the-scenes experience with some of the park's most popular animals. Groups are limited to six. Some tours require children to be age 6 or older, and children younger than 16 must be accompanied by a parent or guardian. Prices range from $535 for members to $595 for nonmembers. The nonmember price also provides the buyer with a one-year individual membership to the zoo.
7. Experience rhinos, gazelles, ostriches and more on the Zoofari. Hop on an open-air bus for a 45-minute tour of the 40-acre Watani Grasslands. You might catch baby Rhino Bonnie with her mom, Kit, or one of the other dozens of animals frolicking in the grass. Tickets, which sell out quickly, cost $25 for ages 2 and older and are available at Junction Plaza.
8. Feed lettuce to a giraffe at the Acacia Station Giraffe Deck. Access the deck from April through October for a bird's eye view of the giraffe habitat. Tickets cost $3.
9. Plan for a picnic or eat at one of the zoo's restaurants. Look for picnic tables outside the gates of the Africa and North American regions. Choose from chicken, burgers, salads, hotdogs, pizza and snacks.
10. Send your animal-loving child to camp at the zoo. Explore a variety of camps offered by the zoo, including one during which campers learn about the animals from a zookeeper and veterinarian. There are programs for elementary, middle school and high school ages. Programs fill up quickly, so book early. Prices range from $60-$329 for single-day camps to $449-$639 for multiple-day camps, which also include food and lodging.
11. Learn about the zoo's conservation projects. The North Carolina Zoo has been involved in elephant conservation since 1998 in Cameroon, Africa, collaring 40 elephants to track migration patterns as part of an effort to save them from poachers and other human conflicts. Learn more by reading the elephant exhibit kiosks and talking to the zoo staff.
12. Borrow a sensory backpack from the zoo. The North Carolina Zoo has partnered with KultureCity, a Birmingham, Alabama-based organization, to provide noise-cancelling headphones, fidget tools and comfort toys for children who may need them. The backpacks are free and may be checked out at the entrance.
13. Schedule your visit around a special event. The North Carolina Zoo coordinates workshops and activities throughout the year. Look for the Eggstravaganza, which takes place April 21-22 this year; Boo at the NC Zoo in October and the Polar Bear Express in December. Check out the daily feeding schedule and find out what alligators, sea lions and gorillas eat. A zookeeper is available to answer inquisitive children's questions.
14. Experience the zoo in a golf cart. Ride-and-a-Guide is a special golf cart tour offered by the North Carolina Zooological Society. Several different packages are available based on interests and needs.
For more information about specific programs and hours of operation, go to nczoo.org.
Vanessa Infanzon is a freelance writer in Charlotte and a zoo enthusiast. Follow her on Facebook and Instagram @morethanVMI.