12 N.C. Mountain Attractions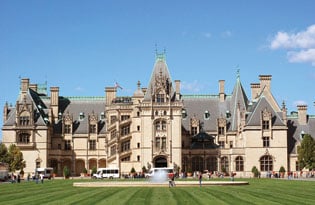 A trip to the North Carolina mountains is a trip outdoors. Or it should be. Most of what your family will want to see and enjoy in the mountains reflects the natural beauty of the hills.
"It's an outdoor community," says Tracy Brown, director of tourism in Blowing Rock. "If (your) kid likes to play video games every day, he probably won't like it here. But for a family that likes to get out and explore, Blowing Rock has a lot to offer."
The same could be said of any part of our state's western edge. From north to south you'll find more to enjoy than you have time for. In addition to numerous opportunities to hike, climb, swim, fish, canoe and raft all over the mountains, we've rounded up some family-friendly, must-see-and-do activities near three suggested family vacation base camps.
BLOWING ROCK
To the north, Blowing Rock is an ideal base for exploring the High Country with kids.
The Blowing Rock
theblowingrock.com
A visit to Blowing Rock's namesake and its related Native American legend is a great introduction to the Blue Ridge Mountains. The short, easy trail along the ridge overlooks the 3,000-foot-deep Johns River Gorge. The small site has a garden, miniature waterfall, picnic tables, observation tower and gift/snack shop. If you don't linger, it's a 30- to 45-minute stop. Just south of town on U.S. 321.
Tweetsie Railroad
tweetsie.com
This home of the famous steam-powered train is also North Carolina's oldest theme park. With a Wild West Adventure theme, you'll find cowboys and Indians, amusement rides, gem mining, and live shows, in addition to a three-mile train ride. Check the website for special events. About 2 miles north of Blowing Rock on U.S. 321.
Blue Ridge Parkway, Julian Price and Moses H. Cone parks
nps.gov/blri
Two of the largest parks along the scenic Blue Ridge Parkway are near Blowing Rock. Julian Price Park offers hiking trails, a picturesque lake with boat rentals, picnicking and camping. Moses Cone Park has 25 miles of gently sloping carriage trails leading to rhododendron gardens, Bass Lake, a maze, an apple barn, the Cone family cemetery and views from Flat Top Tower. The 20-room Flat Top Manor houses the Parkway Craft Center and hosts special artisan demonstrations during the summer. Moses Cone is about 2.5 miles south of Blowing Rock on the Blue Ridge Parkway at Milepost 294; Julian Price is about 4.5 miles south of town at MP 297.
Grandfather Mountain, Linville
grandfather.com
Grandfather Mountain is known for the Mile-High Swinging Bridge, a 228-foot suspension bridge spanning an 80-foot chasm, but there's plenty more. The state park also offers a nature museum, a small zoo and several short but scenic nature trails. Families can join wildflower walks and other guided tours. More experienced hikers can tackle 12 miles of hiking trails, most of which are challenging, and backcountry camping. 15 miles south of Blowing Rock via the Blue Ridge Parkway, at MP 305 and U.S. 221.
More area info: Blowing Rock Tourism Development Authority, blowingrock.com, 877-750-INFO (4636)
ASHEVILLE
The center of the mountain region, Asheville has all of the amenities of a big city without being too far from the woods.
Blue Ridge Parkway, Parkway Destination Center
nps.gov/blri
More people get on the Blue Ridge Parkway at Asheville than anywhere else along its 469 miles. The Destination Center just north of Asheville is the ultimate National Park visitor center. Kids will enjoy the I-Wall, a 22-foot interactive map with a sliding screen that calls up parkway photos and information. A high-definition, surround-sound film depicts a motorcycle tour of the parkway. Older, socially conscious kids will appreciate the center's environmentally friendly features like the "eco-roof" garden, and radiant-heat walls and floors. 6 miles from central Asheville, at Parkway MP 384.
Zipline Tours
Tweens and teens can prove they really are above it all by taking flight among the treetops. Asheville Zipline Canopy Adventures (adventureamericaziplinecanopytours.com) offers scenic mountain views and spectacular views of the Asheville skyline. Or tour the valley and ridgelines of an isolated, pristine cove in the Black Mountains with Navitat Canopy Adventures (navitat.com) in nearby Barnardsville. Both have 10 ziplines. Downtown and 21 miles north of Asheville off I-26.
Biltmore Estate
biltmore.com
North Carolina residents should visit Biltmore at least once, and probably more than once, to tour America's largest private home. But the 8,000-acre estate offers enough activities to fill a couple of days if you want to do it all. There are acres of gardens; the Antler Hill Village & Winery, with an early 1900s farm and other historical exhibits, dining and shopping; and the Outdoors Center for biking, hiking, horseback riding, rafting and kayaking. Stay at the four-star Inn on Biltmore Estates for a taste of style akin to what the original residents demanded. 6 miles from central Asheville.
Asheville Pizza and Brewing Co.
ashevillebrewing.com
In addition to good pizza and award-winning local beers, Asheville Pizza and Brewing Company has second-run movies for $3 on one side of the house and a game room with a giant-screen television on the other. Eat. Drink. Relax. This is a stop the whole family will like. North Asheville and two other locations.
More area info: Asheville Convention and Visitors Bureau, exploreasheville.com, 828-258-6101.

BRYSON CITY
Farther south, Bryson City is a gateway town for Great Smoky Mountains National Park and Cherokee, where Native American history meets kitsch and kiddie fun.
Great Smoky Mountains Railroad
gsmr.com
Explore the mountain river gorges and valleys along 53 miles of track – with 25 bridges and two tunnels – via the Great Smoky Mountains Railroad locomotives. Choose from whole- and half-day excursions, including special themed rides such as Day Out with Thomas, Polar Express and Mystery Theatre Dinner Train. Next to the depot, train fans will love Smoky Mountain Trains (www.smokymountaintrains.com) with 7,000 Lionel engines, a three-level track with up to six trains running simultaneously, rail yard with vintage cars and children's activity center.
Deep Creek Tubing
greatsmokies.com/tubing.php
After the train (above), the biggest draw for families in Bryson City is tubing on Deep Creek. "The children absolutely love it," says Kim Shuler of the Swain County Chamber of Commerce. Deep Creek has an upper, white-water section and lower, gentler section more suitable for smaller kids. Several outfitters supply tubes and will drop you off at established put-in points.
Great Smoky Mountains National Park
nps.gov/grsm
Great Smoky Mountains National Park, the country's most-visited national park, has plenty to do in its 521,000 acres, but the single must-see for a family trip is Clingmans Dome, the park's highest point, at 6,643 feet above sea level. The half-mile paved path to the observation tower is a bit steep, but those who make the effort are rewarded with panoramic views. Stop at Oconaluftee Visitors Center on the way in or out, and consider a side trip to the very pretty, 120-foot Mingo Falls near Oconaluftee (which requires an even steeper climb up stairs). Clingmans Dome is 39 miles from Bryson City.
Fontana Dam
tva.gov/sites/fontana.htm
At 480 feet tall and 2,365 feet long, Fontana Dam is the tallest concrete dam east of the Rocky Mountains. The view is impressive either from the approach road or looking down from the top. The dam site has a visitor's center and is popular with hikers on the Appalachian Trail, which runs across the dam. Nearby Fontana Village Resort offers boat rentals, horseback riding, and other activities and events. 32 miles from Bryson City via U.S. 74 and N.C. 28.
More area info: Swain County Chamber of Commerce, greatsmokies.com, 800-867-9246.
Christopher E. Nelson is the founder of CarolinaOutdoorsGuide.com, a directory of federal and state recretion sites in North Carolina, and CarolinaMusicFests.com.