11 Places to Find Thanksgiving Take-and-Bake Meals in Charlotte
Ditch the apron and leave your Thanksgiving meal prep to the pros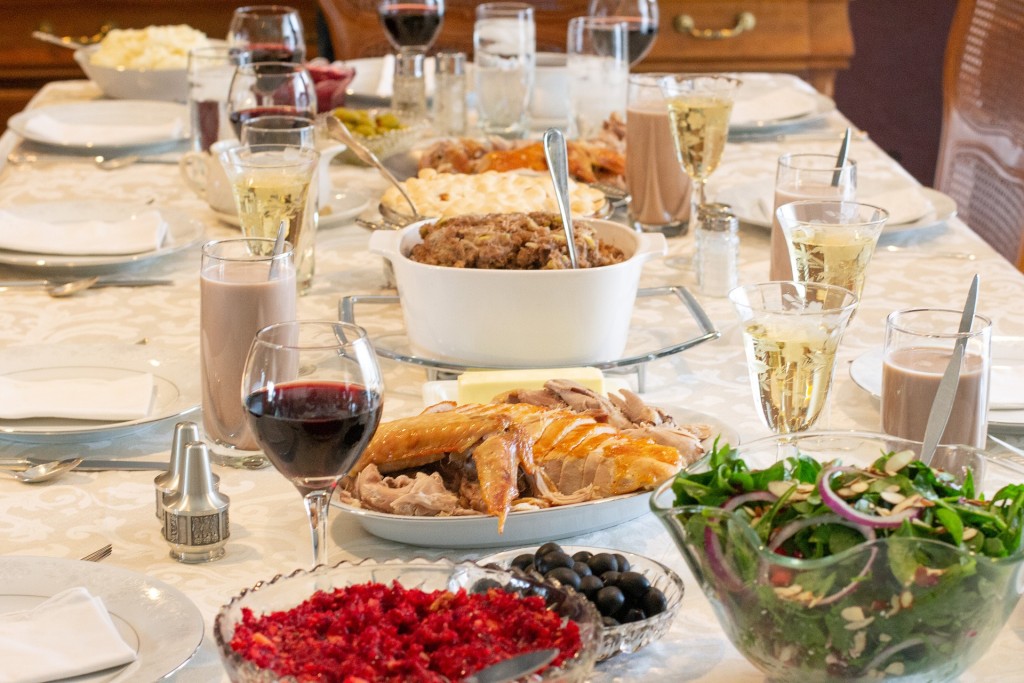 Hectic and holidays go together like turkey and stuffing. This Thanksgiving, skip the long grocery lines, messy kitchen, and endless prep time and leave the cooking to someone else. Here are 11 local restaurants that can help you make this the most delicious Thanksgiving ever.
Choose from a whole smoked turkey from a North Carolina farm ($80), sliced boneless ham ($13 a pound), sliced beef brisket ($28 a pound), and more. Listen to the
oooohs
and
aaaaahs
when you serve up classic sides like mashed potatoes, mac and cheese, and collard greens (all $12 a quart). Throw in appetizers, desserts, and savory sauces and consider your holiday done.
Place orders by
Sunday, November 21 and pick up by Wednesday, November 24. Find reheating instructions and cooking tips on the website.
Multiple locations
Order a meal for six that includes a 12- to 16-pound turkey and sides for $279.99, or feed up to 10 people with an 18- to 22-pound turkey with sides for $369.99. Turkeys are brined in a shallot, thyme, sage, garlic and maple syrup bath. Jut pop the bird in the oven and get ready to dive into savory brioche stuffing, cranberry chutney, gravy, creamed kale and butternut squash gratin, buttermilk mashed potatoes, bacon bourbon collards, sweet potato casserole, rolls, and dessert. Place your order
online
by November 19 and arrange for pickup or delivery on Tuesday, November 23 between 10 a.m. and 5:30 p.m. or Wednesday, November 24 from 8 a.m. to noon. Food stays fresh up to 5 days.
Table and Twine, 2600 Youngblood St.
With choices that include a free range turkey ($89.99-$129.99, depending on size); whole duck and shucked oysters (market price); as well as a huge selection of veggies, starches, sauces, soups and more, Reid's has you covered. Have overnight guests? Order a breakfast spread for a quick and delicious morning meal.
Order online now
and pick up on November 23 and November 24 from 8 a.m. to 3 p.m. Orders placed after Saturday, November 20 at 5 p.m. are subject to availability.
Multiple locations
Fill up on sliced white meat turkey, homestyle gravy, roasted garlic mashed potatoes, spicy Italian sausage stuffing, green beans, cranberry sauce, and pumpkin pie. Choose from cold or heat and serve options. The $78.99 small feast feeds three people and the $148 large feast feeds six. Orders are due by 8 a.m. on November 23. Pick up for the cold option is November 23 between 10 a.m. until close through Thanksgiving Day, 10 a.m. to 3 p.m. Pickup for the hot option begins November 24 from 10 a.m. until close through Thanksgiving Day, 10 a.m. to 3 p.m. Catering feasts can be picked up November 15-25 and Thanksgiving Day from 10 a.m. to 3 p.m. Find all
ordering
and reheating instructions on the website.
Buca di Beppo, 10915 Carolina Place Pkwy., Pineville
For $89, feed eight to 10 hungry guests with a fully cooked, 10- to 12-pound turkey, Yukon Gold whipped potatoes, herb stuffing, gravy, cranberry relish with walnuts, and 12 dinner rolls. The meal requires reheating, but don't worry—instructions are included. You can also mix and match meats and sides individually, or really dazzle your guests with a holiday brunch.
Online ordering
ends November 22 at 2 p.m. Schedule your pickup between November 22 and 25.
Multiple locations
The Thanksgiving menu features a Mojo roasted turkey breast with gravy or Mojo roasted Lechon served with pork drippings. Impress the crew with sides like plantain stuffing made with Cuban bread ($30, feeds 10 to 12), Peruvian-inspired sweet potato casserole ($30, feeds 10 to 12), tropical mango and cranberry relish ($10 a pint), Cuban black beans and rice ($10 a pint) and Anika's caramel apple cake ($20 each). Place orders by November 21 for pick up by November 24. Calle Sol Latin Cafe & Cevicheria, 1205 Thomas Ave.
Place orders now through November 19 for pickup on November 24. The $250 Family Feast serves six to eight people and includes a whole turkey, gravy, mac and cheese, green beans, sweet potato puree, Zach's collards, stewed squash, and cranberry relish. Rather mix and match? Order appetizers, sides, and desserts la carte. Noble Smoke, 2216 Freedom Dr.
Place all orders
by November 17 for pickup on November 23 and 24. Meals serve four to six people with a variety of choices like pickled shrimp cocktail ($55) or country ham biscuits with apple butter ($25), smoked turkey breast and herb gravy ($75), NY strip with caramelized onions and horseradish ($120), bourbon braised collard greens ($24), spinach and feta quiche ($22), and banana pudding ($80 a pan). Leftovers are not guaranteed.
Copain, 6601 Morrison Blvd.
If your favorite thing about Thanksgiving is sides and desserts, Chef Alyssa has you covered. Each item serves six to eight people (except cranberry sauce and dessert cups) and all dishes are prepared cold with reheating instructions. Choose from mashed sweet potatoes with goat cheese and maple-pecan crumbles; smoked cauliflower and butternut squash with herbs, cranberries and shaved parmesan; green bean casserole with crispy shallots; and more. Selections also feature gluten-free, vegetarian, and vegan options. Pre-order deadline is November 18 at 3 p.m. with pickup Tuesday, November 23 from 11 a.m. to 8 p.m. and Wednesday, November 24 from 9 a.m. to 5 p.m. Delivery options are also available. Chef Alyssa's Kitchen, 4001 Yancey Rd.
Big View diner offers a hot, fully prepared, ready-to-eat meal you can pick up Thanksgiving Day between 10 a.m. and 2 p.m. Enjoy a leisurely morning and bring home a whole roasted turkey, pan gravy, cranberry sauce, stuffing, whipped potatoes, sweet potato casserole, fall veggies, a salad, rolls, and pumpkin and apple pie. Big View Diner, 16637 Lancaster Hwy.
Wow your crowd with a family-sized order of What The Fries' popular bread putting tots. This signature dish comes in three holiday flavors: Purple Yam, Carmel Apple, and Frosted Christmas Cookie. Each $50 pan feeds eight to 10 people. Store in the fridge until ready to serve, then cook 15 to 20 minutes at 350 degrees. Place orders online now through November 19 for pickup on November 24. What the Fries, 10707 Park Rd., Ste. F