Your New Best Friend
How to build a relationship with your child's teacher.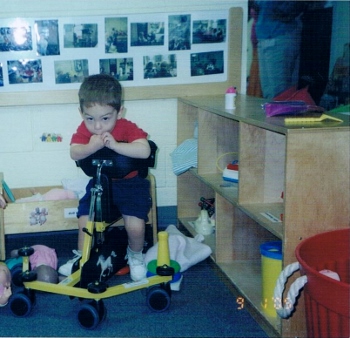 At two years old, Ben entered the classroom at a local church preschool in his yellow pony walker. While I was petrified about leaving Ben with people I did not know, he was ready for preschool. As it turned out, I had nothing to worry about. Ben's teacher had a background in special education and a son with special needs. She was prepared to handle any of Ben's issues as well as mine. I learned many valuable lessons through this first experience with school, but the most valuable one was the importance of building a relationship with my son's teacher.
This idea is not exclusive to parents of children with special needs; however, the added challenges of medical issues, non-verbal children and other concerns make forming a partnership with the teacher early in the school year vital.
Here are a few recommendations on how to begin building the relationship with your child's teacher. Please add ideas that have worked for you in the comment section:
Do your homework. Those first few weeks of school seem like a mad dash to buy supplies and complete forms. It can be overwhelming to get it all done, but it is an easy way to show your support. The medical and emergency forms are valuable tools for the school staff, and that information can make their jobs easier in a crisis situation.
Be a Role Model. Even in the days of the one room schoolhouse, parents brought in wood for the fire to heat the classroom. Needs have changed, but your help is still valuable. Ask how you can be most helpful now or in the future. Let the teacher know your time constraints and skills. Chaperoning a field trip, coordinating the class newsletter or cutting paper at home may work best for your schedule and still assist the class.
Follow Directions. Be sure to attend the Open House and all other school welcoming functions especially if your child's teacher is new to your family this year. These brief activities will give you the chance to introduce yourself and family to the teacher.
Listen to the Teacher. Find out how your teacher wants to stay in touch – email, phone, text or communication notebook. Be respectful of the teacher's boundaries and use the method they suggest. Also be mindful that there are more children in the class than your son or daughter and the teacher's time is limited.
Try to avoid the impromptu discussion during an inconvenient time like carpool line. A regular meeting can be set to share concerns or information without it having to be an IEP (Individual Education Plan) meeting with the entire team.
Be Prepared. When it was important to track Ben's toileting at school, I made it easy by sending in a chart. Asking the teacher to communicate what your child ate each day may be a medical necessity, but be realistic about your expectations and the teacher's time. Choose what you need to know on a daily, weekly and monthly basis and then make sure you do your part in the process.
Attention Required
Each new Special Attention post will feature a resource or an upcoming event. This week, Exceptional Children's Assistance Center is featured. ECAC is, "a private non-profit parent organization committed to improving the lives and education of ALL children through a special emphasis on children with disabilities."
Vanessa Infanzon also writes at eSpecially Ben.