Your Child is Having a Medical Emergency, Now What?
To stay home or take your sick child to the emergency department? Here's advice for parents facing that decision.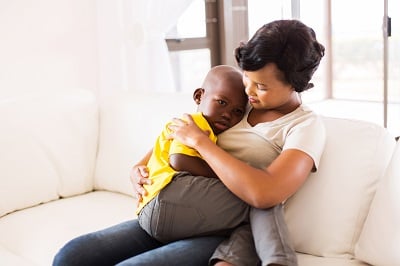 As career emergency medical physicians, we know an unexpected trip to the emergency department can be overwhelming and anxiety-inducing for you and your child. There are several things you can do to either avoid a visit to the emergency department or make your experience less stressful.
Don't Panic!
While you may feel scared and out of control, your child needs you to be brave. You are your child's greatest comfort and biggest advocate. It's amazing to see how a parent with a calm and assuring presence can help a child during emergency evaluation and treatment.
Be Prepared
One of the best ways to minimize your fears is to be prepared before disaster strikes. Have a first-aid kit in the home, take a CPR class and learn the Heimlich maneuver. Keep the number to your pediatrician, local urgent care and poison control center nearby. The mental calmness that comes from knowing you've done the prep work if your child ever experiences a medical emergency is invaluable.
Monitor Fever
Any infant under 2 months with a fever of 100.4 degrees or greater (measured rectally), needs a laboratory evaluation and is best served in a dedicated pediatric emergency department. Most pediatric offices have a nurse triage line designed to help you determine where your child would best be served by talking through their symptoms. If the nurse triage line is not available to you, your local healthcare system's advice line offers this same evaluation.
Call Poison Control
If you suspect your child may have ingested something but is acting normal and seems okay, we advise calling poison control first. The poison control center is very knowledgeable and may save you a time consuming and expensive visit to the emergency department. Some household ingestions can be managed at home, but if you do take a trip to the emergency department, bring what you suspect was ingested (medicines, cleaning supplies, etc.) with you, along with any medications your child takes on a regular basis. That will help us determine what we need to do for your child.
Be Patient
If you do need to go to the emergency department, explain the process to your child beforehand to help minimize fear. Care is prioritized based on how sick your child is and is not determined on a first-come, first-served basis. This can be hard for some children to understand. The waiting can be long and feel frustrating. If possible, leave siblings at home. Grandparents, aunts, uncles and cousins are great, but will not benefit in the evaluation and treatment of the child. One or both parents is really all that is needed.
Take Notes
Bring a pen and paper so you can take notes and write down the names of those caring for your child. If you are having trouble understanding a condition or diagnosis, ask your providers to draw or diagram. And yes, you can ask a million questions. We don't mind.
Know that as pediatric emergency physicians, we have dedicated our professional careers to caring for sick and injured children. We love what we do. We love the resilient and open nature of children. Seeing a child get better and have a positive experience in our emergency department is why we come to work every day.
Michelle Capizzi, MD, is a board-certified pediatric emergency medicine physician with Novant Health Hemby Children's Hospital Emergency Department. She has 20+ years of experience in pediatric emergency medicine and is a mom of five.
Sara Steelman, MD, is a board-certified pediatric emergency medicine physician and medical director of Hemby Children's Emergency Department. She has 25+ years of experience in pediatric emergency medicine and is a mom of three.
For more information on keeping your child safe and well, visit Pediatric Surgical Associates at www.pedsurgical.com.