Y Play – Families Strengthen Bodies, Bonds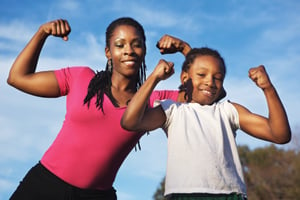 Angela and Brian Stich had been taxiing their children, Brianna, 12, and Bradley, 11, to tae kwon do at the Simmons YMCA for six months when they finally decided to get in on the action.
"We saw how much fun the kids were having and how they were progressing and gaining confidence," says Angela Stich. "We thought this would be good for all of us."
Stich says engaging in physical activity as a family has improved their health, but it has the added benefit of making them closer. "Before tae kwon do, my son and I didn't have much in common." Now the mom is learning proper form from her son. "We're staying connected as a family. We're also doing healthy things together, versus pizza-and-movie nights."
Healthy Habits and Benefits
Sue Dissinger, a local health expert, oversees the wellness programs for the YMCA of Greater Charlotte and says physical activity, for the sake of movement, enjoyment and interaction, boosts self-esteem in children and adults, strengthens the parent-child bond and establishes healthy habits for years to come. Families that make play a priority also benefit from improved sleep, better concentration and increased endurance.
Karen Caldwell signed up for a family 5K training program at the Lowe's YMCA in Mooresville to exercise and enjoy quality time with her 9-year-old son, John. "We looked forward to that time together and talked about anything and everything during our runs," says Caldwell. "It made him feel successful. We became physically stronger, and we both ran the entire distance on race day. It turned out to be the best summer I can remember, and I truly believe the running program was a huge reason why."
According to the Centers for Disease Control and Prevention, more than one third of adults and 16 percent of children are obese — a rate that has doubled for adults and tripled for children since 1980.
Dissinger says many of Charlotte's YMCA branches offer exercise programs for kids, such as team sports, swimming lessons, gymnastics and dance, but she encourages parents not to underestimate the benefits of getting fit together. "Obesity is a family event," she says. "A family's ability to eat right and exercise together benefits everyone. Parents who model healthy behavior and 'get moving' with their kids establish habits that will lower their kids' risk of future health problems, such as heart disease, cancer and diabetes."
Make Play a Priority
Everson De Campos says playtime with his 7-year-old son, Arthur, is a demonstration of love and a learning opportunity. The two play pickup soccer games with other adults and kids on the weekends at the Lake Norman YMCA. De Campos says playing with other families builds a strong sense of community.
"It's a blend of exercise and social activity," he says. "When we play together, our kids learn about respect, responsibility and camaraderie, and improve their confidence and social skills."
Troy Holzschuh first got involved at the YMCA as a youth sports referee and coach. Now, he and his nephews, Jaison and Trevor, often join De Campos for pickup soccer on the weekends. "It's our thing," Holzschuh says about his time with the boys. "It gives me the opportunity to coach by example."
Dissinger suggests these three tips for adding play to the family schedule:
Blocking out time for a game of catch, bike riding or swimming makes this time together a priority.
2. Spend at least 20 minutes a day playing with your kids. Join a regular class or game, such as parent/child Zumba, yoga, running or tumbling programs, or coach your child's sports team and take part in the warm-up drills.
3. Remember every effort counts. Jump rope, turn on the stereo and dance around the house, or take a family walk after dinner. The key is to get moving.