Worthwhile Chocolate Cake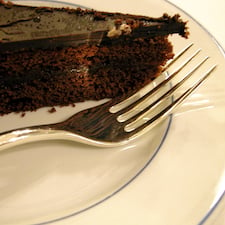 One of the best parts of the holidays is the memories that come from preparing your family's traditional foods. We all enjoy reliving the times that come with recipes that have been passed down from one generation to another and recipes that have been passed back and forth by friends.
This chocolate cake recipe came to me from a dear college friend Pamela Worth (now Pamela Harris), and her mom Joan Worth. I call it my "Worth"while chocolate cake.
It's an easy make-and-take" recipe any time of the year; and perfect for the holidays decorated with silver and gold dragées, red and green sprinkles or white sugar snowflakes
Ingredients
For the cake:
1 stick butter
1 cup sugar
4 eggs
1 cup all-purpose flour
1 1/2 teaspoons baking powder
1/4 teaspoon salt
1 teaspoon vanilla
1 16-ounce can chocolate syrup
For the icing:
1/2 stick butter
1 cup sugar
2 ounces evaporated milk
1/2 cup chocolate chips
Instructions
For the cake:
1. Cream the butter and sugar together until well blended.
2. Add the eggs and beat well.
3. Fold in remaining cake ingredients.
4. Bake in a 9–by-12-by-2-inch baking pan in a preheated 350 degree oven for 30 minutes.
5. While the cake is baking, mix up the ingredients for the icing and ice while the cake in the pan while the cake is still warm from the oven.
For the icing:
1. Boil 1/2 stick butter, sugar and evaporated milk in a saucepan for about three minutes until butter is melted and sugar is dissolved.
2. Stir in the chocolate chips.
3. When the chocolate is melted, pour the mixture over the cake while the cake is still in the pan.
4. Let cool and then cut into squares.