Workplace Attire: The Difference Between Casual, Business Casual and Formal
Knowing what to wear to work can make or break your career. Read these quick and easy tips for all work styles.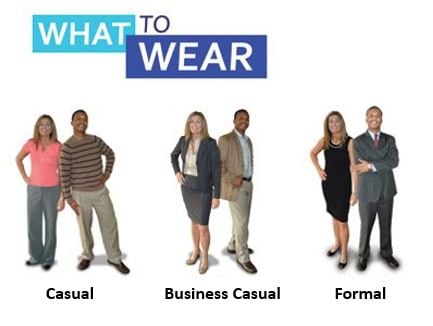 What does "business casual" mean these days? That term will be defined differently if you're 23 or 63, and if you work at a bank or at an internet company. However, no matter who you are or where you work, the workplace attire terms of, "casual", business casual", and "formal", are pretty much standardized and it's important to know the difference!
Some workers may view their company dress code as old-school and out-of-touch. They may argue that they should be judged on the quality of their work, not how they dress. Be a realist, experts say. In the real world, professionals are evaluated – whether consciously or unconsciously – on the clothes they wear. So don't let your outfit be the reason you don't get promoted or succeed at work.
Watch my Charlotte Today's TV segment on what to wear to work HERE, or read below for some quick tips.
---
CASUAL Workplace Attire Means…
By arriving to work in casual clothes that are still neat, pressed, and appropriate for the type of work you do, you can make sure that a casual dress code isn't holding you back.
For Men:
Casual pants and slacks, but never jeans unless stipulated as acceptable by HR. If jeans are permitted, dark-wash, straight-cut only.
Collared polos or crew-neck sweaters and pullovers. The majority of colors and patterns are okay as long as they're not a novelty pattern, such as a sports team logo.
Shoes that are clean. Sneakers are usually acceptable, as are loafers.
For Women:
Nicely fitted tops and blouses, although shirts should never be tight or revealing.
Slacks or skirts in more casual fabrics, such as cotton. If denim is permitted, dark-wash only.
Skirts should remain at knee-length.
Open-toed shoes are permitted. Avoid casual shoes such as sneakers or flip-flops.
---
BUSINESS CASUAL Workplace Attire Means…
Appropriate business casual dress typically includes slacks or khakis, dress shirt or blouse, open-collar or polo shirt, optional tie or seasonal sport coat, a dress or skirt at knee-length or below, a tailored blazer, knit shirt or sweater, and loafers or dress shoes that cover all or most of the foot.
For Men:
Can wear colored, collared button-ups in any color. Conservative patterns such as checks or stripes are acceptable too, worn with or without a tie.
Ties should still be conservative in pattern. Avoid novelty ties, and choose patterns like dots, stripes, or checks. Most colors are acceptable.
Pullovers and sweaters worn over collared shirt. Choose solid, striped, or another conservatively patterned sweater. Primary and jewel-toned colors are best.
Dressy slacks, such as black dress pants or pressed khakis in the summer, worn with or without a sports jacket.
Shoes can be oxfords, loafers, or another comfortable yet dressy choice, in brown or black. Avoid sneakers.
For Women:
Business separates, rather than a full suit – a skirt worn with a cardigan or jacket, for example.
Colored shirts and blouses, rather than mandatory collared button-downs. Choose solid colors, or muted patterns like stripes or checks, and avoid low-cut shirts or bright patterns.
Slacks and khakis.
Larger jewelry, such as a statement necklace or large cuff-style watch. Doesn't necessarily need to be the highest quality – gemstones and other casual materials are fine. Scarves may also be appropriate.
Shoes may be comfortable flats and loafers, as well as pumps, but should remain closed-toe. Can be any color, although black, brown, red, navy, and gray are among the most appropriate.
---
FORMAL Workplace Attire Means…
If you work in law, banking or finance, regularly meet with executives, or otherwise hold a high-level position, you might be asked to come dressed "business formal" or in "boardroom attire." This is the highest level of professional dress.
For Men:
A tailored one-, two-, or three-button suit in a solid, neutral color like black, gray, or navy.
Ties and other accessories should be both modest in color and style – solid, brighter colors (a red tie, for example), or patterned muted neutrals (a navy plaid tie) – as well as high-end in quality. No novelty ties, such as sports team patterns.
White, collared button-up shirts.
Shoes should be closed-toe oxfords in brown or black, not loafers.
For Women:
A well-cut pantsuit or skirt suit in a conservative neutral color, such as black, navy, or brown.
White button-ups with a collar.
Closed-toe heels in a neutral color such as taupe, black, grey, or brown.
Conservative jewelry and accessories.
---
General tips to remember:

Clothes need to be clean, pressed, and fit well.
Women need to make sure they are not looking too sexy.
According to research, women should wear make-up in order to be taken more seriously. Not too heavy however.
Dress like your boss or like someone's job you want to have.
---
For more information on etiquette, please go to my website, FinesseWorldwide.com or email me if you are interested in receiving monthly etiquette update emails.