Working Moms Find Workable Solutions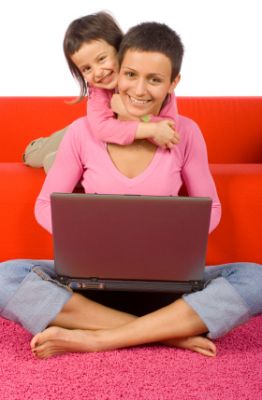 It's 2007, and that means the June Cleaver model of motherhood is a thing of the past.
Not unlike June, today's moms can often be found in the kitchen, but they're bringing home the bacon as well. In fact, the Bureau of Labor Statistics puts the number of working women with children at 70 percent. But what that "work" looks like is increasingly hard to categorize. Full-time workers are often no longer the rule but the exception, as the number of part-time working moms is skyrocketing, as corporations offer non-traditional opportunities and as the archetypal housewife becomes an anomaly.
Consider Angel Adams, who left corporate America because it didn't offer the flexibility she needed for her family and her young son. "I took some time off and thought about what I wanted to do next," she says. "I've worked hard on my career and didn't want to completely give up the working world."
Old habits in the working world die hard, however. Though women no longer pursue college and graduate school in search of the fabled "MRS degree," today's society makes it difficult to juggle being a Mrs. and a mom alongside a career.
"We've all been bred to believe we can have it all. It's very humbling to realize that you can't do it all," says Meredith Ritchie, a recruiter with Mom Corps in Charlotte, which pairs companies looking for top talent with professional individuals looking for flexibility.
"Women have a perfection complex," agrees Jenny Ward, an expert on work-life balance in the community. "We need to give ourselves grace and give each other grace."
Though the juggling act is difficult, there have been recent breakthroughs on the part of corporate America, which is catching on to the notion of flexible job options. Interestingly, the push is not just coming from working women. Case in point: the well-publicized labor shortage that the Baby Boomer generation is precipitating. Though the boomer retirement issue is projected to hit the U.S. beginning in 2010, many human resources professionals are already in crisis mode.
"That leads to more conversations regarding non-traditional work, such as flex-time and job shares. These are things that people never would have considered years ago because there were enough candidates to do the job," say April Whitlock, regional vice-president of Mom Corps.
Additionally, not all boomers are ready to or want to retire; they, too, want to pursue non-traditional work options, turning the issue into a generational one as opposed to one that's gender-driven. The millennial group is adding their two cents as well.
These recent college grads aren't willing to work 80 hours per week, even for their first post-graduate job; rather, they crave work-life balance. They are known for inquiring about vacation and flex-time early on, even during the interview process.
"We're more of a global community now, a world that connects around the clock," says Whitlock. "The younger generation is used to the computer and used to working whenever they need to work. They wonder why it doesn't work for Corporate America, which is what moms have been saying all along."
A company that is helping match moms to companies who need help is Mom Corps, whose Charlotte chapter recently celebrated their first anniversary. Mom Corps was started by professional mom Allison O'Kelly, who recognized the growing trend of highly-qualified women who left the work force in search of balance.
"Over time I saw many women, mothers just like me, who wanted to stay in the work force but didn't know how to find opportunities which would allow them to preserve symmetry in their lives," O'Kelly commented. "Because of this obstacle, many mothers leave the work force altogether. At the same time, I noticed corporations were struggling to find high-caliber employees."
These are moms who have been in the work force 10-15 years, earned a senior title and have an advanced degree. Often it's a woman who's opted out of corporate America, then later decides she's got the time and the inclination to re-engage, as long as she can re-engage on her terms. Those terms might take the form of project work, contract work or even permanent part-time opportunities.
Angel Adams appreciates the new trend and signed on with Mom Corps. She landed a position with The Museum of the New South as their finance manager within two weeks. Recently promoted to CFO, Adams works part-time hours and from home one day per week, but is a permanent employee. She says. "From day one I felt like I was able to be a mom as well as a career woman."
Moms are coming back into the work force on their own terms and that means time at home with family and a fulfilling career. "A lot of people come to a point of realizing 'I can continue this career track but it means traveling more than I want to travel, missing more soccer games than I want to miss,'" explains Whitlock. "So they start to evaluate. Our candidates want to work. They just don't want to do it the way they have been doing it for the past 10 to 15 years."
Wachovia and Bank of America are particularly keen on this approach. Wachovia uses Mom Corps among other resources and is also looking at alumni networks as a way to stay in touch with former — and potentially once-again — employees. Hiring good people is expensive; if Wachovia can keep in touch with talent that's opted out of the work force and retain some loyalty, those highly skilled and highly educated folks may decide to return.
Wachovia's Jenny Ward comments on the fact that corporations like her employer have set up ways to look at work force dynamics. In her role as Women's Market Leader Cross-Enterprise, she works with all lines of business that intersect with women, whether they're single moms buying homes or women managing their wealth — statistics provide that women now have more wealth on their own than ever before — or any other type of financial service geared toward women.
Many of those women are using that wealth to open their own businesses. In fact, Ward says, women are opening businesses at twice the rate as men. And ironically, her work on the Women in Wachovia platform has reiterated to Ward that this work force shift is much more than a women's issue.
"Age diversity is something companies haven't really touched," she says. "This is the kind of stuff we talk about at Wachovia. But I'm hoping they're talking about it at all the big companies."
Another challenge they must overcome? Society's misconception that once a woman has a child, her brain turns to mush. Ritchie cites author Ann Crittenden, who writes that women actually become sharper and more able to multi-task after they have children. Other challenges take the form of financial and professional changes; women who opt out and then back in probably aren't going to make the money they were making before. Accolades and big bonuses may also become a thing of the past.
"But the intangible value of giving a mom balance means more than stock options," says Ritchie. "Oftentimes balance has a higher value, because you're able to be there to go to your children's plays and do the kind of stuff you can't put a price on."
Angel Adams would undoubtedly agree. "I still have plenty of time in the afternoons and evenings to spend with my son. I still cook for my husband and clean the house," she says. "I have the best of both worlds."