Work + Leisure = Weisure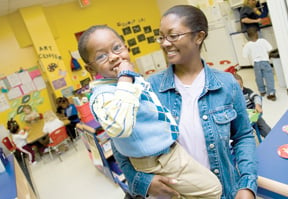 For most working parents, hardly a day goes by when work and family don't overlap. You're at work hurrying to meet a deadline, and your kids call after school to ask where the peanut butter is. Or you're getting everyone ready for bed at night, and a colleague calls to make sure you'll be there for the meeting in the morning.
Now there's a new term to describe a parent's constant sense of being on call for both work and family: weisure, the combination of work and leisure. While it isn't a term that applies only to parents, it seems to be appropriate for those working parents who are struggling to find balance in their lives. Coined by sociologist Dalton Conley earlier this year, the media quickly picked up on it and began reporting how technology has changed our culture to the point where we're constantly on call. Checking in with work on the Blackberry while at the kids' soccer practice or viewing family photos on Facebook while at work, parents are finding that the dividing line between work and home is blurring.
There are some negatives to the all-access pass technology has given us. Websense Inc., an Internet and e-mail security firm in San Diego, reports that misuse of the Internet at work costs American corporations $178 billion annually. In addition to lost productivity at work, many employees find themselves checking e-mail and voice mail while on vacation. Employees are sacrificing private time away from the office and doing away with defined relaxation time.
But for many working moms and dads, the availability of technology – from fax and e-mail to cell phones and laptops with wireless Internet – has made the job of being a parent and a productive employee much easier.
Technology-Enabled Flex Time
Nearly every company recognized in Carolina Parenting Inc.'s Family-Friendly 50 list offers flexible work schedules. Whether it's due to a growing awareness of the need for parents to balance work and family or the advancement of technology, or maybe a little of both, the result has been positive for many people trying to raise a family and maintain a career.
For L&E Research in Raleigh, the creation of a custom-designed software system has provided employees greater flexibility in their work, which entails recruiting and facility services for market research companies – much of which can be done by phone at home at various times of the day. The new software enables recruiters and project managers to stay connected through a secure online database. "It gives us more options for employees," says Charlene Randall, who is the director of business development for L&E. "For example, a project manager who would normally be tied to the office now has the opportunity to work from home."
Expedite Group, a Cary-based company, also is able to provide flexible work options with its "virtual work environment." Employees are connected to the office through conference calls, e-mail and the occasional onsite meeting. Even fulltime employees are able to work out flexible schedules among their own teams, as long as all the hours in the day are covered.
Why Opt for Flex?
"The benefits of a flexible work schedule are extensive really," says Heather Rook, the marketing and public relations manager for Expedite Group. "It makes me feel a lot more comfortable with work and gives me freedom to do things with my son. I can take him to the museum or the pool and still check e-mail and respond immediately, thanks to my iPhone. It might feel like I'm always working, but I'm also having a good time because I get to be with my son."
Employers that are willing to set up flexible work options might also find they have more productive employees. When work hours are carefully scheduled around parenting priorities, whether it's after-school pickup and homework, extracurricular activities or toddlers' nap times, the hours set aside to work are usually devoted specifically to work and not used for catching up with friends on Facebook or surfing the Internet for vacation destinations.
Sometimes it also can mean employees set their schedule to work when their personality or their job demands allow for greater productivity. For Rook, whose job entails a lot of writing, the ability to work at night after putting her son to bed is appealing. "I do my best writing at night and can concentrate better when it's just me and my computer," Rook says. "No phone ringing, no people talking about lunch plans. It's amazing how much I can get accomplished during a four-hour period of time as opposed to an eight-hour day in the office."
In some ways, flex time can make you a better parent. "Allowing me to be my own person and pursue my career helps the whole family," says Donna Chamberlain, who is an international expatriate tax director with BDO Seidman in Charlotte. "I'm more satisfied and feel like I haven't compromised my time with my children at all." Chamberlain was offered the opportunity to work part time from home when her daughter, now a teenager, was in preschool. She gradually has increased her hours, but still enjoys working at home and at the office depending on what needs to be done.
Making It Work
So how do you take advantage of work-at-home options or flex time without falling into the trap of feeling like you're working all the time? According to Chamberlain, there are four pieces of the puzzle, and each has to be flexible and cooperate to make it work: you, your family, your superiors/staff and peers. "While I had more of a routine schedule, working while the kids were in school and after they went to bed, I still was accessible to clients and staff during the after-school time. You have to be able to combine the two some if you're going to make it work," Chamberlain says.
Realize that you're going to have to make some sacrifices to make things work. You might find yourself working sometimes at night and on weekends, but you're giving that time to your employer because you took time off during the day to be there for your kids.
Chamberlain also stresses the importance of support from peers and your employer. "Everyone, especially my colleagues at BDO, has been very supportive. Nobody ever questioned or spoke negatively about the fact that I left at 2:30 p.m. every day," Chamberlain says.
For Nancy Piepho, the CEO of Expedite Group, making a flexible or work-at-home schedule work is a two-way street, where the employer also holds responsibility for part of the equation. "It's not wise to tell someone they can work at home, especially new moms, and not help them work through it," Piepho says. At Expedite Group, Piepho makes sure employers are coached on scheduling and given support as their situations change. "For example, when a toddler transitions from two naps to one, the times available for work change, and I might recommend preschool or a mother's morning out," Piepho says.
Most important, communication is key, and that's where the technology comes in. Employees use their iPhone and Blackberry to touch base with colleagues, answer e-mails in a timely fashion and keep doing research or other work while hanging out with the family.
But, don't forget every gadget turns off. If you feel yourself getting sucked in the "weisure" lifestyle with no downtime, set aside some blackout hours, when you don't answer the phone or write any e-mails. Chances are, no one you work with will even notice.
Traveling With Kids
Backup care is crucial for times when a regular child-care provider is sick or a school-age child needs intermittent care. The Backup Care Advantage Program at Alston & Bird, in Charlotte and Raleigh, lets children travel with their parents, who have access to care in more than 500 centers at only $15 per day. Employees also have access to in-home care for both children and elders at a cost of only $4 per hour.
KPMG LLP in Charlotte provides employees with 20 backup care visits a year, and employees also can take their kids with them when traveling and find care at no extra charge.
Karen Alley is the Web editor for Piedmont Parent, a sister publication to Carolina Parent and Charlotte Parent, and is also one member of the many growing legions of parents working flexible schedules from home.