Wisconsin Cheese Garden Lasagna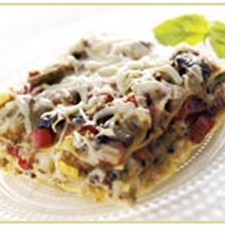 The cheeses in this lasagna make the difference in lending wonderful flavor to all the fresh vegetables. A great alternative to the regular, marinara-type of lasagna.
Servings: 8
Ingredients:
1/4 cup (2 ounces) butter
2 cloves garlic, minced
1 cup each asparagus, zucchini, green onions, yellow squash and red pepper, diced
6 ounces portobello mushrooms, chopped
2 cups Roma tomatoes, diced
2 cups baby spinach leaves, diced
1/4 cup fresh basil leaves, chopped
1 tablespoon fresh oregano leaves, chopped
1/4 cup balsamic vinegar
2 cups (15 ounces) Wisconsin Ricotta Cheese
1 cup (4 ounces) Wisconsin Parmesan Cheese, grated and divided
1 egg, beaten
1/2 teaspoon salt and pepper
12 no-cook lasagna noodles
2 cups (8 ounces) Wisconsin Mozzarella Cheese, shredded and divided
1 cup (4 ounces) Wisconsin Smoked Provolone Cheese, shredded and divided
Cooking Directions:
Preheat oven to 350°F. Butter bottom of 13x9x2-inch pan. Melt 1/4 cup butter in skillet over medium heat. Add garlic and sauté, 1 to 2 minutes. Add asparagus, zucchini, onions, squash, red pepper, mushrooms, tomatoes and spinach; sauté stirring frequently, 4 to 5 minutes. Stir in basil, oregano and vinegar; set aside. In bowl, stir together Ricotta, 1/2 cup Parmesan, egg, salt and pepper; set aside.
Place layer of noodles (4 noodles) on bottom of prepared pan. Spread 1/2 Ricotta mixture over noodles, top with 1/3 vegetable mixture, 3/4 cup Mozzarella and 1/2 cup Provolone. Repeat with noodles, remaining Ricotta mixture, 1/3 vegetable mixture, 3/4 cup Mozzarella and remaining Provolone. Top with noodles, remaining vegetable mixture, Mozzarella and Parmesan. Bake 35 to 45 minutes. Let stand 5 to 10 minutes; serve.