Wilmington, NC: Historic Port City Fun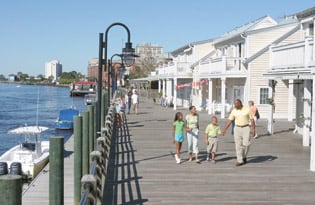 The historic port city of Wilmington is an ideal weekend getaway for families. Located on the Cape Fear Coast, just under four hours from Charlotte, this quaint seaside town offers great eats and a variety of activities to keep everyone happy, with lots of fun for kids of all ages.
Brick-paved streets are reminiscent of days gone by. Hop a horse-drawn carriage ride at the corners of Market and Water streets for a narrated tour of the historic district. Kids love the horses and tour guides tell a little about the Victorian-era homes and gardens lining the streets of this National Register Historic District. Our tour guide even recommended some great places to get a bite to eat in the area.
Nikki's Sushi is not much to look at from the outside, but inside families and locals on lunch break enjoy a menu with an eclectically delicious selection of Japanese, America and Mediterranean fare from bento boxes to gyros and fries. For dessert, stroll around the corner to Kilwin's Fudge and Ice Cream and sit on the bench outside while you enjoy your sweet treat.
Continue exploring the area on foot with a stroll down the Riverwalk, a two-mile wooden boardwalk lined with shops, eateries and a view of the river. This port town is full of surprises. During our visit, the working tall ship — Lynx, America's Privateer — was anchored dockside on the boardwalk, and crewmembers offered free tours to passersby as a stop on an educational history program traveling the coast.
The highlight of our trip was a visit to The Cape Fear Serpentarium. If you have boys, (or girls who like snakes), this is a must-see attraction. Founded by expert herpetologist (translate: snake guy) Dean Ripa, the 10,000-square-foot facility houses one of the worlds' foremost reptile collections. Ripa, a Wilmington native who began catching snakes at age 10, was one of the first international snake hunters for hire years before TV animal experts became the norm. The recognized expert on the venomous Bushmasters, his collection is fascinating – and a little scary! Each snake habitat is marked with skull and crossbone icons to indicate the danger level – five being the deadliest. Many exhibits include true stories about snake-bite victims. Allow at least an hour to fully view this unique attraction. Live feedings on Saturday and Sunday are a popular event.
As night draws near, an Old Wilmington Ghost Tour might just be the ticket, especially if you have older children. Voted one of the top five ghost-walks in the nation, the 90-minute experience will show your family the 275-year old haunted Wilmington of privateers and cut-throats, murder and mayhem.
A trip to Wilmington is not complete without a visit to The Battleship North Carolina. Located across the river from downtown, history comes alive on this battleship commissioned in 1941. A self-guided tour takes approximately two hours, leading you on ladders and walkways nine levels below deck to experience life at sea just like the sailors of World War II. Preschoolers may struggle with the ladders and stairways, but the open decks and upper areas with cannons and gun turrets are fun, too.
For dinner, travel up Market Street for a New York-style Italian treat at Elizabeth's Pizza. Friendly waiters dressed gangster style, deliver steaming hot pizza pies and pastas to long tables of happy families. Many budget hotels are located nearby offering family-affordable rooms.
When you're ready to explore the waterways, contact Manahaim adventures for a kayak tour along the Cape Fear River basin or Town Creek. Don Harty is an outdoor adventure expert, providing kid-friendly experiences along the beautiful backwaters of the Cape Fear area. Find out more in our online Carolina Family Travel Guide.
Nearby beaches, Wrightsville, Carolina and Kure, beckon with white sand and calm waters. There is so much to do in Wilmington you just might need to add a few extra days to your trip in order to find time to frolic in the surf. CP
IF YOU GO, YOU NEED TO KNOW:
Wilmington and Cape Fear Visitors Bureau
www.capefearcoast.com
The Serpentarium
20 Orange St.
www.capefearserpentarium.com
910-762-1669
Battleship NC
www.battleshipnc.com
910-251-5797
Mahanaim Adventures
www.mahanaimadventures.com
910-547-8252
Ghost Walk of Old Wilmington
www.hauntedwilmington.com/GhostWalk.htm
EATS:
Elisabeth Pizza and Subs
4304 1/2 Market St.
www.elizabethspizzawilmington.com
910-251-1005
Nikki's Restaurant and Sushi Bar
16 S. Front St.
www.nikkissushibar.com
Attraction admission for this story provided courtesy of Wilmington and Cape Fear's Coast Visitors Bureau.