"Will I Be on Maury?" and Other New Parent Worries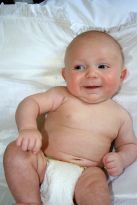 It's a scientific fact. Women LOVE fat babies. From fan groups to memes, fat babies resembling the Michelin Man can be found everywhere. If you take the time to do a fat babies Google search you'll get 58.2 million results.
Our oldest son Tyler left the hospital weighing 7 pounds 12 ounces, down from his birth weight of 8 pounds 3 ounces. Just five days later on our first visit to the pediatrician, he was up to 8 pounds 7 ounces. Our doctor, whom I love because he diagrams everything on the room's sanitary sheet like John Madden (minus the stuttering and man crushes on Brett Favre & Peyton Manning) asks, "What are you feeding this boy, Miracle Gro?" Yes, my son was already an overachiever. Obtaining the higher percentiles in both weight and height.
Being a new parent and a neurotic guy, my pride turned to a little worry. Everybody loves fat babies but obese babies have it a lot rougher. Could my overachiever eventually become two, three or four times the weight of an average baby? Maury Povich has made a great living off obese kids (and paternity testing). I don't want to be on "Maury" with a 100+ pound 2 year-old trying to explain myself with "eating makes my baby happy, WHATEVAH!" Tyler never became a Maury baby. He grew like crazy for his first year and is now incredibly skinny.
Even though these types of thoughts are absolutely ridiculous, they are just some of the worries you have as a new parent.
A few of the more common worries:
Is my baby crying too much/too little?
Is baby getting enough sleep?
What should I do about vaccines? Do I know enough?
Do I suck as parent?
My advice to new parents — Have a drink. Do whatever you need to do to relax. Odds are you are doing a better job than Dina & Michael Lohan, Joe Jackson and Alec Baldwin. OK, maybe that didn't really make you feel better. Talk to the people in your life who you consider to be good parents: your family, friends, other moms and dads. You'll realize these types of worries are totally normal. Unless you are worried about being invited to "Maury." If that's the case you may need serious mental help.
WCCB News Rising Host Derek James balances a full-time job in the glamorous world of television news (including a 2:30am wake up and stale coffee) along with managing chaos every afternoon for 4 year-old Tyler and almost 2 year-old Chase.
See more from Derek @DerekJamesTV on Facebook and Twitter.