Why You Don't Want to Be a Distracted Parent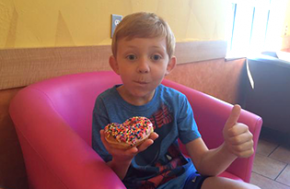 Photo credit: Twitter @DerekJamesTV
In May, my colleague Terrance Bates and I put together a series of parenting stories for WCCB that covered everything from the differences between raising boys and girls to race and identity and bullying. I interviewed a number of experts including some psychologists at Southeast Psych in Charlotte.
Sometimes what doesn't make it on air is just as powerful as what does. When I finish an interview I always ask, "Is there anything else I should ask or something else you want to say?" It often leads to the most honest, interesting and thought provoking parts of the story.
That was the case when I interviewed Psychologist Dr. Frank Gaskill of Southeast Psych. Dr. Gaskill gave some advice. Parents, put your phones away at dinner. If your child is talking to you, put your phone away. Don't say "in a minute" or "OK, OK that sounds good" while looking at your phone.
I immediately started to wonder how many times I've done that to my own two kids. How many times have I given my boys the impression that I'd rather be someplace else? How many times have I stopped looking at them to read a text message, a push notification or check my Twitter? How often am I physically present, but not paying attention because I think they are distracted?
Dr.Gaskill helped me come to the conclusion that it should never happen. Social media, in my opinion, drives the ideas of narcissism and self-absorption. You may be saying to yourself, "Am I really getting a lecture about narcissism from a TV host?" I understand your skepticism. Yes, I have Facebook, Twitter, Instagram, Periscope and all of those other social media apps and I use them to promote my employer and myself. It's a requirement of my job. While I have a real appreciation for the people who watch WCCB News Rising and take interest in me, I often struggle with posting because I don't find myself that interesting. I don't post selfies or pictures of my food. I mostly share segments from the show or articles I've read or written that might have some use. I also post some family pictures because everyone loves seeing cute kids.
If you still don't think distracted parenting is a problem, chew on this. When your kid is trying to talk to you while you are stuck on your smartphone it could be the moment they need your full attention. They could be reaching out for help, and when you don't give them your full attention they get let down and turn to someone else who may not be as equipped to help. It's what I now think about every time my kids have something to say. I'll get to your text or tweet when I have time to myself.
Derek James is host of WCCB News Rising and lives with his wife and two sons, ages 4 and 6. Read more from James in his Daddy Derek blog at CharlotteParent.com/blogs.