Why Making Healthier Choices at Restaurants Begins at Home
Redefining kids meals with the experts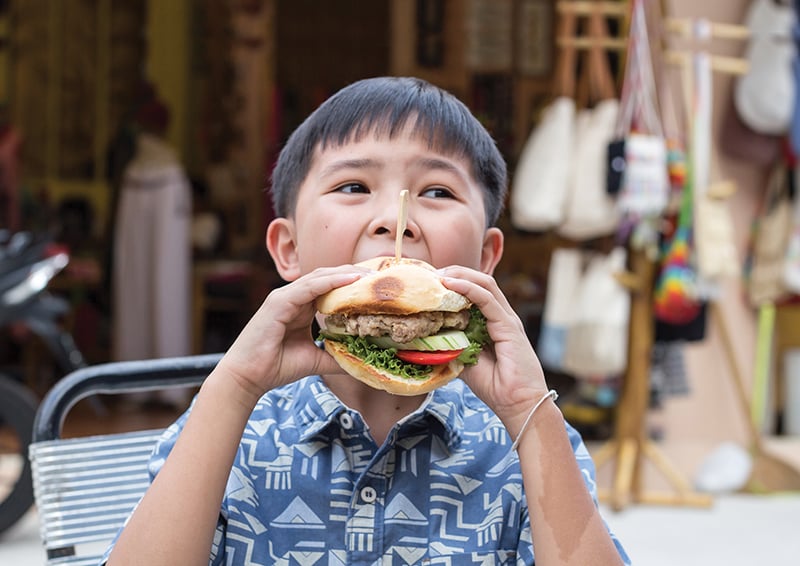 Many families struggle with making healthy food choices, especially as their schedules grow increasingly hectic. As a result, restaurant meals often fill the gap.
According to a 2017 Gallup poll on dining habits, 45 percent of Americans reported eating out one or two times within the previous seven days. My family of five fits that profile. We dine out at least once a week — and more often than that when sports seasons are in full swing.
When we're rushing home from work and school to get to the fields two or more nights a week, restaurants provide us with much-needed breaks and precious family time. And, in all honesty, I get tired of struggling with our kids over home-cooked meals. Sometimes a restaurant that offers what everyone wants makes life a little easier, but we're feeling the impact of all those restaurant meals, and not just in our wallets. Too often, kids menus feature only fried foods and adult entrees come in portions large enough to feed a small country. We enjoy eating out as a family, but we'd like to make more health-conscious choices — without busting our budget.
Parents Versus Kids: The Division of Responsibility
To get help, I spoke with Tracy Owens, a board-certified dietitian and owner of Triangle Nutrition Therapy in Raleigh. Owens customizes nutrition plans for her clients in order to improve their health, manage their weight or optimize their athleticism. She begins with their diet and habitual ways of eating. Owens says many of her clients also want help improving their families' nutrition.
"Too often, we let our kids dictate what they're going to eat and when and where," she says. This approach begins in the home and naturally spills over into ordering at restaurants.
Instead, Owens advises parents to use the Ellyn Satter Division of Responsibility model when feeding their kids. Satter, a registered dietitian, is author of the book, "Secrets of Feeding a Healthy Family: How to Eat, How to Raise Good Eaters, How to Cook" (Kelcy Press, 2008).
In her model, Satter encourages parents to decide the what, when and where of feeding their families. Kids from toddlers to teens can then decide how much and whether they will eat what's provided. "You do your job of feeding, and let your child do her job of eating," Satter says.
"It's a different way of thinking," admits Owens, "but it can bring a lot of peace to the table. We are our kids' food guides, not the food police."
Good Nutrition Starts at Home
Husband and wife Joe and Katy Kindred own two restaurants outside of Charlotte: Kindred and Hello, Sailor. Katy, a mom of three, agrees with Owens that healthy restaurant dining with kids can be tough, so she and her husband decided to make things a little easier on parents when dining at their restaurants.
Kindred waiters offer kids homemade dough to play with before their meal arrives. "Instead of filling up on our signature milk bread, which makes it easier for them to turn down healthier foods, we keep their minds and hands busy until food arrives," Katy Kindred says, but quickly adds, "In all transparency, though, getting kids to eat outside the typical chicken nuggets and mac-and-cheese choices starts at home."
Her kids learned to be adventurous eaters through experience. The Kindreds cook together as a family, especially on days when Joe and Katy aren't working. They also frequently travel and eat in restaurants that don't offer kids menus. As a result, their children have tasted different foods that they otherwise might not have tried. This isn't always easy, Kindred admits. Like most families, her kids vary in their openness to exploring new foods. Alba, her oldest, has always been an adventurous eater, willing to try new things. Meanwhile, her younger boys are still coming along.
"We don't put a lot of pressure on them though," Kindred says. "It's like potty training. If you force it, it becomes an issue." Instead, Kindred advises that parents foster a genuine curiosity about foods while they're with their children, and try not worry too much in the meantime.
If kids really struggle to try new foods, however, parents may also want to talk to their pediatrician, Owens suggests. A pediatric occupational therapist can help parents rule out any sensory processing concerns.
Tips for Ordering Healthier Restaurant Meals
When it comes to ordering family meals at restaurants, Owens advises parents to invite their kids' input. In the end, however, parents should make the final decision about where they eat and what foods they order.
When ordering, steer clear of fried foods, or order a side of fries for everyone to share instead of individual portions.
Choose a variety of lean proteins such as chicken or fish; healthy carbohydrates such as milk, yogurt or fruit; vegetables like edamame or peas; and grains like quinoa or rice.
Avoid sugar-heavy beverages like soda and juice, and order water or white milk instead.
If parents decide that it's OK to order dessert, consider sharing one between the family, and make sure the kids receive kid-sized portions.
"When we eat out as a family, we order a lot of little things to share," Kindred says. "Even as grown-ups we like to try lots of things. We always engage the kids in conversation about the foods we choose. We use descriptive words, so they can see how much we're enjoying it. Eventually, they'll try it too."
Kids learn by osmosis, Kindred says. If parents make healthy choices and truly enjoy the foods they order, kids will want to try them too.
The Ultimate Test
I decided to put all this great information to the test with my family. My husband and I chose the when and where — dinner at an Asian bistro. I informed our three boys before leaving the house that we were trying a different approach to eating out. Everyone would order water, Mom and Dad included, and share several items.
They were skeptical. I was, too.
Once we arrived at the restaurant, the kids looked over the menu. They named items that intrigued them. Then, while they enjoyed the playground outside, my husband and I ordered — the what part of Satter's model.
The kids wandered in and out, trying different rounds of food (the whether and how much). Chicken lettuce wraps. A California roll. A bowl of steamed edamame. Mongolian beef on brown rice.
The verdict? First of all, every restaurant should have a play area designed for kids of all ages. Second, the kids tried everything, though each preferred something different. My husband was still hungry, so we ordered a final plate of steamed gyoza (wonton wrappers with pork and cabbage) before leaving.
When the bill came, we were pleasantly surprised. The meal didn't cost any more than if we'd let the kids order from a kids menu. To celebrate our new, healthier way of dining out, we walked over to Whole Foods . . . and let the kids each pick out a cookie.
Hey, baby steps.
Christa Hogan is a local freelance writer and mom to three boys who take turns being picky eaters.