Whimsical Adventures at Fairy House Festival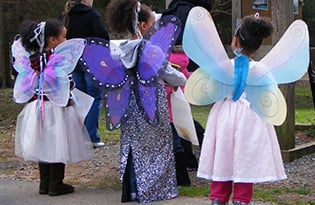 On Saturday Feb. 8, families of all ages can join in the enchantment of the Fairy Houses Festival at Latta Plantation Nature Center from 10 a.m. to 4 p.m.
The festival, which began its annual tradition in February 2008, is free and does not require registration. "It's a great family event in a time of year when there aren't a lot of family events going on around Valentine's Day," says Stephen Hutchinson, manager at Latta Plantation Nature Center.
Last year more than 2,700 people attended the festival, many dressed in their best fairy or gnome outfit. "Kids love dressing up, we have lots of children that come and dress up," says Hutchinson. "We even have adults who come to explore their imagination and bring them back to their childhood."
The event includes a roaming storyteller, Gnome Geocaching, face painting, fort building, fairy boats, and pony rides for a small fee.
Families can create a fairy house with their children right inside the FayLinn Village. Prizes are awarded for the best costume, as well as for the best fairy house.
Each fairy house is made from all natural materials and mostly dead, non-living plants. "We really encourage families to use their creative abilities with what is left on the ground at the nature center," says Hutchinson.
For kids that want to make their fairy house have a little more pizzazz, they are encouraged to find trash around the nature center that they can bring to a "trash for treasure" table set up for the festival.
"We're teaching life lessons about cleaning while rewarding them with shells and other neat trinkets to include in their fairy house. It's a great way to get the entire family involved," says Hutchinson.

Tracy Kane, renowned author and illustrator of "The Fairy Houses Trilogy," will be attending the festival for two storytelling sessions and book signings at 11:30 a.m. and 1:30 p.m.
Fairy Houses Festival
Latta Plantation Nature Center
Feb. 8, 10 a.m.-4 p.m.
Free
parkandrec.com
Read more:


Make An Enchanted Fairy House