Where to Take Your Child for Illnesses, Injuries and Accidents
Determine the best diagnosis destination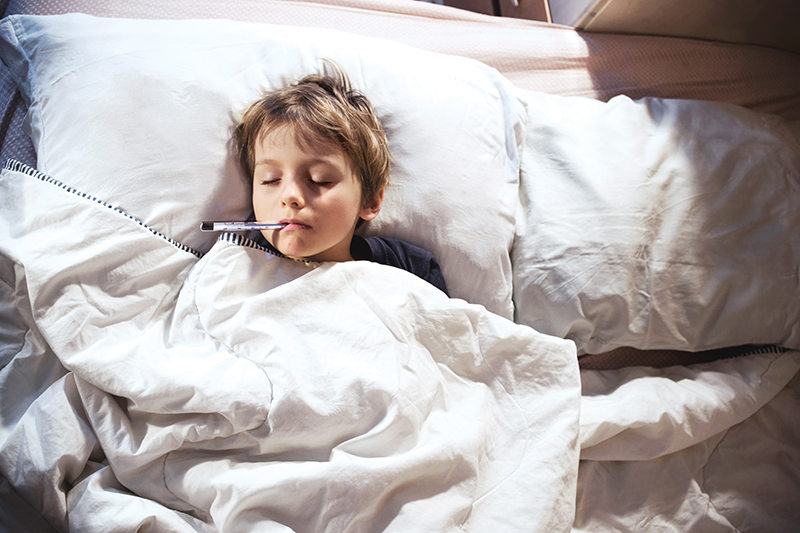 YOUR SON fell out of a tree house and hit his head. He is conscious, but groggy. Do you call 911?
It's the middle of the night and your daughter is coughing so much she can't sleep. Do you pack her into the car and rush to the emergency room, or make her as comfortable as you can and wait until your pediatrician's office opens in the morning?
In stressful moments, making a quick judgment call about where to seek help can be daunting. Do you head to the ER, urgent care, your pediatrician — or can you find the information you need through an online doctor? Before you decide, consider the pros and cons of your options.
---
Emergency Room
When there's blood, or a moaning child, many parents choose to take their child to the ER out of pure panic. And, according to Dr. Clay Bordley, M.D., an associate professor of pediatrics and chief of the Division of Pediatric Emergency Medicine at Duke University Medical Center, this can absolutely be the right choice. "If the issue is truly life-threatening, you will be seen efficiently and quickly, and you will have access to all the resources the hospital has to offer," Bordley says, adding that Duke University Medical Center, like UNC Medical Center and other hospitals in North Carolina, have a special pediatrics unit of emergency care.
On the other hand, if the ER triage determines your child is not in immediate danger, you may have to wait for hours. And, "the waiting area can be less than pleasant, especially on a Friday or Saturday night, when there can be some drunkenness and unruly behavior," Bordley says. You might also see some unsightly injuries, which can be upsetting to a child.
"We've built some of our own problems," Bordley says. "There are no appointments needed, you don't have to pay for anything up front and there's valet parking. It's certainly an expensive way to provide care." He adds that "in the heat of the moment" parents are thinking about their child, not about how much a trip to the ER costs our health care system. "We absolutely get that," he says. And, if you do bring your child to the ER, he adds, he or she will get high-quality care — it "just may take a while".
---
Urgent Care
"Urgent care can be a great option," says Dr. Ty Bristol, M.D., pediatrician and medical director at UNC Pediatrics of Panther Creek in Cary. These centers offer extended hours and other resources a pediatrician's office won't have, like medication to treat serious asthma attacks, X-ray equipment and the ability to stitch minor wounds. Like the ER, urgent care staff will triage patients — and take those who have the most serious health issues first. So again, there may be a wait.
If you go to an urgent care center (or the ER), just make sure you let your regular pediatrician know about the visit. "You and your pediatrician are partners," Bristol says. "A pediatrician will see the bigger picture. You might go to the UC for a urine infection and promptly get the medicine you need, but the UC doctor might completely overlook an issue of ongoing constipation, which might have caused the infection."
---
Pediatrician
Dr. Martha Perry, M.D., medical director of the UNC Children's Primary Care Clinic in Chapel Hill, says the "majority of the care that kids need can be found in their pediatrician's office." The primary difference between taking a child to the ER or urgent care center and your child's pediatrician is the long-term relationship you ideally develop with your pediatrician. Such a relationship, Perry says, addresses "whole health" issues and should lead to preventative rather than ameliorative care.
"If a pediatrician sees the emergency situation, [he or she] can look at all of the child's records to understand whether it's a one-time illness or a pattern or long-term condition," she says. "They can also help with recovery, strengthening and rehab."
Being available to patients is an important part of addressing whole health issues. Perry notes that many pediatric offices offer expanded hours that include the availability of walk-in visits during weekends.
---
On-Call Professionals
Increasingly, there are other off-hour options as well. Private on-call doctors and nurses are available to come to your house. Nurse practitioner Tiffany Lightner Menist of Branch Out Pediatrics PLLC in Charlotte chose to leave a large practice after 10 years because she wanted to make a more personal connection with her patients. While she encourages patients to visit pediatricians for annual checkups and vaccinations, she can take care of everything from sports physicals to strep throat and asthma treatments. Menist limits the number of families she sees in order to establish deeper connections with her patients and respond quickly to their needs. Home visits, she says, decrease anxiety for everyone.
"Parents don't have to pack all their kids into the car, and sick kids can stay in their PJs in their own bed," she says. Home visits can be particularly great for new mothers who may want to avoid exposing their newborns to other sick kids. Insurance typically won't cover this type of practice, but Menist says her patients appreciate the lack of paperwork and simplicity of an upfront payment.
---
Telehealth
If you're comfortable with technology and your child has a non-urgent medical issue, consider a telehealth company. This online health care option allows you to schedule a call or video conference with a board-certified physician at any time, from any place. One such option is UNC Urgent Care 24/7, a partnership between UNC Hospitals and MDLIVE, a Florida-based telehealth company that has been in business since 2009. While MDLIVE physicians can't staunch bleeding or set broken bones, they can evaluate a child for flu, pink eye, ear infections, insect bites and rashes, to name a few of the 50 or so illnesses they typically treat. And they can prescribe certain basic medications.
"You can't pick a time when you're sick," says Michelle Rider, senior vice president of marketing at MDLIVE. "Our app is affordable, easy to use and great for an illness that strikes off-hours, like over the weekend, in the middle of the night, or when you're on vacation, far away from your usual pediatrician."
Again, it's best to inform your pediatrician when any of your child's health issues are addressed outside of the office. Rider points out that upon request, MDLIVE will provide physician notes to your regular pediatrician following a virtual appointment. For more information, visit uncurgentcare247.com or mdlive.com.
---
Online Resources
When asked about the reliability of online medical resources, Bristol cautions that while some sites can be helpful, there's "plenty of questionable advice out there."
Bristol, Bordley and Perry all agree that the American Academy of Pediatrics' website, aap.org, is a reliable source of online information. Perry says the AAP has endorsed healthychildren.org, kidshealth.org and mayoclinic.org. Bristol suggests sharing the information you find online with your doctor and asking him or her what he or she thinks.
---
When in Doubt
"If you are in doubt, and you feel you have time, the best thing to do is to call your pediatrician's office," Bristol says.
Most practices have a nurse triage line, as well as an on-call pediatrician. These nurses are trained to determine the severity of your child's situation and can recommend a course of action over the phone.
"It's impossible for a parent to understand all the nuances of an illness," Bristol says.
Perry adds that a nurse or doctor can often walk a parent through what he or she needs to do to prevent a visit to the ER, which is ultimately better for everyone.
---
Where to Go for Common Ailments
Here are some common ailments and where medical professionals suggest you go for treatment.
Note: Newborns under the age of 3 months with any kind of health issue should be seen promptly. Urgent care centers typically don't offer pediatric expertise for this age group, so be sure to call in advance, consult your pediatrician and, when necessary, go to the ER.
Fever
Dr. Clay Bordley, M.D., an associate professor of pediatrics and chief of the Division of Pediatric Emergency Medicine at Duke University Medical Center, says fever is one of the most common reasons parents take a child to the ER and yet, he adds, it is rarely an emergency.
"It's not the number on the thermometer, it's how the child looks and whether it's combined with another serious symptom," he says.
Infants are a special case. While a 104-degree fever may simply mean your 5-year-old's immune system is at work, a fever of even 100 degrees can indicate a serious infection in an infant.
If your child's fever is accompanied by other symptoms, such as crying,
which may signal pain; stiffness or unresponsiveness; or if a fever lasts longer than several days, call your physician.
If your child's fever responds well to pain relievers and he has had the fever for only a couple of days, keep your child comfortable and well hydrated, and give your pediatrician a call if you have any concerns.
---
Respiratory Issues
If a child's airway is even partially blocked and he is choking, turning blue or otherwise having trouble breathing, he needs to be seen immediately. Call 911 for assistance or head to the ER.
Most urgent care sites can help with illnesses that are not life-threatening, such as asthma attacks, pneumonia, bronchitis, strep throat and other upper respiratory issues.
If coughing, congestion or chest pain make breathing uncomfortable for your child, call and/or schedule a visit with your pediatrician.
---
Breaks, Sprains and Fractures
Bordley says the ER works closely with local urgent care sites to cover varying degrees of bone injuries. Most of these centers have X-ray equipment and the expertise to deal with minor breaks. If there is an obvious fracture — e.g., the bone is pointing in the wrong direction or has punctured the skin — you will need to go to the ER. An ER should have specialists who can deal with repair, as well as anesthesiologists to provide sedation for children as needed.
If the injury is painful or swollen and doesn't seem to improve after a day or two, call your pediatrician. While pediatric offices don't usually accommodate X-ray equipment, Bristol says some pediatricians will look at photographs via text message of the injury and be able to suggest the next best step.
If the injury is swollen and bruised, but your child is able to put weight on it or otherwise use it, then ice the injury on and off for the first few hours and keep it elevated. Call your doctor's office for further advice about wrapping it and keeping it immobilized.
---
Neurological Issues
Bordley advises calling 911 or going straight to the ER if your child hits her head and is unconscious or nonresponsive, throwing up repeatedly, disoriented, has severe headaches or displays personality changes.
If your child is experiencing a minor concussion, an urgent care physician or your pediatrician can perform a neurological and cognitive checkup to assess whether she needs additional care at a hospital.
---
Stomach Issues/Poisoning
If you suspect your child has swallowed something hazardous (e.g., a small battery, cleaning liquid, unauthorized medication, etc.), and is unconscious or having convulsions or seizures, call 911. If you think your child has swallowed something hazardous but does not appear to have any reaction, call Poison Control immediately at 800-222-1222, or call 911.
If your child's stomach pain is severe and accompanied by fever, vomiting, difficulty breathing or lightheadedness, call your pediatrician or head to the urgent care.
If your child has a stomachache but is able to keep down fluids, keep him or her home for observation. If the pain persists, call your pediatrician.
---
Skin Issues/Bleeding
Head to the ER if an accident, animal bite or other injury causes extensive damage or uncontrolled bleeding, or if your child has an allergic reaction to a bug bite or sting, or an infection from an animal bite. Rashes accompanied by a high fever should also be addressed in the ER.
An urgent care center is a good place to go for minor cuts that need stitching. However, most centers are not pediatric-specific and do not provide anesthetics.
Typically, a pediatrician's office does not provide stitching for cuts (call in advance to find out). Your pediatrician's office is a good place to go for a rash or other recurring skin conditions.
---
Recurring Medical Issues
If you find yourself repeatedly relying on the ER or the urgent care center for your child's recurring health issue, consider a different approach. While it is vital to get your child's breathing under control if he has a severe asthma attack or allergic reaction, a visit to the ER is only a temporary solution.
Dr. Sheila Kilbane, M.D., an integrative medical practitioner in Charlotte, suggests looking at a child's diet, allergies and personal environment to come up with a whole health solution. Kilbane takes a limited number of patients, which allows her to conduct thorough testing to identify the "trigger" for a child's medical issue. She says she enjoys the detective work, combing through records and getting to know her patients as she solves each problem, and she has had great success in treating issues such as colic, reflux, ear infections, eczema, constipation, allergies and asthma.
Most of Kilbane's patients adopt an anti-inflammatory diet. "It is important to address what's going on in the gut," she says. "Research on the microbiome is exploding and, with a lot of these illnesses, research shows it's triggered by food sensitivity. Dairy and eggs are a big culprit."
Kilbane also finds issues that exist in a child's environment, whether this ends up being dust mites in a mattress, or an allergy to local vegetation. She typically works with a patient for about a year.
"Once we've found the underlying trigger and reduced the symptoms through diet and environmental control, the patient goes back to relying on their pediatrician and continuing with the integrative solution on their own."
Insurance does not usually cover integrative health services, and Kilbane knows this makes it difficult for some families, so she has published "Healthy Kids Happy Moms: A Step-by-Step Guide to Improving Many Common Childhood Illnessses" and offers several online courses on her website, sheilakilbane.com.
---
Caitlin Wheeler is a Parenting Media Association gold-winning freelance writer who lives in Durham.