When Your Child Knocks Out a Tooth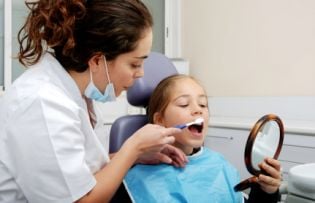 Imagine your child coming face-to-face with a set of monkey bars on the playground. Your child falls to the ground, along with a tooth!
Or, your older child is involved in an accident during sporting activity, resulting in a similar mouth injury. What's a parent – or coach for that matter – to do?
"When your child knocks out a tooth, it sets off pure panic for parents," says Robert S. Laurenzano, DMD, FAGD, who leads Advances in Dental Care, a dental practice in North Potomac, Md. "Knowing what to do in advance and that the tooth could be preserved gives parents some peace of mind." Providing coaches with a handy emergency tooth preserving system is a smart idea.
Saving a Tooth
"If a baby tooth is knocked out, not much can be done to save it," says Dr. Laurenzano. It's doubtful your dentist needs the tooth, but your dentist should perform a complete exam to identify any other possible injuries. Besides, your child may wish to save the baby tooth (if you can find it) for the Tooth Fairy!
What if it's a permanent tooth? That's another matter. If the tooth is re-implanted soon after the accident there is a good chance it can be saved. So look for it (the avulsed tooth, that is, in dental parlance), and fast. Time is actually quite critical.
Dr. Paul Krasner, an endodontist and Temple University professor in Pennsylvania, says 5 million teeth are knocked out each year, and normally you've got about 15 minutes to act, rushing to the dentist. Dr. Krasner invented the Save-A-Tooth system to buy you extra time after such an injury because most parents simply can't meet that time frame.
Ligaments that attach the root of the tooth to the bones in the jaw are very fragile, and any successful product had to keep the ligaments on the tooth root alive long enough for re-implantation.
Krasner's research revealed that a specially formulated pH-balanced solution in the Save-A-Tooth kit, along with the patented container that protects root cells, made the difference.
His kit also contains a slotted insert to allow rinsing the tooth and affords protection until you can get to your dentist. The specially designed basket holds the tooth in the pH-balanced solution that preserves and reconstitutes the periodontal ligament of the submerged tooth. Time is still a factor because the kit will preserve the tooth for 24 hours. Forget making an appointment for days or weeks later. You've still got to get to your dentist fast.
Save-A-Tooth costs $13.95 plus shipping and handling, and the product lasts for two years. It's received the seal of acceptance from the American Dental Association (ADA). Parents should keep a kit handy or provide one for camps, child-care facilities, schools or coaches of their child's sports team. The kit is available online at www.save-a-tooth.com.
Do-It-Yourself Prep
"It's important to remember that if your child's tooth gets knocked out, the most critical factor is time," advises Rochelle Lepor, DDS in Silver Spring, Md. Even without the kit, getting to your dentist as quickly as possible will increase the chances that the tooth can be saved. "If you can get to your dentist within the first 15-30 minutes, the chances of success are very good," Dr. Lepor says. She also suggests you follow these simple steps in the guidelines for dental emergencies and injuries as put forth by the ADA:
1. Once you've found the knocked out tooth, hold it by the crown, not the root.
2. Rinse the tooth (water will do, milk is better). Don't use soap or any kind of detergent. Don't scrub the tooth. Scrubbing can damage tissue fragments on the root.
3. If possible, gently insert and hold the tooth in its jaw socket. Having your child bite lightly on a gauze pad or tissue to hold it in place helps.
4. If that's not possible, put the tooth in a cup of milk and get to the dentist fast (of course, with the tooth!).
Dr. Catrise Austin, who practices general and sports dentistry in New York City, recommends Save-A-Tooth, but also suggests assembling your own emergency kit if you have to by having a small glass or plastic container to store/soak a knocked out tooth, along with cotton rolls or gauze to stop mouth bleeding, rubber gloves to handle the tooth and prevent contamination, over-the-counter pain medication, and alcohol preps or gauze to clean any cut skin around the mouth and prevent infection. Do not use the alcohol on the tooth.
It's wise and preventative, of course, to use mouth guards, a good investment in avoiding mouth injuries, knocked out teeth and possible jaw joint injuries (TMJ), adds Dr. Laurenzano.
Loriann Hoff Oberlin is a freelance health writer and book author.