When to Hold Your Preschooler Back from Kindergarten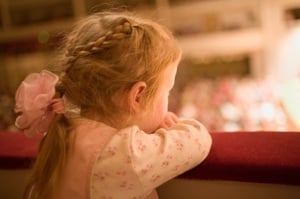 Children and parents alike look forward to the first day of kindergarten, when a child launches into his or her school career. In North Carolina public schools, children who turn 5 by Aug. 31 are eligible to start school that year. But for some children, starting kindergarten may not be the best option. Some children may need a little extra time to prepare before they take the big step. It may make sense to wait a year, especially for kids whose birthday is just a few months before the deadline. But how do you know what's best for your child?
Wouldn't it be nice if there were an easy rule of thumb to determine when a child is, or is not, ready to start kindergarten — like a height or weight standard of some kind? Unfortunately, making that decision is not so clear-cut, simply because children are unique and their needs are unique, too. Deciding when to "go" or when to "hold" in the serious game of kindergarten requires a careful, case-by-case look at each child.
Factors to Consider
One area to consider when determining school readiness is a child's emotional maturity. Maturity plays a big role in a child's ability to function in a classroom setting. How well can your prospective student work with a group of other children? Does she behave appropriately? Can she follow directions, sit and listen during story time? The ability to perform these tasks will help them be more successful in a kindergarten class.
Another factor is how well a child's motor skills are developed. There is a significant difference in the motor skills of a 4-year-old compared to a child who is 5. Simple things — like holding a pen or using a zipper — can be much harder for a younger child. Children whose motor skills are not as developed may find it harder to succeed in kindergarten.
Schools typically perform an assessment to ensure children are ready for kindergarten. They check to see how many letters, colors and numbers a child knows. Once the school staff completes the basic testing, it can give some guidance as far as how a child will fit in intellectually and how he or she would do with other kids. In some cases, a school may suggest that a child wait a year if that would be most appropriate.
What if your child starts kindergarten, and then you discover he may not be ready? Should you pull him out? While that's an option, you should first ask what would be best for your child. Would it be better for your child to leave kindergarten and go somewhere he could be more successful — perhaps a more structured daycare program — or stay in school?
Some kids do better by staying in kindergarten and getting the social interaction, then repeating kindergarten the next year. It really depends on your options outside of a kindergarten program. If you can take your child out and provide the service, socialization or specific skill he or she may be lacking, those options may better meet your child's needs.
One extenuating factor that could play into the kindergarten start-or-wait decision is whether or not you can afford to keep your child in child care if you decide to hold him back for a year. Of course, you always want to do what's best for the child, so ideally if you decide to wait on kindergarten, a child should be involved in some type of social program where he can gain new skills and learn to interact with other children and adult leaders.
How to Prepare for Kindergarten
What is the most important thing parents can do to help prepare their child for kindergarten? Spend time with your child. Spend time reading a book or putting a puzzle together, coloring together and talking about the colors of crayons ("You're coloring the hair yellow"), interacting and allowing your child to make decisions.
Spending quality time is more beneficial than anything parents can do. And it's free and doesn't require a lot of materials. I know that can be difficult because of other kids and work, but the more time you can spend one-on-one with your child, the better. Spending time together helps a child develop as a person in general.
Kindergarten can be a wonderful first step in a child's school experience. Parents can ensure children ready by assessing their emotional maturity and motor skills. Kids who are not ready to take the kindergarten plunge may do well in an alternative program or under the watchful eye of their own parents. The priority is making sure your child is in the right environment that will help him or her learn, grow and be ready to move forward.